Trade, investment and business collaboration between the Association of Southeast Asian Nations (ASEAN) and the Guangdong-Hong Kong-Macao Greater Bay Area (GBA) is growing rapidly. Legal disputes are bound to arise and Hong Kong is perfectly placed as a litigation and dispute resolution centre.
To consolidate Hong Kong's strategic position as a centre for international legal and dispute resolution services in the Asia-Pacific under the National 14th Five Year Plan, the Department of Justice (DoJ) of the Government of the Hong Kong Special Administrative Region and the Hong Kong Trade Development Council (HKTDC) are organising the Resolve2Win – Legal Services of Hong Kong, Opportunities for All campaign (Resolve2Win).
The signature promotion in ASEAN and the GBA for Hong Kong's legal and dispute resolution services debuted with a delegation visit to Bangkok, Thailand on 15 to 17 March. Mr Horace Cheung, Deputy Secretary for Justice, led nearly 30 representatives from Hong Kong's legal sector in face-to-face talks with Thai legal and business representatives to promote the advantages of Hong Kong legal services, encourage collaboration between Hong Kong and Thailand and seize opportunities in the region.
Platform Hong Kong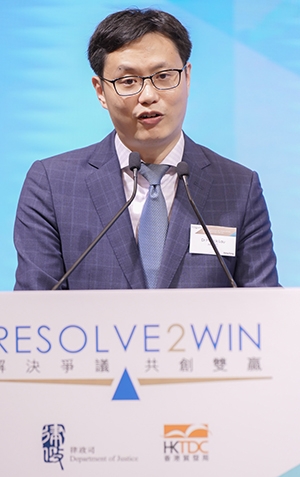 The promotion visit aimed to let Thai businesses understand the unique advantages of Hong Kong legal services, raising awareness on resolving commercial disputes through arbitration and mediation, while encouraging them to choose Hong Kong as their preferred platform and help Hong Kong legal professionals seize opportunities. The Hong Kong Bar Association, Law Society of Hong Kong, Thailand Arbitration Center and Thai Branch of Chartered Institute of Arbitrators are supporting organisations.
At the plenary session – Hong Kong as a Deal Making and Dispute Resolution Hub – Mr Cheung and Dr Patrick Lau, Deputy Executive Director of the HKTDC, were officiating guests. In his welcome remarks, Dr Lau said: "Hong Kong has a large, well-established legal sector full of professionals well-versed in legal systems across the world, making the city the perfect choice for anyone seeking legal services. As business links grow between ASEAN countries and Mainland China, particularly the Greater Bay Area, disputes are bound to arise. All parties would agree that arbitration and mediation is a better approach than litigation. In today's forum, we will find out how businesses in Thailand, ASEAN and Mainland China can use Hong Kong as a dispute-resolution platform."
Highlighting the unique opportunities offered by Hong Kong as the only common law jurisdiction within China under "one country, two systems", Mr Cheung pointed out that national strategies – including the 14th Five-Year Plan, the GBA Development and the Belt and Road Initiative – had injected continuous impetus to the growth of Hong Kong and brought opportunities to ASEAN member states.
As the leading legal and dispute resolution services centre in the Asia-Pacific, Hong Kong had a strong pool of legal talents, particularly in dispute resolution services, Mr Cheung said. He encouraged enterprises and talents to capitalise on the city's unique advantages of enjoying the strong support of the motherland and being closely connected to the world under "one country, two systems" to tap into development opportunities in the GBA and beyond.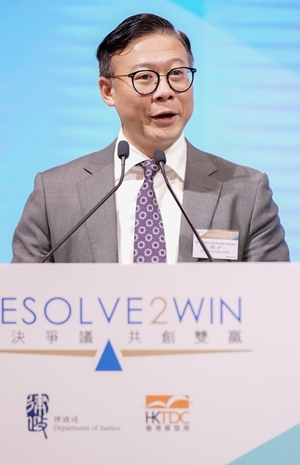 Mr Cheung reiterated that the National Security Law had provided stability and a secure environment to enterprises and investors, which was conducive for both local and international businesses in Hong Kong to flourish.
The plenary session was hosted by Mr Jose Maurellet, Senior Counsel, Des Voeux Chambers, Vice-Chairman of Hong Kong Bar Association, with panelists Ms Winnie Tam, SBS, SC, JP, Senior Counsel, Des Voeux Chambers and Mr Tommy Tong, Partner, Herbert Smith Freehills LLP. The speakers shed light on Hong Kong's advantages in corporate and commercial legal services and illustrated why Hong Kong was an effective arbitration and mediation platform for resolving commercial disputes. They also provided practical tips for Thai businesses to handle cross-border commercial disputes, especially when Mainland Chinese parties were involved.
The next session, Mediate First Pledge, featured speakers Mr Rimsky Yuen, Chairman, Hong Kong Mediation Accreditation Association Limited, and Ms Ereblinda Sadiku, Legal Counsel, Thailand Arbitration Center. They focused on the flexibility and other advantages of mediation for dispute resolution. The HKTDC also arranged a luncheon and interaction session where more than 200 legal representatives from Hong Kong and legal and business sectors from Thailand conducted in-depth discussions on the story in Hong Kong.
Networking
During the three-day trip, the Hong Kong legal delegation paid a courtesy visit to legal and business groups, including Thai-Chinese Chamber of Commerce, Thailand Arbitration Center and Lawyers Council of Thailand to discuss potential collaboration.
After the Resolve2Win Campaign launch in Thailand, the HKTDC will continue to work with DoJ. The campaign will promote legal and dispute resolution services of Hong Kong in the GBA early next year, showcasing the robust legal system, solid foundation of the rule of law and diversified legal and dispute resolution services in Hong Kong while helping to better understand the views of mainland stakeholders and their needs towards Hong Kong's legal and dispute resolution services.
Related link
HKTDC Legal Services