Founded by a senior fashion designer in Hong Kong, Moonone Collection Limited has expanded into overseas markets and helped to nurture a new generation of clothes designers through cross-border cooperation with multinational artists.
Backed by the Hong Kong Trade Development Council's (HKTDC) Transformation Sandbox (T-box) programme, the company took part in CENTRESTAGE, the HKTDC-organised international fashion fair, and met buyers from Thailand, Italy and Mainland China through the event's online business-matching service. HONG KONG SHINDO LIMITED, a trimmings and ribbons supplier headquartered in Japan, and Global Network have already in discussion with Moonone about launching a range of sustainable fashion lifestyle accessories in the new season.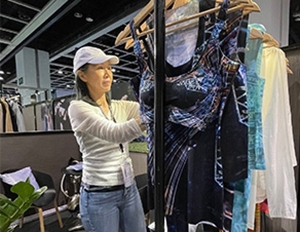 Moon Yeung, founder of Moonone, has been working in the fashion industry since graduating from university, playing roles ranging from a designer, product developer, project manager to fashion buyer and agency, business development consultant and brand management. She founded a fashion e-tailing website in 2017 and is determined to combine a variety of elements – including yoga, art and fashion apparel – to create the most appropriate products for like-minded people.
Riding on the network she had established over the years, Ms Yeung met with representatives from auction houses, curators and galleries to explain the brand concept and cooperation model, and they then referred suitable to explore further collaboration.
"We succeeded in gaining their trust and agreed on a mutually beneficial partnership that would expand our customer base and reduce costs," Ms Yeung said. "We did not have to pay a huge licensing fee up front, and they did not have to pay for product development. We split earnings [with the artists] after we sell the product."
Authentic expression
She knows which materials and methods can authentically express the essence of an artwork prototype. After several rounds of testing, artists are satisfied with near-perfect sample.
"We mainly invest in terms of time and human resources," she explained. "No matter how many times we make revisions, we will bear the relevant development costs. Fortunately, we cooperate with trustworthy manufacturers and the quality of the products is guaranteed. All these are limited edition, with only 100 pieces of each item being made."
One of her first collaborations was with Beatrice Prost, an Australian visual artist who has won multiple international awards.
"We first met in 2017 when she came to Hong Kong. In 2019, when she held an exhibition in Australia, we launched the first series of our co-production, with a selection of kimono and scarves that were widely welcomed by her fans. Many of her VIP customers bought various products on the spot."
Integrating artworks into clothes "brings them to life and continues the life of the paintings." Ms Yeung said.
She pointed out that from their first meeting, and continuing through many rounds of online communication, Ms Prost provided valuable advice that was helpful for future product development. Both parties have gradually established mutual trust.
On Christmas Eve in 2020, the products were displayed and sold at Tai Kwun, the new heritage and arts centre in Central, Hong Kong, and were also sold via a dedicated website.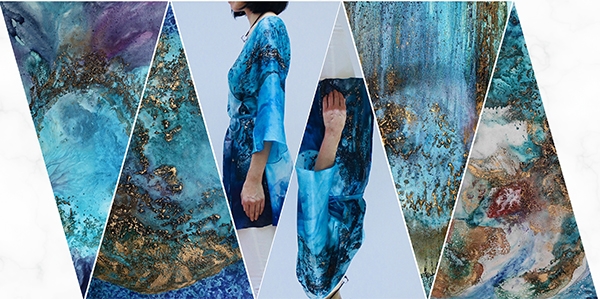 Artist collaborations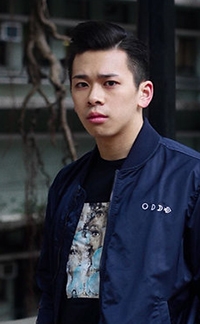 The cooperation with Ms Prost was widely praised and brought more opportunities for Ms Yeung. She began working with Italian-American artist Francesco Lietti, Syrian artist Simon Maarouf and Korean artists Park Jungran, Park Ha Nui and Eun-A Kim, transforming their graphic artworks into fashionable clothing, including silk scarves, T-shirts and eco-friendly shopping bags that are sold online and also specialties shops.
Ms Yeung said her brand is aimed at the mid-to-high-end niche market. This factor, coupled with the high development costs and the impact of COVID-19 on sales, means she doesn't expect a quick return on investment.
"However, doing business is all about the long-term and I am convinced that good products will be appreciated by those in the know. I am happy to see that these collaborations allow more people to get to know the works of contemporary artists. Some of them take a playful route, sharing happiness through their creations, which is what I also hope to be able to do."
HKTDC support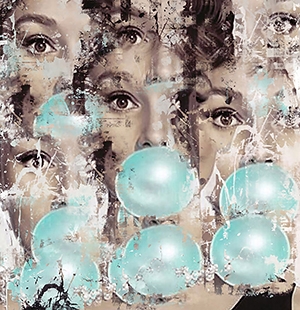 Ms Yeung began selling her products through the HKTDC Design Gallery and received a good response. She also participated in the "Google Export Programme", jointly organised by the HKTDC's T-box and Grow with Google, to gain a preliminary understanding of using various Google tools to carry out promotions and master practical online marketing skills. Besides, the T-box team recommended her to join the CENTRESTAGE fashion event where she could target both professional buyers and public consumers.
The HKTDC arranged a number of business-matching meetings for brands during CENTRESTAGE, allowing Ms Yeung to negotiate business deals online and offline with a number of buyers from Mainland China and overseas.
"Fortunately, both buyers and consumers seem to appreciate our philosophy and love our works, and the on-site sales [at CENTRESTAGE] far exceeded our expectations. We enjoyed discussions with buyers from Thailand and will send them a sample catalogue. We also started a dialogue and cooperation with HONG KONG SHINDO LIMITED, trimmings and ribbons supplier headquartered in Japan, and Global Network with plans to launch sustainable lifestyle accessories in the new season."
HK characteristics
Feeling the pressure of the fast pace of life in Hong Kong, urbanites have started paying more attention to their work-life balance in recent years. In response, Ms Yeung launched a yoga clothing series at CENTRESTAGE, featuring a pattern with uniquely Hong Kong characteristics.
"I am a frequent bus rider and I take the bus to different places from time to time to enjoy the beautiful views and the real side of the city," she said. "I will capture the details of life through my feelings, selecting the most satisfactory images and using computer software to redesign the images with abstract aesthetics – including neon lights and the silhouettes of buildings ­– to form a pattern that can be printed on yoga clothes."
She said the yoga series is made from high-end Italian cloth that is very breathable, easy to dry and super elastic. With special tailoring and high-end equipment for seamless production, the products are streamlined and very comfortable, enabling women of different body shapes to look good and feel relaxed.
"In the past, I used to come into contact with all kinds of clothing and accessories in the process of work, and I really wanted to create an evergreen and environmentally friendly fashion series, which is for both indoors and outdoors, fashionable and comfortable, and of high quality," Ms Yeung said. "These yoga clothes can be worn in different ways, becoming the best outfit for shopping or outings."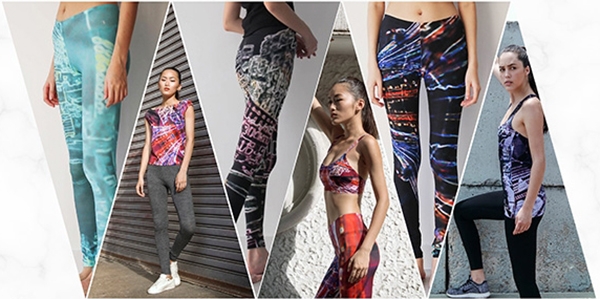 Mainland ambitions
Looking ahead, Ms Yeung hopes to go overseas to meet and cooperate with different artists in person after the pandemic, looking to expand the company's sales reach. "Through cross-border cooperation, I can impart my experience and train a new generation of designers," she said.
She also hopes to use the HKTDC Design Gallery's cross-border eCommerce store on JD International to access the mainland online shopping market.
"For micro-enterprises like us with limited resources, the 'delivery in Hong Kong, receive money in Hong Kong' model is very attractive, allowing us to enter the huge mainland market in a low-cost and convenient way. We can also learn from the actual retail experience of mainland e-commerce to help enhance our brand image and build awareness."
The T-box team also recommended Ms Yeung attend the HKTDC Asian Licensing Conference Online, helping her to gain valuable practical information on the licensing and intellectual property (IP) industry. In the near future, T-box will arrange for her to attend IP-related advisory consultation service to obtain professional advice and prepare for her expansion into the mainland market.
Product range
Ms Yeung is also actively working to expand her product range, including introducing pure natural organic skincare brands and aromatherapy essential oils from Italy, and cooperating with mainland artists Chen Jingyi Sculpture, Dan Lam Lotus Paintings to create crystal and natural gemstone bracelets with an artistic conception drawn from sculpture and paintings works.
"Actually, art can influence people," she said. "First of all, it must resonate with people – and the same is true for fashion-related consumer goods. We hope to achieve a balance between business and art, and launch products that have both artistic value and market popularity."
T-box transformation
To help Hong Kong enterprises transform their business and open up new opportunities, the HKTDC launched the Transformation Sandbox (T-box) programme which provides business consultations, workshops, government funding, market information and exchange opportunities for Hong Kong businesses, helping them to grasp trends, enhance skills and expand their business networks.
Since its launch, the programme has been well received and helped more than 2,300 Hong Kong enterprises, arranging over 600 free consultations provided by professional organisations, chamber of commerce representatives, business partners and HKTDC overseas offices.