money, a commodity accepted by general consent as a medium of economic exchange. It is the medium in which prices and values are expressed; as currency, it circulates anonymously from person to person and country to country, thus facilitating trade, and it is the principal measure of wealth.
So runs the Britannica definition. In recent years this definition has come under scrutiny. A run of crises across the world has unsettled traders and investors, while such innovations as distributed ledger technologies (DLTs, the best-known being Bitcoin) and non-fungible tokens (NFTs) are calling many aspects of this definition into question.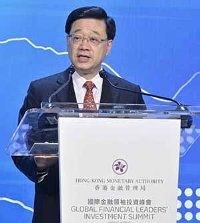 Hong Kong is one of the world's leading financial capitals and industry leaders have paid close attention to these developments. In his Policy Address Hong Kong's Chief Executive John Lee said his government aimed to boost innovation and technology (I&T) and strengthen the city's role as a fintech hub.
It plans to do this by facilitating the commercialisation of research and development (R&D) outcomes, attracting 100 high-potential I&T enterprises to set up operations in Hong Kong in the next five years, including at least 20 top-notch I&T enterprises.
Meeting of minds
Underlining Hong Kong's potential as a fintech hub, the Global Financial Leaders' Investment Summit concluded successfully on 3 November. The three-day summit featured 26 prominent financial leaders sharing their unique perspectives and ideas on managing a complex set of economic, financial, technological and geopolitical developments while capturing the resulting opportunities.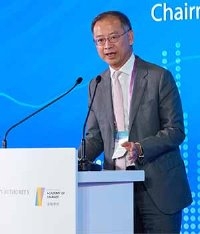 Eddie Yue, Chief Executive of the Hong Kong Monetary Authority (HKMA), the event's organiser, said: "We are encouraged by the overwhelming response from both the international and local financial communities. The summit demonstrated the global financial sector's commitment to Hong Kong. My sincere thanks to all our summit participants, especially those travelling from abroad.
"We are excited to see our summit participants and visitors benefiting from this occasion by reconnecting with their staff, clients and stakeholders in Hong Kong and in person. We look forward to seeing more events and activities taking place in the coming months as Hong Kong continues to open up."
The event welcomed more than 200 international and regional leaders from around 120 global financial institutions including banks, securities firms, asset managers, sovereign wealth funds, private equity and venture capital firms, hedge funds and insurers. More than 40 of these institutions were represented by their group chairmen or CEOs.
Mr Yue said part of Hong Kong's dynamism came from the fast-growing fintech ecosystem in the city. Innovative fintech firms are exploring ways to drive the momentum towards an even more tech-enabled financial industry.
"Many are looking at how to use the fast-evolving blockchain protocols to create products or services through crypto, stablecoins, NFTs, DeFi [decentralised finance] and the metaverse," he said.
Mr Yue said fintech development required radical open-mindedness, "a term that I borrow from [co-Chief Investment Officer of the world's largest hedge fund, Bridgewater Associates] Ray Dalio, who used it to describe idea generation in investments. I would say this is even more applicable to fintech innovation – we need to be radically open to new ideas and try things that could make the financial system better."
He said blockchain technology allowed fractionalisation of asset ownership in art, real estate or other assets, creating new forms of financial intermediation. "With radical open-mindedness, we can use technological innovations to make financial markets more complete and bring benefits for the real world."
Virtual assets
To set up a solid regulatory framework for virtual assets (VAs) such as DLT currencies and NFTs, the Financial Services and the Treasury Bureau (FSTB) of the HKSAR released a policy statement on the development of VAs in Hong Kong.
"We recognise VA is here to stay, given how it has attracted the attention of global investors and is increasingly viewed as a conduit for financial innovations, not to mention the future opportunities that will be opened up as VA moves into the areas of Web 3.0 and the metaverse," the FSTB said.
"The government, in conjunction with the financial regulators, is working towards providing a facilitating environment for promoting sustainable and responsible development of the VA sector in Hong Kong. We are ready to calibrate our legal and regulatory regime as part of our effort to provide the aforesaid facilitating environment having regard to the evolving nature and innovative approach of VA."
The FSTB said it recognises the potential of DLT and Web 3.0 to become the future of finance and commerce, "and under proper regulation they are expected to enhance efficiency and transparency, which in turn will reduce or resolve existing frictions across clearing, settlement and payments. Hong Kong shows signs of a vibrant VA ecosystem, as demonstrated by NFT issuance in our market, the presence of metaverse developers, and the use of DLT in trade finance."
For regulation, the government would adopt the "same activity, same risks, same regulation" principle, the FSTB said. The government had launched a regulatory regime to license VA exchanges using an "opt-in" approach, and on the asset management front guidance has been issued on the management of VA funds and discretionary accounts.
To take the comprehensive regulatory framework further forward, the FSTB said it would put together a licensing regime for VA service providers.
"The new regime will align requirements for VA exchanges in terms of anti-money laundering, counter-terrorist financing and investor protection to those currently applicable to traditional financial institutions, hence offering licensed VA exchanges the status and credibility to access a wider net of investors in the Hong Kong market," it said.
"An additional benefit is that financial intermediaries and banks will be able to partner with licensed VA exchanges when offering clients with VA dealing services, provided that relevant regulatory conditions are met."
Licensing status would offer VA exchanges the potential to open new distribution channels in Hong Kong, tapping into the city's sizeable asset and wealth management market which is currently worth over US$4.5 trillion.
Licensing regime
Hong Kong's Securities and Futures Commission (SFC) will conduct a public consultation on retail investor access to VA under the licensing regime. The FSTB noted that retail investors in other markets had been given exposure to VA through VA-related products such as exchange traded products.
"Hong Kong is therefore open to the possibility of having exchange traded funds (ETFs) on VA in Hong Kong, and soon the SFC will publish a circular on this. Having these products launched in Hong Kong will provide the connectivity between VA players and traditional financial institutions, offering investors with well-designed products, hence promoting the overall growth of the sector in our market."
The government and the regulators are now exploring pilot projects to test the benefits of VAs and further applications.
There are three pilot projects in the pipeline, the first being NFT issuance for Hong Kong Fintech Week 2022 – a proof-of-concept project to engage the fintech and Web 3.0 community. The second project will involve tokenising government green bond issuance for subscription by institutional investors. And the third project is the e-Hong Kong dollar, the potential backbone and anchor bridging legal tender and VA, offering the price stability and confidence needed to empower more innovations.
Related links
Policy Address
HKMA
Financial Services and the Treasury Bureau