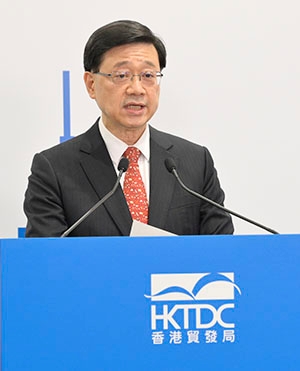 As Hong Kong reaffirms its role as a global financial and logistics centre, and works towards becoming an innovation & technology (I&T) hub, the city is hosting heavyweight events, including the Global Financial Leaders' Investment Summit and Hong Kong FinTech Week.
Amid the flurry of activity, the Hong Kong Trade Development Council (HKTDC) strengthened the longstanding economic and trade relationship between Hong Kong and the United Kingdom by hosting a virtual dialogue with the Chief Executive of the HKSAR John Lee (main picture, second right) on 2 November.
Moderated by the British Chamber of Commerce in Hong Kong Immediate Past Chairman, Peter Burnett (main picture, right), the dialogue served as a unique opportunity for UK businesses to interact with Mr Lee and hear first-hand updates on policy initiatives to strengthen Hong Kong and opportunities for the international business community, just weeks after the chief executive delivered his first Policy Address.
Enduring partnership
In his opening address, Mr Lee underlined Hong Kong's established strengths and arising opportunities, and what the city could offer to help UK and international businesses take off or expand in Asia. He highlighted the longstanding and enduring business ties between Hong Kong and the UK, "thanks not just to our friendship, but also, very importantly, to our common-law legal system, the rule of law and our independent judicial power. Thanks also to our strong support and beliefs for free trade and our strong footholds in professional services".
The chief executive said the UK is Hong Kong's top trading partner in Europe, while Hong Kong is the UK's second-largest trading partner in Asia. Merchandise trade between the two was US$17.7 billion last year, up more than 25% year-on-year.
More than £7 billion (US$8 billion) merchandise trade between the UK and Mainland China went through Hong Kong. "That speaks, loud and clear, of Hong Kong's unique status as the business gateway connecting Mainland China with the rest of the world. This enviable role is guaranteed through one country, two systems," he said.
The COVID-19 pandemic had impacted growth in Hong Kong but Mr Lee said: "It is the economy amidst challenges posed by the pandemic we are planning for now." He emphasised that Hong Kong's long-term growth in the national strategies, which include the Belt and Road Initiative, Guangdong-Hong Kong-Macao Greater Bay Area (GBA) and 14th Five-Year Plan. He said the HKTDC's ongoing work to set up GoGBA Business Support Centres covering all nine mainland GBA cities to offer business information in both English and Chinese available to all.
Mr Lee said the GBA Outline Development Plan supported Hong Kong's status as an international financial centre, a global offshore renminbi business hub and an international asset and risk management centre. "Rest assured, we are working to take full advantage of those opportunities."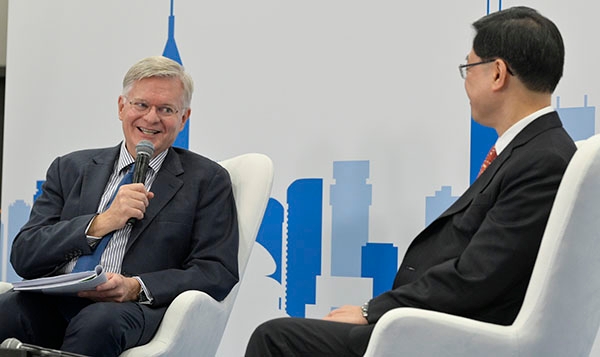 Mainland links

Hong Kong could help connect international activities and investors with the mainland, while channelling mainland funds to global markets.
"The cross-boundary Wealth Management Connect Scheme, launched last year, and the 18 recently announced measures for supporting Hong Kong venture capital investments in Shenzhen's Qianhai area, are good examples of innovative financial policy initiatives available throughout the GBA," Mr Lee said.
"Hong Kong is also tapped to become the GBA's green finance centre. In my Policy Address, I promised to greatly expand government green bonds over the next five-year period."
The green and sustainable finance market is flourishing, he said. The volume of green and sustainable debt issued in Hong Kong last year reached a record US$57 billion – four times more than just a year ago.
Green and sustainable bonds were worth US$31.3 billion last year. That, ladies and gentlemen, accounted for one-third of those issued in the Asian market, making us number one in the region.
We were also the first Asian government to issue 30-year and 20-year green bonds denominated in US dollars and euros, respectively.
"My Government is also determined to attract at least 100 I&T companies to set up or expand in Hong Kong over the next five years. They will bring with them at least US$1.3 billion in investment, creating thousands of job opportunities. At least 20 of the I&T enterprises will be internationally recognised.
"We are focusing largely on companies in life and health technology, artificial intelligence and data science, as well as advanced manufacturing and new energy technology.
"Such I&T companies, and many others, will find a welcome home in the Hong Kong-Shenzhen Innovation and Technology Park, construction of which is now underway. The Park will form part of the Shenzhen-Hong Kong I&T Co-operation Zone in the Lok Ma Chau Loop bordering Shenzhen.
Research park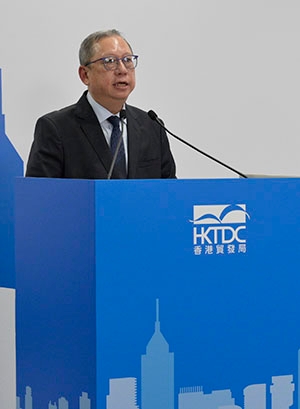 "The resulting 'one zone, two parks' development, huge and globally ambitious, will encourage local, mainland and overseas I&T companies to establish a presence in Hong Kong. And it will serve as a major centre of I&T collaboration for the entire Greater Bay Area."
In his opening remarks, HKTDC Chairman Dr Peter K N Lam (main picture, second left) said: "One huge opportunity is the vast Mainland China market, with a focus on the southern part of the country, known as the GBA. It boasts a 86 million-strong market with a gross domestic product of US$1.74 trillion, comparable to that of Korea or Canada. The Association of Southeast Asian Nations (ASEAN) has been a key focus for many international companies. It offers even greater prospects, as new trade cooperation agreements, such as the Regional Comprehensive Economic Partnership (RCEP), come into operation. To capitalise on the many opportunities, Hong Kong is your ideal springboard".
Mr Lee also fielded questions from the UK business community, covering a range of topics, including easing of COVID-19 restrictions, Hong Kong's economic outlook, closer government-business cooperation, talent attraction and more. He underscored the importance of I&T to Hong Kong's future, the Northern Metropolis and plans to welcome at least 35,000 targeted professionals to Hong Kong each year.
The event attracted more than 600 business leaders, most from the UK. This followed a trip to the UK by Dr Lam and Margaret Fong (main picture, left), HKTDC Executive Director, last month to meet UK business leaders, as part of the HKTDC's initiative to promote business opportunities in Hong Kong to the global business community.
Related link
Go GBA