As industry in Mainland China moves up the value chain and Hong Kong's gateway role updates in tandem, cultural and creative enterprises are becoming increasingly important, particularly for young people starting out in their careers.
For all the benefits creative flair brings to such enterprises, the nuts and bolts of running a business remain much the same for everyone.
To encourage more youngsters to enter the creative industries and help them turn their ideas into products and brands, the Hong Kong Trade Development Council (HKTDC) and Hong Kong Design Institute (HKDI), one of the Vocational Training Council's member institutions, co-arranged their "Incubation Programme" and "Mentorship Programme" between December last year and February this year. The workshops aimed to boost students' creativity and entrepreneurial skills to help them develop their own designs and build a viable business.
IP rights
The Incubation Programme and Mentorship Programme included 10 practical workshops for 80 participating students, who were encouraged to unleash their creativity and hone their entrepreneurial skills to stay ahead of the game.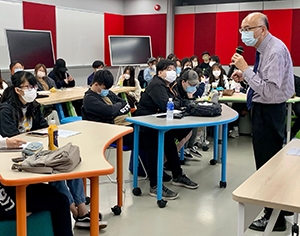 The Mentorship Programme invited speakers such as Hong Kong Intellectual Property Advisory Services (IPAS) Partner Dr Alex Lau, Founder of SHIBAINC Founder Wing Li, artist Kazy Chan and Isatisse Founder Isabel Tong. The speakers shared their knowledge on intellectual property (IP) rights, licensing, patents and tips on merchandising, and also interacted with the students who shared their creative ideas through group discussions and presentations.
Dr Lau explained what IP rights are, how to prepare for licensing, and dealing with copyright infringements. He said students and start-ups often overlooked how IP rights worked on a commercial level.
"Creative works obviously come first but intellectual property rights should not be ignored. However, people may not have a thorough understanding of the subject and do not know how to use it to protect their creations and works," he said.
"This is why I encourage students that, while in school, they should start building a better understanding of how intellectual property rights work in the commercial world. This will benefit them when they enter the workplace or start a business in the future."
Breaking the mould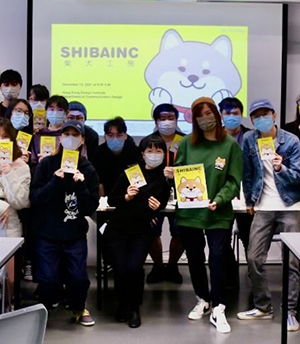 SHIBAINC's Founder Wing Li created a successful local brand of picture books. She told participants in the Mentorship Programme how licensing helped with her business and advised them not to feel trapped in the current marketing models.
"There are many existing promotional and marketing channels, but they are of no use if you don't take your first step. You cannot just hold on to your ideas. You have to be brave and try them out. Hong Kong has many channels for us designers to show our products. This could be a social platform, a market, mobile phone stickers or crossover licensing activities. The channels are very diverse."
SHIBAINC has released a number of original picture book products. Ms Li sees licensing as a way to work with different brands to diversify commercial products and attract consumers. For example, the studio has worked with one of Hong Kong's large-scale drugstores on a crossover series of licensed products that drew the attention of overseas buyers.
"Our brand was printed on their products such as tissues and hand sanitisers. That wasn't something we could achieve on our own. Those products were not only stocked in Hong Kong but in 6,000 stores where consumers in Southeast Asian or even the entire Asian region got to know us. This is a win-win situation that could help us develop our overseas market."
Ms Li said she could feel the creativity and energy of the youngsters taking part in the programme.
"I think the participants all have their own styles and interests. Even though they have just been introduced to licensing and intellectual property rights, they learnt very quickly. A few months later, when I watched their presentations on Zoom, I could already see that they've incorporated what they've learnt. I hope to see their works and brands on the market in the near future."
Everyday inspiration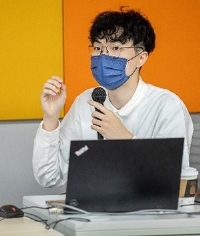 Artist Kazy Chan tells stories through illustrations and sculptures. He is one of the most popular advertising illustrators of recent years and at the Mentorship Programme shared extensively on the concepts behind characters and character design. As a full-time illustrator, he believes it is important to seek inspiration from everyday activities and create a distinctive personal style. He started his career with ceramic sculptures before turning to illustrations. The different mediums reflect the various stages of his creative journey.
Mr Chan said students who wished to enter the creative industry should not follow the crowd but treat their illustrations as a profession, where creations shouldn't be sold commercially at a low price. He asked students to take bold steps to showcase their talent and venture into the business world.
Mr Chan also reminded students to be serious about their work, regardless of the project's size, and to always aim high. "Hong Kong is very small. Yet the world is huge. We need to be more creative. Keep drawing and tell stories through your works," he said.
Seeking exposure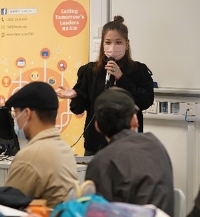 Isatisse is a brand started by illustrator Isabel Tong who created the Eye Bag Girl character featured in various licensed products. She told the Mentorship Programme about brand-building and running a business. She also gave students a chance to show their illustrations and elaborate on their design concepts.

"HKDI students love to create," Ms Tong said. "Many of them are aware of their strong points. Some have even formed a basic design concept and prototype. With some tweaks, I believe they have what it takes to attract businesses to work on licensed products."
She suggested students use different platforms to promote themselves online and offline.
"Once you embark on this entrepreneurial journey, you need to introduce your work both inside and outside of the virtual world. While students and start-ups often lack the resources or funds, they could simply upload their creations onto social media platforms. This could help draw more attention using limited resources and find potential firms to work with."
Ms Tong added that students intending to engage in licensing and IP rights can try their luck in exhibitions and markets.
"This will give them a chance to see what people think of their works and is good training for them to promote the brand. Such experiences can pave the way for taking part in large-scale exhibitions such as the HKTDC's Hong Kong International Licensing Show – an ideal platform to reach international customers."
Related link
Hong Kong Design Institute
VTC