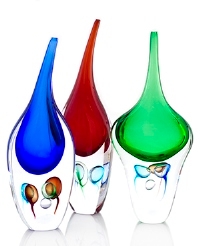 The COVID-19 pandemic disrupted bricks-and-mortar retail businesses but provided new opportunities for Hong Kong start-up AEfolio Limited, which expanded its online presence to offer its customisable homeware and artisan glassware pieces.
Hong Kong manufacturers do not come to mind when considering quality glassware. AEfolio had its sights set on this market, however, and decided to launch its own brand offering original handmade glass pieces. Besides taking part in the Hong Kong Trade Development Council's (HKTDC) Transformation Sandbox (T-box) programme, AEfolio also signed up for the Google Export Program co-organised by Google and T-box. It received a further boost to its profile after the HKTDC's Design Gallery decided to stock its creations.
Artisan approach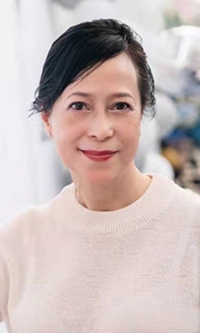 AEfolio's Managing Director Eveline Ko is determined to propel the company to become a leading brand for glass art in Hong Kong. She explained that its pieces come in different colours and finishes to accentuate any interior design style.
"Each piece is designed and made by hand," she said. "We are meticulous in everything, from how we choose raw materials all the way to quality control. This is to ensure we give our clients unique and high-quality decorations and light fixtures that will enhance their interiors, whether in a home, hotel or commercial setting."
To showcase the uniqueness of its handmade glass art, AEfolio accepts custom-made orders to fit clients' budgets and styles. This service brings a more personalised shopping experience to art-lovers and interior designers.
"Our initial development plan included opening shops in Hong Kong and the United States. Due to the pandemic, we had to postpone such plans and focus on our online business. We work with different design and furniture firms to create customised decorative glass pieces," Ms Ko said.
T-box boost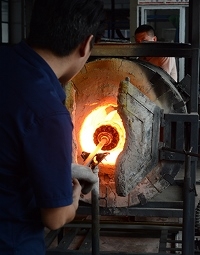 Ms Ko said that when launching its own brand, AEfolio's biggest challenge was the pandemic, which meant that a lot of its plans couldn't be executed on schedule.
"For example, we have had to postpone opening a shop overseas, while different exhibitions were subsequently postponed or called off. That put a dent in our marketing efforts which affected our overseas and local sales. However, it was also because of the pandemic that we decided to allocate more resources to develop our online retail. This gave us an opportunity to accelerate our e-commerce within a short space of time."
Ms Ko regards online sales and promotion as a professional field and believes start-ups without such knowledge could face challenges as they build their presence online. Understanding that it may not always be possible to solve all problems alone, the home decor brand took part in the T-box programme to gain more practical guidance on online sales techniques.
"We signed up for the Google Export Program jointly organised by the HKTDC's T-box and Grow with Google. Through the self-learning tutorial videos, and by attending consultations run by Google, specialists provided us with insights on how to enhance our website's click-through rate and use Google Ads to broaden our reach," she explained.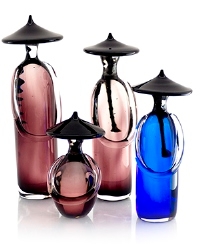 "Another challenge we encountered was that photos or videos often fail to fully showcase the texture and beauty of glass art. Through assistance from the T-box team, we have also been successful in hitting the shelves at the HKTDC Design Gallery. The new sales channel truly showcases the beauty of the glass and will increase our brand's exposure."
Ms Ko said it is important for a brand to provide comprehensive information about its business and products to satisfy an array of customers. The start-up aims to cement its digital presence as it prepares to return to the physical market.
"We believe that in the post-pandemic era, the global economy will noticeably improve. Our company will strengthen marketing efforts online and through different media outlets. We will also participate in exhibitions around the world and open our physical shop."
She added that from May this year, the company has been showcasing its artisan glassware in showrooms and furniture shops. "We hope to strike a 50/50 balance between our online and offline sales for more stable business development," Ms Ko said.
Seeking opportunities
To help Hong Kong enterprises transform their business and open up new opportunities, the HKTDC launched the T-box programme which provides business consultations, workshops, government funding, market information and exchange opportunities for Hong Kong businesses, helping them to grasp trends, enhance skills and expand their business networks.
Since its launch, the programme has been well received and helped more than 2,200 Hong Kong enterprises, arranging more than 450 free consultations led by industry groups, trade representatives, business partners and the HKTDC's overseas offices.
Related links
HKTDC Design Gallery
Transformation Sandbox (T-box)
hktdc.com Sourcing
HKTDC's latest events and arrangements
HKTDC SME Support
AEFolio