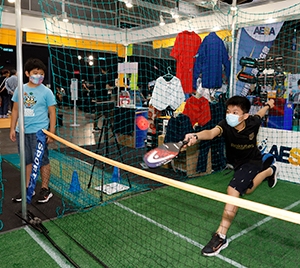 As the Hong Kong Special Administrative Region (HKSAR) turns 25 and celebrates its silver anniversary, the city is arranging a wide range of festivities. These include one of the city's most enduring cultural events, the HKTDC Hong Kong Book Fair, organised by the Hong Kong Trade Development Council (HKTDC), which will run from 20 to 26 July at the Hong Kong Convention and Exhibition Centre (HKCEC).
Tickets opened for sale on 27 June while online registration for seminars opened on 24 June, offering a wide range of stimulating and thought-provoking events for Hong Kong's booklovers.
The HKTDC has invited renowned authors to host and participate in seminars and cultural events for the 32nd edition of the event, which in recent years has attracted as many as one million visitors. The Book Fair will run in parallel with the fifth HKTDC Hong Kong Sports and Leisure Expo and second HKTDC World of Snacks, giving visitors the chance to enjoy three very different experiences with a single ticket.
History and City Literature
The theme of this year's Book Fair is "History and City Literature", with the tagline "Reading the World: Stories of Hong Kong". The HKTDC will introduce celebrated authors and their outstanding works to booklovers, giving them a deeper understanding of Hong Kong's historical and cultural development and promoting the joy of reading among the public.
Thematic exhibitions titled "History Writers" and "City Literature" will be featured at the Art Gallery, allowing visitors to savour Hong Kong's unique story through literature and arts. Two other exhibitions, "Tastes of Hong Kong" and "Hong Kong Architecture", will offer different perspectives on the city's lifestyle and culture through collections and artworks.
The "Eight Seminar Series" is one of the highlights at the Book Fair. This year's topics include "Stories of Hong Kong", "Renowned Writers", "English and International Reading", "World of Knowledge", "Children and Youth Reading", "Lifestyle", "Hong Kong Cultural and Historical", and "Personal Development and Spiritual Growth". Meanwhile, the always popular "Storytelling by Celebrities" series will invite star speakers to share inspirational stories with children.

Diverse experiences
This year's Hong Kong Sports and Leisure Expo will cover eight thematic zones and bring together a wide range of sports and leisure brands, products and experiences, along with free trials for visitors to enjoy. World of Snacks, meanwhile, features six thematic zones and will offer more than 1,000 tasty treats from across the globe, including Japan, Taiwan, Korea, Germany, Australia, Greece and Spain.
Online registration for the Book Fair's seminars is free of charge on a first-come-first-served basis. Please visit www.hkbookfair.com to reserve a spot.
Admission for adults is HK$25 and covers all fairs. Admission for children is HK$10 (for primary school students/children under 1.2m tall). Children aged 3 and under and adults aged 65 and over will be admitted free of charge. There is a range of other discounts for morning and evening arrivals and re-entry, see details.

This year's HKTDC Education & Careers Expo runs in tandem with the other three events from 21 to 24 July and is open to the public free of charge.
Related links
HKTDC Hong Kong Book Fair
HKTDC Hong Kong Sports and Leisure Expo website
HKTDC World of Snacks website
Education & Careers Expo website