Enterprises from Mainland China are gearing up to expand across the globe and intend to use Hong Kong as the platform for doing so.
Some 90% of Mainland China-based companies planned to expand their level of international business activity in the next one to three years, in line with the national drive to go global. This commitment was highlighted in Hong Kong as the Premier Platform for Mainland Companies to Expand to BRI and RCEP Markets, a major Hong Kong Trade Development Council (HKTDC) survey.
Hong Kong favoured
More than 70% of these firms focused on Regional Comprehensive Economic Partnership (RCEP) and-or Belt and Road Initiative (BRI) countries. Tellingly, the findings also showed that more than 60% of mainland enterprises preferred engaging Hong Kong-based professional service providers to ensure successful international expansion.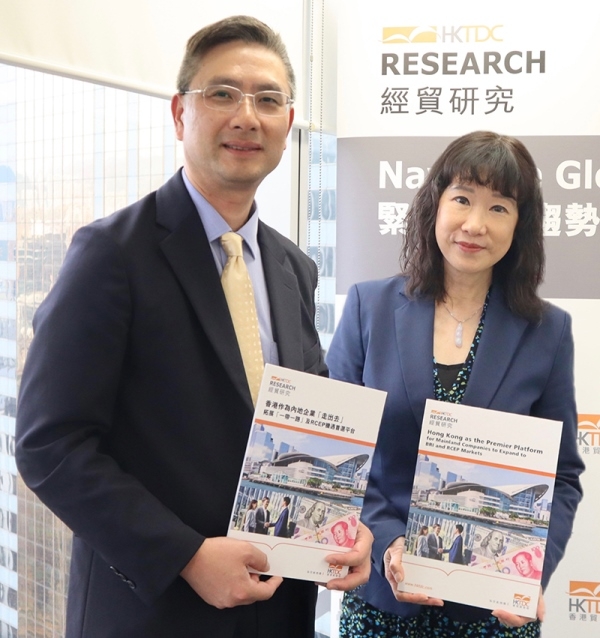 Commenting on the survey findings, Irina Fan, Director of HKTDC Research, said: "This survey more than confirms Hong Kong's status as a super-connector, one uniquely well-positioned to help mainland companies make good on their global expansion plans. "
"The city's extensive array of premium financial and professional services and comprehensive international network make it the perfect partner for any business looking to optimise its outcomes within the RCEP region, along the BRI routes or, indeed, pretty much anywhere else in the world."
Expanding on the survey's findings, Wing Chu, HKTDC Research Principal Economist who heads the Greater China team, identified four key areas in which mainland businesses planned to expand overseas operations. These include logistics and transport, as singled out by 28.8% of respondents, marketing and sales (26.9%), factories (23.3%) and overseas procurement (15.9%).
"Drilling down into the findings, the survey also shows that 62.1% of expansion-minded mainland companies favour Hong Kong as a source of professional service support, while only 47.7% would opt for mainland service providers. In more specific terms, most Greater Bay Area-based businesses designated Hong Kong as their preferred service provider locale, while their Yangtze River Delta counterparts divided their needs more or less evenly across Hong Kong and Shanghai."
Another survey finding showed that 83.9% of survey participants were driven to expand internationally by concerns over long-term viability of their traditional markets, driven by geopolitical tensions, falling demand and economic uncertainties.
As a result, 71.6% of expansion-oriented mainland businesses are targeting one or more of the 14 overseas RCEP member nations, while 64.3% expressed interest in venturing into emerging markets along the Belt and Road and beyond, including the Middle East, Central and Eastern Europe, South America or Africa.
Between May and July this year, HKTDC Research surveyed 791 mainland enterprises operating primarily in the Guangdong-Hong Kong-Macao Greater Bay Area (GBA) and the Yangtze River Delta region. The survey had two primary objectives: improve understanding of the overseas expansion plans of participating businesses and build a clearer picture of diverse challenges they face.
Belt and Road Summit
To fully capitalise on emerging BRI opportunities and reflect on the past 10 years of the Initiative, the eighth edition of the Belt and Road Summit, jointly organised by the Government of the Hong Kong Special Administrative Region (HKSAR) and HKTDC, will take place in Hong Kong on 13 and 14 September.