Diamonds are formed when carbon deposits deep within the earth are subject to high temperature and pressure – a process that can take aeons. The path from a rough gem dug out of the ground or dredged from the seafloor to glittering jewel on a wearer's hand, neck or wrist is more rapid than the stone's formation, but no less complicated.
Every step on the road – from assessment, planning and cutting, to polishing grading and retail – requires high-tech tools to create, grade and sell the best finished gem. That is where Sarine Technologies, a global firm based in Tel Aviv, Israel but with extensive operations in the jewellery trading and production hub of Hong Kong, comes into play.
Entire pipeline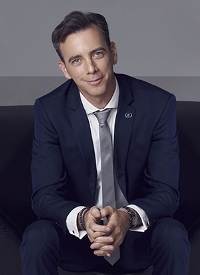 Noy Elram, Managing Director of Sarine Asia Pacific, said the firm produces and distributes equipment to evaluate and work diamonds along every step of the value pipeline, explaining that its products are in use worldwide.
He said that over the past three decades Sarine had developed new products and technologies for every facet of the diamond industry and will continue on this path.
Acknowledging Sarine's dominant position in the industry, Mr Elram said: "Our mission is to participate in formalising the diamond language, set the standards, inspire confidence and optimise the diamond lifecycle to benefit the public and our customers. We are committed to excellence, leadership and an ongoing passion for innovation."
Sarine set up its regional headquarters in Hong Kong in 2015. "The office provides pre- and post-sales and technical support for the group's products in the Asia-Pacific region, including Australia, New Zealand, Mainland China, Hong Kong, Macao, Taiwan, Japan, Korea and the whole Southeast Asian region," Mr Elram said.
The firm chose Hong Kong because the global commercial hub is business-friendly and cosmopolitan with excellent infrastructure, financial and professional services, and is also close to the major target markets of Sarine's Asia-Pacific teams.
He said the firm's strategy of having sales managers throughout the region, all connected digitally, had put it in a good position to weather the COVID-19 pandemic, which has curbed international travel.
"The diamond industry has flourished because of the travel ban, creating huge opportunities for jewellery retailers, especially those who created a strong online presence," Mr Elram said. "Jewellery retailers sought digital solutions for their online presence and found our services more relevant than ever."
Describing Sarine's role in the diamond value chain, Mr Elram said: "From the mines, diamonds travel to the experts who turn the rough stones into cut diamonds. Manufacturers use Sarine Advisor software and DiaExpert machines to analyse each stone. The software produces cutting plans that show the optimal way to cut and polish every rough diamond, thereby revealing its hidden sparkle and beauty."
Precision cuts
Sawing and cutting the stone both require great skill and patience, "which is why rough stones are sent to experts with years of experience," he continued. "The vast majority are cut in India and Mainland China, with one Indian city, Surat, handling around 90% of the world's diamonds. Sarine's Quazer laser technology is ideal for precision laser sawing and cutting that ensures high-quality gems and enables more unique shapes like heart-shaped diamonds. Manufacturers use Sarine's Advisor software to generate the visual assets that are used in Sarine's Diamond Journey report."
He said grading diamonds and issuing 4C (cut, colour, clarity and carat weight) certificates required skilled operators but was tedious and demanding work, subject to human error.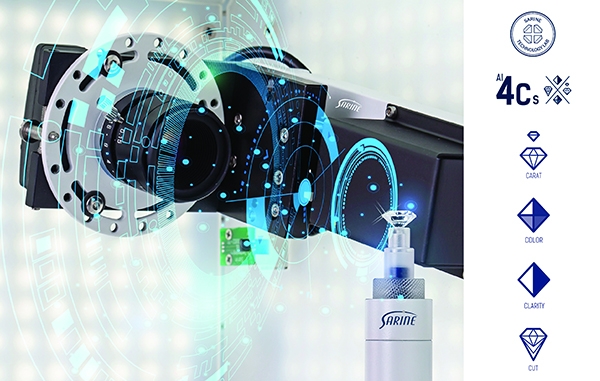 "Eventually this results in inconsistent grading, even in the case of grading the same diamond by the same appraisers on different occasions," Mr Elram said. "Sarine utilises the advantage of artificial intelligence, machine vision and neural network machine learning to achieve objectivity, consistency and repeatability and provide accurate 4C grading for consumers, no matter where the location is, what the time is, and who the machine operator is."
Another key advantage of the system was that grading could be done at the factory, reducing costs and speeding up the process since the diamonds no longer needed to be shipped securely to a separate laboratory for grading.
Looking ahead, the firm will be effectively taking egrading system to their clients to enable widespread use of that technology at the source, having carried out pilot studies of its new e-grading technologies in India in2020 and established its cloud infrastructure needed for egrading last year.
Growth potential
Mr Elram said Sarine expected strong growth for the industry in Mainland China, with the Guangdong-Hong Kong-Macao Greater Bay Area serving as the industry hub. He added that the Shenzhen offices of the Hong Kong Trade Development Council, through the T-Box team, and the Hong Kong Jewellery Manufacturer Association, along with Tellus Group and the Shenzhen Jewellery Museum, had all been helpful in getting Sarine set up in this key Greater Bay Area city.
About T-box
To help Hong Kong enterprises transform their business and open up new opportunities, the HKTDC launched the Transformation Sandbox (T-box) programme which provides business consultations, workshops, government funding, market information and exchange opportunities for Hong Kong businesses, helping them to grasp trends, enhance skills and expand their business networks.Since its launch, the programme has been well received and helped more than 2,700 Hong Kong enterprises, arranging over 700 free consultations provided by professional organisations, chamber of commerce representatives, business partners and HKTDC overseas offices.

Related links
Sarine Technologies

Sarine Official Wechat