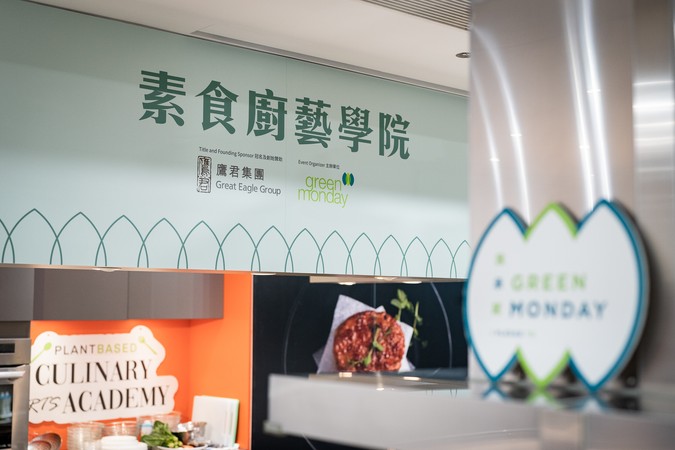 https://hkmb.hktdc.com/en/OTcwNTM0Nzkw
Delivering Sustainability: Hong Kong's First Plant-Based Culinary Arts Academy
Louis Chan, Nicholas Fu
With the threat of Covid-19 still refusing to recede, concerns over global food supplies and sustainable livestock production have swept across the planet. In early November 2021, global leaders convened in Glasgow for the 26th Climate Change Conference of the Parties (COP26) [1], calling for urgent action to tackle climate change issues. Among the items discussed was the need to encourage the uptake of plant-based diets [2] – i.e. eating patterns focused on foods primarily derived from plants, with limited or no animal-derived products – in an attempt to provide a solution to hunger and food insecurity.
Green Monday [3], a Hong Kong-based multi‑faceted social venture with a mission to combat food insecurity and improve public health, has been advocating for sustainable living since it was founded on Earth Day (22 April) 2012. The group's market‑transforming plant‑based retail, dining and distribution network Green Common has, in collaboration with Great Eagle Group [4], established the first Plant-Based Culinary Arts Academy [5] in Hong Kong, in order to take advantage of the current unparalleled opportunity to change the food and beverage market by driving a transition towards more sustainable food supply and production patterns.
Great Eagle Group believes that the academy is the city's very first programme targeting the culinary industry. Detailing its history of campaigning on this issue, a spokesperson for the group said: "Since 2013, we have been working with Green Monday to promote sustainable lifestyles. Campaigns completed included Going Green (meatless) on Mondays, Green Lunch in Schools – with the support of school caterers – and a raft of green living luncheons and talks organised at our offices and cafeterias.
"We're delighted to see the Green Monday [6] Movement aiming to achieve 'net-zero'". Reducing meat consumption by going green on Mondays has been recognised as a model of promoting quality green development and building a sustainable future, and has been selected as one of the "Best Practices for Carbon Neutrality" [7] in the China Green Economy Summit 2021 [8], co-hosted by People.cn [9], All-China Environment Federation [10] and the Centre for Environmental Education and Communications of Ministry of Ecology and Environment [11].
"We have been promoting plant-based diets proactively in the community. By setting up the city's very first Plant-Based Culinary Arts Academy in partnership with Green Monday, we look forward to giving people in the culinary industry more knowledge about plant-based eating patterns, and thus bringing more green diet options to the community. When it comes to shaping society's diet, we believe chefs and restaurants have an indispensable role to play."
Covid-19 Catalyst
As a plant‑based lifestyle proponent, the founder and CEO of Green Monday David Yeung views the Covid-19 pandemic as an unexpected catalyst for sustainable living and the establishment of the Plant-based Culinary Arts Academy. He said: "The academy is just the right place to equip current and future talents in the culinary industry with the skills to become transformers and leaders of change in the move towards climate-friendly diets. The three sessions we have completed so far have been joined by more than 80 professional chefs, apprentice chefs and chef students. They all gained an increased understanding of the connection between food choices and the environment, while 95% gained an increased understanding of cooking with plant-based alternatives. It is thrilling – but not actually surprising – for us that many said they were ready to make a positive change, given the need to meet higher consumer demand for plant-based diets and minimise environmental impact."
Global Effect
Given the current concerns over climate change and the security of global food supplies, it appears that this may be the time for plant-based alternatives to take centre stage. It should, however, be noted that there is still a long way to go before plant-based diets become mainstream and challenge the supremacy of traditional meat consumption. After all, plant-based meat alternatives make up less than 1% of annual meat consumption in the US.
Since its founding a decade ago, Green Monday has joined the campaign for a transition towards plant-based diets. As an advance celebration of its 10th anniversary, it launched a new product series, OmniSeafood [12] in 2021 to meet the increasingly restive demand for sustainable food options.
Pointing out how a change in diets will have a global effect, Yeung said: "The growth of the plant-based industry is consequential for everyone. Having witnessed our success in 2021, including the inception of OmniSeafood and our expansion into the UK, the US and Australia, we are pleased to see that all stakeholders in the global food chain now pay much greater attention, and put more effort, into rethinking and tackling global issues such as sustainability, public health and animal welfare. This is driving growing worldwide recognition of the importance of plant‑based protein or meat substitutes."
With food suppliers, restaurants, chefs and consumers becoming more aware of and educated about the risks and downsides of the current animal‑dependent food system, he believes the pandemic will encourage people to move towards adjusting their lifestyles and adopting more sustainable and wholesome diets.
Explaining the effect this may have on the culinary industry, Yeung said: "Covid-19 restrictions such as stay-at-home orders have boosted home cooking and upended the restaurant business. To survive the crisis and thrive afterwards, industry operators must seize the opportunity to future-proof their businesses. One effective way of doing this is to understand and evaluate the impact of Covid-19 on consumers' adoption of a more sustainable lifestyle. They must be ready to surprise their customers with sustainable, innovative and wholesome food choices.
Environmental Footprint
"Many authoritative research studies have already shown that, from a life cycle point of view, the biggest environmental footprint of the food industry often takes place in the cradle stage – i.e. farming and animal raising." For example, animal-based food is estimated to be responsible for 60% [13] of the annual global carbon emissions of the whole food production industry, with beef and cow milk accounting for more than half the total emissions by themselves.
In the meantime, a recent survey commissioned by OmniFoods and conducted by YouGov, a global public opinion and data company, has revealed that people across the world have deep concerns about the sustainability of oceans and seafood consumption. In the face of worries about plastic waste, overfishing or fish extinction, seafood safety and animal cruelty in the farm fishing industry, a fundamental change in eating habits is seen as one of the most feasible and effective ways to protect the ocean.
"Meat and dairy products or animal proteins are linked to higher greenhouse gas (GHG) emissions than plant-based or vegan alternatives, which usually use much less land and water resources, and carry far less of a threat to biodiversity. By offering plant-based alternatives through restaurants and other food services, we are effectively reducing GHG emissions, and in turn our environmental footprint."
Yeung stressed that education and public awareness are key to this paradigm shift in lifestyles, saying: "In general, people aged between 20 and 50 are the most receptive to a transition to a flexitarian or plant‑based lifestyle as they are the most sensitive to health and climate change issues. While teens and Gen-Zs are usually not the decision makers when it comes to household consumption, positive spillover is widely observed when these proactive young consumers are influencing younger and older people. Vocal about climate change, teenagers and even children are the ones telling their parents 'Now it's time for a change'."
Local-first R&D
As one of the trailblazers for plant-based lifestyles in Asia, Green Monday's experience, expertise and knowledge of the Asian market are not only unpriced, but unparalleled. Revealing the secret to their success in this region, Yeung said: "We never underestimate the importance of matching our products to the particular palate of people in different markets. When creating new sustainable experiences for consumers in Asia and around the world, our R&D and marketing teams take a wide range of decisive factors into account – such as cultures, customs, traditions, habits and the values of a society or community.
"This is also why we believe it is highly conducive to work closely with the upstream of the food industry in order to empower chefs and restaurants, say via the Academy. The signature green recipes [14] we co-created with the acclaimed chefs from the Great Eagle Group's Michelin-starred restaurants, for example, are practical and powerful marketing tools to communicate our sustainable messages, stimulate customer interest and motivate action."
Working Together
From the "Green Monday" campaign to the establishment of the Plant-Based Culinary Arts Academy, from OmniFoods to co-created green recipes, Green Monday and its business partners such as Great Eagle Group are not only modifying food types and eating patterns in the community, but also driving sustainability-oriented innovation in the F&B industry.
The overwhelming response from industry practitioners – as witnessed in the recent sessions of the Academy – has been very positive. The Great Eagle Group is now ready to explore how it can leverage on the early success of the project to drive further moves in the community to tackle climate change, the greatest environmental challenge of the 21st century.
Explaining how he believes that the establishment of the academy is central to his organisation's environmental campaigning, Yeung said: "The Plant-Based Culinary Arts Academy is a natural continuation of Green Monday's aspiration to see sustainable living rise steadily towards becoming mankind's top priority. It is a step forward that sees us join forces with our partners to engage with people in the frontline of the culinary industry and drive and lead changes in the community's diet."
Giving his reaction to receiving the Best Practices for Carbon Neutrality award, Yeung said: "Carbon neutrality is a worldwide common goal, and a clear direction to drive the nation towards a sustainable future. We look forward to working and engaging with every enterprise, group and individual in the global food chain to promote plant-based diets, bringing sustainable food choices to all. Everyone should accept the responsibility of taking the necessary action on sustainability."