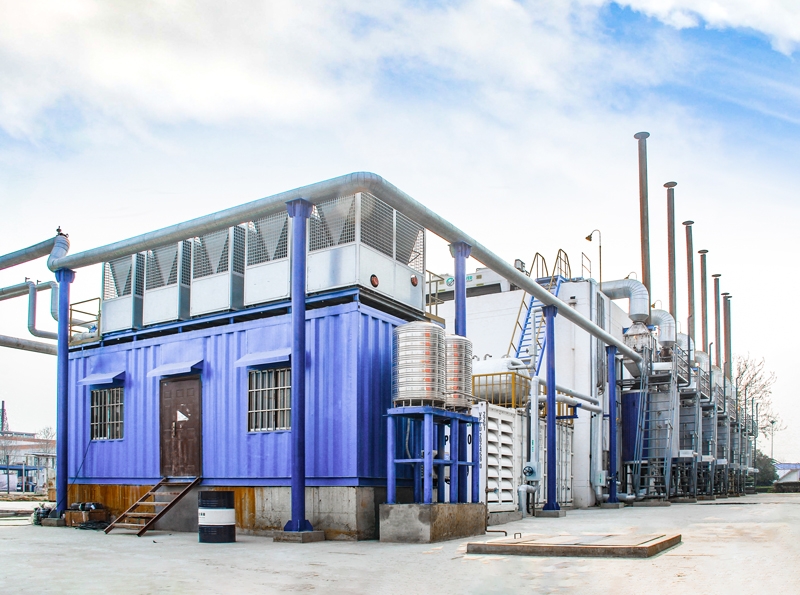 https://hkmb.hktdc.com/en/OTY4ODI1Njk3
Hong Kong Power System Integrator Going Green with Aid of Green Finance
Interview with Ambrose Lee, Chief Strategy Officer and Head of Capital Markets/Corporate Finance, VPower Group Holdings Limited
Doris Fung
In the face of climate change, the world is focusing its attention on sustainable development and the energy industry. VPower Group Holdings Limited is Southeast Asia's largest private gas-fired engine-based DPG (distributed power generation) station owner and operator. The company secured its first sustainability-linked loan in 2021. Ambrose Lee, Chief Strategy Officer and Head of Capital Markets/Corporate Finance, welcomes Hong Kong's growing interest in sustainable development, and believes local financing can help businesses go green and expand. 
From China to Southeast Asia 
VPower is engaged in DPG with two main business arms. The first covers design, integration and sale of gen-sets and power generation systems, while the second concentrates on investing in, building and operating DPG stations. 
Lee recalled that when it was first established, VPower focused on offering power systems integration on the mainland. Some 20 years ago, Hong Kong companies flocked north to set up factories in Guangdong province, pushing the mainland power grids beyond their capacity. VPower then started selling gen-sets to factories seeking a stable electricity supply. Later, mid- to high-end customers such as data centres, shipbuilding companies and major shopping malls became the company's targets. 
Having accumulated experience, technologies and talent in power systems integration, VPower began to invest in and build DPG stations in 2012, venturing first into Indonesia. The company is currently operating power generation projects in China, Indonesia, Myanmar, Sri Lanka, Peru, Brazil and the UK. 
In 2020, close to half of VPower's turnover came from Southeast Asian countries, while 30% was from China. The company is now Asia's largest and the world's fifth biggest gen-set system integration provider as well as Asia's leading DPG station owner and operator. 
Customised Power Solutions

Lee believes that before moving into a new market, a company must research carefully to gain a thorough understanding of the local business environment, including its laws, tax system, electricity demands and environmental protection laws. When VPower entered the emerging markets in the early years, it did so because of their growing demands for electricity and high prospects. On other areas for attention, Lee said: "The cultural factor should be a prime consideration when entering a new market. As an outside company, we must learn about and respect cultural differences. In Indonesia for example we offer religious holidays and opportunities and facilities for Moslem employees to pray."
Explaining how DPG stations differ from fully-fledged power plants, Lee said: "It takes several years to build a traditional power plant, and a longer-term power purchase agreement is required to offset the capital expenditure. On the other hand, the DPG solution is an engine-based approach, deploying highly mobile 'plug-and-play' gen-sets. The entire process, from tendering to construction and power generation, takes only a few months. After a contract has ended, we can redeploy the gen-sets to other power stations in a short time to avoid leaving them idle." 
Some exporters find the 10 ASEAN countries too scattered and diverse, but Lee sees this as an advantage to VPower. He said: "VPower commands advanced technologies and extensive experience in DPG, and is well-versed in the functionality of different gen-sets. As such, we are well-positioned to provide customers with high value-added, customised power generation solutions based on the specific humidity, temperature or even extreme climate conditions of different countries." 
Meanwhile, VPower has also started DPG projects in the UK. Detailing the company's UK business, Lee said: "Renewable energy is taking up an increasing share of the UK's fuel mix. VPower has to design more flexible power generation solutions to help power grids balance supply and demand. In Southeast Asia, our DPG stations provide electricity on an uninterrupted basis. In the UK, however, we have to co-ordinate with the supply of renewable energy like wind power and solar energy, and our DPG stations' daily operating hours have to be adjusted based on changes in the overall demand and supply." Lee emphasised that VPower is capable of tailor-making solutions catering to the special characteristics of different markets and clients. 
Re-focusing on China 
Lee believes that in the next few decades, the world will pursue the target of zero carbon emissions in response to climate change. In recent months, many countries including the UK, Japan, Canada and the US have announced more ambitious goals to reduce emissions. In China, the 14th Five-Year Plan also sets out the double targets of peaking carbon emissions before 2030 and attaining carbon neutrality before 2060. Moreover, a national carbon emissions trading scheme was launched in 2021.
In support of this worldwide resolve for green development, VPower announced its decarbonisation targets in its 2021 interim report – to phase out pure diesel power projects by 2030 and attain carbon neutrality by 2050. Lee noted that such targets align with global initiatives, requiring VPower to devote more resources in developing integrated energy solutions whereby renewable energy and energy-efficient technologies will be used. He cited as an example the company's "combined heat and power system" in Shandong, a waste-to-energy project in which methane collected during the production process is turned into electricity and steam. VPower plans to accelerate its expansion on the mainland, riding on the country's great market potential and support for sustainable development. 
In October 2019, VPower's two wholly-owned subsidiaries were granted an energy transition loan, while the company also secured a sustainability-linked loan in 2021. Lee pointed out that in the past two years, the Hong Kong government has stepped up efforts to promote sustainable development and green finance, with major banks and financial institutions keen to assist by offering new green financial services and products. This, coupled with Hong Kong's robust and mature financing systems, means that greater efforts can be made by companies like VPower to promote sustainable development and contribute to Hong Kong's carbon neutrality target. Lee also expressed the hope that Hong Kong will promote more ESG (environmental, social and governance) talent to help develop the local ESG ecosystem.
---
The opinions and views expressed are those of the interviewees and do not necessarily reflect the views of UOB or HKTDC. UOB or HKTDC shall in no way be responsible for the accuracy, completeness or timeliness of the information provided by them, and for any loss associated with the use of such information. 
Note: This article forms part of a joint study conducted by HKTDC Research and UOB: "Trade and Investment Between GBA and ASEAN and the Roles of Hong Kong".
Please click here for the full report.
Hong Kong
Mainland China
ASEAN
Hong Kong