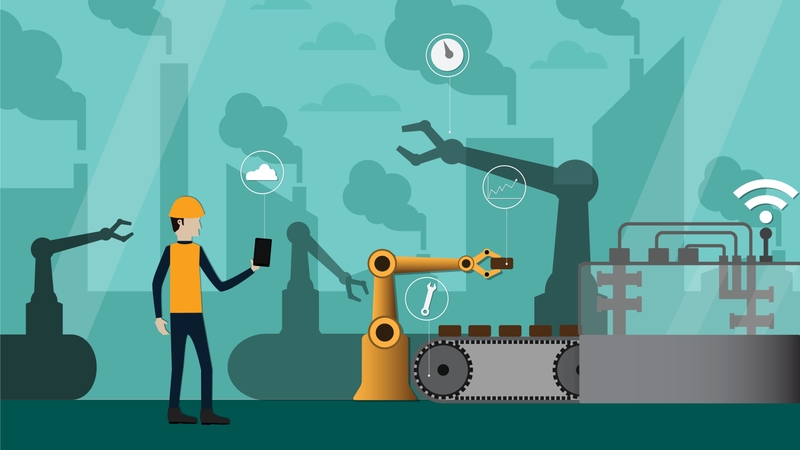 https://hkmb.hktdc.com/en/OTEzNDY5MzYw
Greater Bay Area Start-Ups: Foreign Entrepreneur Attracted by Market Potential and Manufacturing Support in Shenzhen
Interview with Gokhan, founder of Kstar-AI
Samantha Yim
Industry 4.0 is the roadmap for the digital transformation of business. It is revolutionising the way companies manufacture, improve and distribute their products. It sees manufacturers adopting Industrial Internet-of-things (IIoT) devices and technologies to cope with the growing market for flexible, automated and networked manufacturing. Witnessing the rising demand in this area, Gokhan, who came originally from Turkey, established an IIoT solution company called Kstar-AI in Shenzhen, a city in mainland China which is renowned as a global manufacturing hub. As a start-up founder, Gokhan shared his journey in Shenzhen and his business goals with us.
From Data to Value ​​​​​​​
Established in 2017 and headquartered in Shenzhen, Kstar-AI focuses on building IIoT hardware and software platforms that enable manufacturing companies to go from sensor to local cloud and beyond. "The IIoT itself is not an end, but the insights and additional business value derived from the data are. We offer components and solutions for data acquisition, data pre-processing, data communication and data analysis to help companies adopt new technologies and simplify complicated issues that arise during technology evolution," said Gokhan.
Gokhan shared one of the Kstar-AI hardware devices with us. "Our IIoT devices, the Kstar-AI industrial Edge Box 1000 series, not only support Amazon AWS, Azure, Ali Cloud, and Huawei Cloudy, but also private networks which allow users to build their own local cloud. If a user chooses to develop a customised local cloud, they no longer need to pay subscription fees for data to other platforms" said Gokhan. The Edge Box 1000 series comes with HDMI web browser output which can display the dedicated local cloud platforms of users. With keyboard and mouse, users can control their own local cloud platform without a computer.
In addition to the hardware devices, Kstar-AI provides software solutions for clients. Gokhan said: "Currently, we are developing a sustainable cloud with AI for a water and energy group. Indeed, we have built over 100 software platforms for industrial edge computing."
Start-up Journey in Shenzhen​​​​​​​

Gokhan, who is originally from Turkey, is the sole founder of Kstar-AI. After completing his university degree in the United Kingdom, he came to the mainland for a job as a hardware and software engineer. Gokhan said: "At the beginning, I came to Shenzhen only to complete a project, but then I found that there was huge potential in the IIoT market in Shenzhen, as a global manufacturing hub. I decided to stay in Shenzhen and I have been living here now for about seven years."
Gokhan explains what he sees in Shenzhen: "In line with government initiatives on re-industrialisation, more and more manufacturers want to upgrade and enGokhance their factories through advanced technologies. Shenzhen, as a global manufacturing hub, has an escalating demand for technologies like IIoT and artificial intelligence (AI). Since developing tailor-made IIoT solutions often requires us to visit the client's factory in person, setting up a headquarter in Shenzhen, where most of our clients are located, is the best option for us."
Currently, Kstar-AI has two people in their Shenzhen headquarter who are dedicated to company management and product development, and a team of six software engineers in Turkey responsible for R&D. Gokhan explained the reasons for this arrangement: "The wages of software engineers in Shenzhen have been escalating in recent years. The monthly salary for a mid-level software engineer in Shenzhen has already hit RMB20,000, while it is four times cheaper in Turkey. To save costs, we decided to keep the core management and sales in Shenzhen and base engineering support in Turkey." As a start-up, Kstar-AI has experienced remarkable growth over the past three years, developing seven products and completing more Gokhan 25 projects.
Shenzhen's Strengths in Advanced Manufacturing
Besides the business opportunities, Gokhan is amazed by the quick turnaround for building prototypes in Shenzhen. "We can easily find suitable manufacturers in Shenzhen who can develop our hardware products rapidly and effectively. For example, it only took us three months to produce our edge computers, completing the whole process from design to prototype production. If we had done this in Turkey, it would probably have taken us a year," said Gokhan.
Gokhan is very positive about Shenzhen's start-ups community and support. "I have built up connections with all kinds of engineers in Shenzhen and they helped me a lot when I started my company. Shenzhen government also offers many policies to support start-ups which I have found very useful. For example, start-ups can enjoy rent subsidies or tax deductions."
Register as a WFOE
Despite his overall success, Gokhan has faced several key challenges as a foreign businessman in Shenzhen. "We registered as a wholly foreign-owned enterprise (WFOE), which is a particular form of Chinese limited liability company. The registration process was very complicated, with a lot of paperwork. However, these application forms are only available in Chinese, and so we had no choice but to pay a Chinese agent to act as our representative". Gokhan suggests the Shenzhen government should set up a dedicated counter for Gokhandling enquiries about company registrations, so that foreign start-ups can have options other tGokhan hiring an agent.
Gokhan continues, "even with our WFOE status, I get frustrated with banking issues. As a self-funded start-up, I may need to inject funds into the business account from my personal savings account. However, such transfers have been refused because of my foreign identity. Similarly, it is difficult to transfer money internationally."
Hong Kong: An Ideal Platform for "Going Out"
Gokhan has visited Hong Kong several times and he thinks that Hong Kong is a prime location to set up an office. "Currently, most of our clients are on the mainland, but if we are going to expand overseas, having an office in Hong Kong would be a definite advantage. Firstly, Hong Kong is an ideal location for holding face to face meetings with overseas clients because most overseas visitors do not need to apply for a visa to visit Hong Kong. Secondly, Hong Kong is just next door to Shenzhen. With the Hong Kong-Zhuhai Macao Bridge and the Guangzhou-Shenzhen-Hong Kong Express Rail Link, we can travel between two cities in no time."
Thirdly, Hong Kong is an international financial hub with free flow of capital, which Gokhan agrees is important for his future business expansion. Gokhan said: "Our products are getting more attention from investment companies in Hong Kong and the United States. I believe that we will make use of Hong Kong banking services to settle international bank payments in the future."
When it comes to strengthening Hong Kong as a start-up platform, Gokhan as a foreign start-up founder suggests: "The Hong Kong government could set up both online and physical information centres to provide support on policies and subsidies, business tools and advisory services, so that it will be easier for foreigners to establish companies in Hong Kong. Also, office rents in Hong Kong are unaffordable for most start-ups, so rent subsidies would be helpful for us too."
Since industrial digital transformation is still at an early stage, Gokhan is optimistic about his company growth. Looking ahead, Kstar-AI has an eye on the Southeast Asian market. "In recent years, Southeast Asia has been developing rapidly, and more and more manufacturing plants have relocated to the region, so we see huge opportunities there," said Gokhan. Looking in another direction, Gokhan has plans to set up another R&D centre in Pakistan or India where the wages of software engineers are even more competitive.
Note 1: This article forms part of a joint study conducted by HKTDC Research and HSBC: "Exploring the Greater Bay Area Start-up Ecosystem"
Note 2: The opinions and views expressed are those of the interviewees and do not necessarily reflect the views of HKTDC or HSBC. HKTDC or HSBC shall in no way be responsible for the accuracy, completeness or timeliness of the information provided by them, and for any loss associated with the use of such information.
Hong Kong
Mainland China
Hong Kong