As a leading international financial hub Hong Kong keeps abreast of developments in the financial universe, and green finance has moved firmly into the spotlight.
In his first Policy Address, Hong Kong Special Administrative Region Chief Executive John Lee said his administration would "develop green and sustainable finance – We will promote the development of Hong Kong as a premier financing platform for governments and green enterprises in the Mainland and around the world.
"We are also developing Hong Kong into an international carbon market, and will support HKEx to continue pursuing co‑operation with, among others, financial institutions in Guangzhou in carbon market development."
The Hong Kong Financial Services Development Council said the city is at the forefront of the global development of sustainable investing. "The city has a sizeable and rapidly growing green bond market, with US$57 billion originated in 2021, while the government is actively promoting the development of sustainable investment – in part by issuing its own green bonds, and at the same time nurturing a supportive regulatory environment."
Green AFF
The Asian Financial Forum (AFF) is launching the financial event year this month and sustainable finance is a thread that runs through many of the discussions. The opening plenary session chaired by Christopher Hui, Secretary for Financial Services and the Treasury, Hong Kong Special Administrative Region of the People's Republic of China (HKSAR) tackles the "polycrisis" that has beset the world in recent years, proposing cooperation amid suggestions that "de-globalisation" and "de-coupling" present the answer.
This will be followed by a presentation on the Joint Research Paper on Financing the Corporate Transition to a Sustainable Future by PwC and the Hong Kong Trade Development Council (HKTDC).
The first keynote luncheon will focus on sustainable development. Fostering global collaboration helps to build a sustainable and inclusive economy but geopolitical tensions and conflicts in recent years have been obstacles to achieving the targets set out in the United Nations Sustainable Development Goals. In this session, former Secretary-General of the UN (2007-2016) Ban Ki-moon will share an overview of sustainable development, as well as his perspectives on how to foster multilateralism and mobilise resources to address the latest global challenges.
In another keynote, Christiana Figueres, Co-founder of Global Optimism and former Executive Secretary of the United Nations Framework Convention on Climate Change, addresses the issue of extreme weather, explaining that rapid actions – including green finance, carbon-free infrastructure and other innovative solutions are now needed more than ever. In this session, Ms Figueres will share her views on the roles that regulators, financial institutions and business leaders play in containing global warming and how they can help achieve climate goals.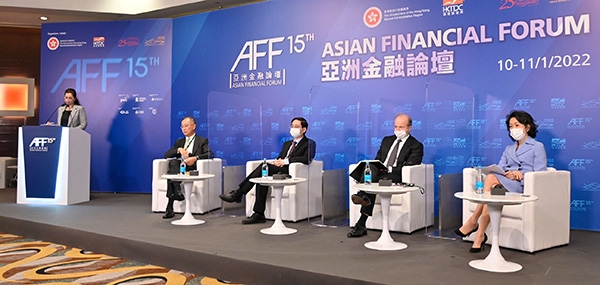 Net zero future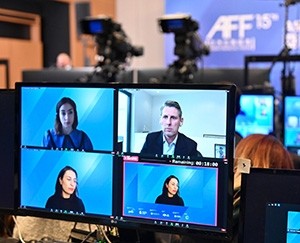 As countries focus on adopting net zero targets, sustainable finance products have proliferated while transition finance has emerged, with standards and frameworks appearing. The Scaling Transition Finance & Carbon Markets towards A Net Zero Future panel will discuss and share perspectives on the challenges of transition finance, the Group of 20 Framework for Transition Finance and the role of carbon markets in facilitating the acceleration to net-zero strategies.
In another session, Investing in New Technologies for the Energy Transition in Asia-Pacific, delegates will discuss how the Asia-Pacific has become the world's biggest region for climate-smart investment opportunities, accounting for 49% of the world's energy transition investment in 2021.
Significant spending on new technologies from energy storage to low-carbon technologies is needed to achieve transition targets, which will increase those opportunities by hundreds of billions of dollars. This session will explore the innovations that hold the most promise in helping the region achieve its energy-transition ambitions, as well as what needs to happen for these solutions to be scaled and made affordable for emerging markets and developing economies.
AFF headlines International Financial Week in Hong Kong which includes a number of webinars addressing sustainable finance.
Related links
AFF
International Financial Week