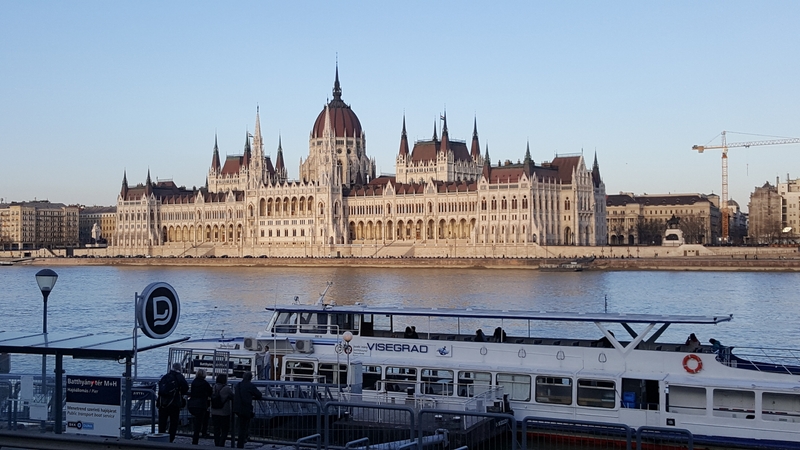 https://hkmb.hktdc.com/en/NzY5MjEzOTQ2
Post-Covid Prospects: Hungary Opts for a Sustainable Future
Louis Chan
After two consecutive quarterly declines, the Hungarian economy has been growing again since the second half of 2020. Following a surprising economic expansion in the final quarter of the year amid the so-called 'second wave' of the Covid-19 pandemic, the nation ended 2020 with a stronger GDP performance than the EU average. Its economy has weathered the effects of the pandemic much better than it did the 2008/09 financial crisis. In spite of last year's overall 5% slide in GDP, many – including the IMF and the European Commission – are optimistic about Hungary's future prospects, with GDP growth of 4%+ widely anticipated for 2021. 
The Hungarian government's decision to handle the Covid-19 crisis with tax reliefs, job creation schemes and investment support rather than austerity measures has given considerable impetus to growth in the short run and is central to its success in handling the economic effects of the pandemic. This has been complemented by the solid steps forward that the country is taking with regard to sustainability, which forms part of an action plan for relaunching the economy that is set to put it on an increasingly robust track in the longer term. 
The country has adopted a number of major strategies, including two logistics flagship projects, one of which is designed to give the landlocked nation its own outlet to the sea. The state-owned company executing the development, Adria Port, gained full ownership of the land and concession of a 32-hectare territory in Trieste, Italy at the end of 2020. Trieste, a particularly dynamic, developing port in the North Adriatic, has traditionally been the port for the Central European region and has excellent rail connections with Hungary. It was these attributes, together with its ideal location, that made it perfect for the development of a fully owned terminal, which will provide another competitive option for Hungarian companies to facilitate their foreign trade. 
The second project is the 350km-long Budapest-Belgrade high-speed railway line, the first European Belt and Road project. The Trieste port development and the Budapest-Belgrade railway projects complement each other in many ways, especially with regard to the expected growth in seaborne trade with Asia in the coming years. This increased volume of goods will require additional and diversified capacities and services in ports and hinterland transportation. As a result, these two flagship projects – part of two different corridors of the TEN-T network, both of which pass through Hungary – will stimulate further growth in their respective areas and, at the same time, strengthen Hungary's role as a regional hub for logistics. 
Although Hungary, like many other countries, is still battling against the coronavirus, it has responded quickly. It was the first EU country to approve China's Sinopharm and Russia's Sputnik V vaccines, in addition to the Pfizer-BioNTech, the Moderna, the Astra Zeneca and the Johnson&Johnson vaccines. It has also taken the lead in terms of inoculation rate (53% of its population had received their first dose of vaccine by the end of May). As a result, there is every reason to believe that a quick recovery is on the horizon. 
In order to learn more about Hungary's prospects for sustainable development and how this has been incorporated into its Covid-19 recovery strategy, HKTDC's Assistant Principal Economist (Global Research) Louis Chan sought the views of the country's Deputy State Secretariat for Public Services Development of the Ministry of Innovation and Technology, and the Department for Water Diplomacy and Danube Regional Strategy of the Ministry of Foreign Affairs and Trade, with the assistance of Krisztina Dóra Koletár, Trade Commissioner of the Consulate General of Hungary in Hong Kong. The discussion focused on the country's path to green recovery and how Hungarian companies can grow their business in partnership with Hong Kong enterprises.
Chan: How sustainable is Hungary, compared to the other major economies? Are there any indicative rankings or benchmarks relating to its achievements? 
Koletár: Hungary is ranked 29th among 193 United Nations Member States and 19th among the 27 EU countries in the Sustainable Development Report 2020 that tracks global progress towards the 17 Sustainable Development Goals (SDGs) adopted in September 2015 and set to be achieved by 2030. The country has achieved one of the highest GDP growth rates in the EU. Hungary's strong economic growth offers a valuable opportunity for the country to implement significant structural and institutional reforms for sustainable and long-term growth. It has scored high on poverty reduction (SDG1), water conservation and sanitation (SDG6), sustained economic growth and decent work (SDG8) and sustainable use of terrestrial ecosystems (SDG15). 
When it comes to greenhouse gas (GHG) emissions reduction, Hungary ranked 8th among the EU27 in the Annual European Union greenhouse gas inventory 1990–2018 and inventory report 2020, with a 32.7% cut in GHG emissions over the 1990-2018 period. For its first nationwide electromobility strategy, the Hungarian government adopted the so-called Jedlik Ányos Plan in 2015, which aims to reduce the environmental impact of motor vehicle emissions, introduce innovative technologies and modernise traffic. This involves direct financial support for the purchase of electric vehicles and provides generous tax and fee exemptions and free parking in Budapest and other major cities for electric vehicle owners and drivers, as well as tax allowances for charging infrastructure investments. Following its early success and as part of the revised strategy to accelerate the spread of electromobility, the Jedlik Ányos Plan 2.0 aims to get 450,000 electric vehicles powered by 45,000 charging stations running on Hungarian roads by 2030. 
Chan: How is sustainability being incorporated into Hungary's business sector? Are there any available home-grown sustainability-related solutions for international expansion? 
Koletár: Apart from the technical standards and waste management policies required by both local and EU laws, the application of green standards remains largely non-obligatory. Economic operators, however, usually have a strong interest in following standards voluntarily. 
Having said that, the Hungarian government is a staunch supporter and a driver of sustainable business and innovation. For example, the Ministry for Innovation and Technology has been promoting the implementation of creative and innovative ideas for micro, small and medium-sized enterprises and individual entrepreneurs to prevent or reduce waste through the Solution for the Circular Economy initiative. This allocated grants to cover the costs of measures related to the extension of product lifetime (repair, refurbishment, remanufacturing, upgrading and conversion), material recycling, staggered recycling, the application of eco-innovation technologies, increasing resource efficiency by expanding existing capacities and creating new ones, and the collection and upcycling of used products, parts and materials. 
Hungary also made significant steps forward last year with regard to promoting the shift to a sustainable economy. The Climate and Environmental Protection Action Plan and the Energy and Climate Strategy were adopted and written into law. Meanwhile a clean development strategy and a hydrogen strategy are also currently in the works. The Government made a survey of the needs of the most important industries in order to devise an industrial policy with sustainability at its forefront. The energy sector, energy storage, the biotechnology industry, hydrogen technology, the development of new materials are all seen as promising areas with significant space for development and growth. 
This year, building on our long tradition and rich experience in waste and water management (including organising the Budapest Water Summit every three years since 2013), we are proud to organise the Planet Budapest 2021 Sustainability Expo and Summit – the largest sustainability event in Central Europe. Between 29 November and 5 December 2021, the event will feature a line-up of professional exhibitors from the Visegrád Countries – the Czech Republic, Hungary, Poland and Slovakia – promoting sustainable development through technological developments and innovative products and services. 
It is important to note that one of the leading regional environmental industry exhibitions – Ökoindustria – concluded on 30 April this year and has been organised in Hungary since 2009. The main organiser of the event, the Hungarian Association of Environmental Enterprises, was established 29 years ago. With the support of more than 15,000 professionals from some 15 countries, this biannual event has proven to be a significant platform for decision makers and project-holders to meet and exchange their experience of state-of-the-art technologies, innovations and trends in the regional green industry market. 
These public efforts aside, there are many Hungarian companies working on home-grown solutions for a sustainable future. 
Indeed, among this year's exhibitors at Ökoindustria home-grown sustainability solutions abounded. Daniella Ipari Park Kft. for example, manufactures an innovative thermal insulation material. Glass powder from recycled glass prepared by its factory is "baked" in an electrical tunnel furnace at a pre-programmed heating curve in order to make glass foam. The procedure is free from toxic gases, industrial water pollution, burning emissions or noise and dust pollution. On top of it all, its primary energy needs are about one tenth of that of styrene thermal insulation materials. 
W-heat is another pioneer in the thermal insulation material field and developed an innovative binder for straw to withstand extremes, with a performance and at a price that can compete with plastic foam or mineral wool insulation materials. It has low production costs, a negative carbon footprint, outstanding fire resistance and is biodegradable. 
Another exhibitor, Compocity aims to help city dwellers contribute to a sustainable future. Its indoor eco-robot requires only a friendly microorganism to create a fully-fledged, nutrient-rich compost base in a few weeks from food waste. With no earthworms or unpleasant odours or daily treatment involved, you can track the progress via its gamified app. 
A firm believer in the world's decarbonised future, Horge Technologies uses its ground-breaking gasification technology to turn unrecyclable municipal waste or even hazardous biomass waste into syngas, a clean energy carrier. By doing so, it aims to extend the lifespan of landfills by diverting as much waste as possible from them. The company's goal is to build a demonstration plant to complete the syngas to hydrogen process and it is currently on the lookout for partners to join the development process. 
Aside from Ökoindustria exhibitors, other examples include Platio, a Budapest-based tech company that has recently presented its walkable solar pavement solution – space-saving, walkable solar tiles mounted on recycled plastic paving slabs – at the Hungary-Hong Kong Smart City Webinar, as organised by the Consulate General and Hong Kong Science and Technology Park. 
Another company to present at the webinar was HeatVentors. It is looking to find an efficient and environmentally-friendly solution for thermal energy storage, having already designed a system that can reduce CO2 emissions by 30-50%, and energy costs by 20-50%, with a payback period of under five years. 
EcoSync is another energy-saving pioneer and uses real time occupancy data to control the temperature of commercial buildings. This is intended to help tackle the problem of 70% of commercial buildings being empty but heated, resulting in energy wastage of up to 40% and associated excessive costs. 
Still others are focusing on the problem of treating accumulating waste, which is another key strength of Hungarian companies. One of the most interesting start-ups in this area is Poliloop, a company that has invented a bacterial cocktail capable of biodegrading a variety of plastics without the need for sorting or pre-washing –increasing efficiency and reducing operating costs. 
Of course there are so many others, but this is a good overview of the directions and the variety of solutions that many of our environmentally conscious companies and entrepreneurs are working on. 
Chan: What is Hungary's vision with regard to organising the Planet Budapest 2021 Sustainability Expo and Summit? Any tangible deliverables set? 
Koletár: Hungary noticed, before many others, that solving the problems related to the use of limited environmental resources, such as freshwater, will be one of the most urgent economic and social issues of the 21st century. The Budapest Water Summits held in 2013, 2016 and 2019, for instance, all highlighted the fact that Hungary is ready to face these problems and to offer solutions, as well as willing to collaborate with regional and international partners. 
Building on the success of the Budapest Water Summits, under the patronage of President János Áder, Hungary is going to host the Planet Budapest 2021 Sustainability Expo and Summit between 29 November and 5 December 2021, in order to showcase the sustainability performance and initiatives of Hungary and the Visegrád countries. 
Since the coronavirus pandemic, sustainability has become more of a general concern than ever before. As a result, addressing climate change is very much prioritised in many post-Covid recovery plans, particularly within the EU. Planet Budapest 2021 is, therefore, a timely initiative and one designed to help all stakeholders go beyond re-identifying the problems already acknowledged. In fact, it will both provide a platform for those who want to think about the future of our planet in a sustainable way, while also presenting concrete solutions. Its vision of the future also takes the environmental, social and economic contexts of sustainability into account, while addressing the needs of society as a whole and encouraging both dialogue and action. 
The Summit will have a line-up of some 100 high-ranking, high-calibre speakers, while the week-long Sustainability Expo is expected to welcome 190 exhibitors from the Visegrád countries to its total exhibition area of 20,000m2 in the nation's largest convention centre, Hungexpo. 
To encourage the engagement of the young in the building of a sustainable future for all, Planet Budapest 2021 will also feature a Heroes of the Future Youth Programme. This is targeted at students, who can participate in a guided group sustainability programme and several other public programmes and accompanying events. 
Through these four thematic channels, Planet Budapest 2021 aims to create a conducive platform for participants from the scientific, political, diplomatic, business and academic fields to exchange thoughts and ideas, while transforming innovative scientific concepts and ideas into practical solutions and actionable recommendations. 
Chan: Do you see any room for collaboration between Hungarian and Hong Kong companies? 
Koletár: Hungary and Hong Kong are both internationally embedded open economies in a highly globalised world. It goes without saying that the environmental challenges we are all facing require a lot of resources and idea pooling. Closer cooperation in science and technology, innovation, research and development is, therefore, indispensable, while high-profile international events, such as climate conferences and exhibitions, are valuable channels when it comes to facilitating B2B networking. 
In our post-pandemic world, following the prolonged lockdowns and the adjustment to the new norm of remote working, distance – especially in an era of 5G technology – is seen as less and less of a limiting factor when it comes to cross-border cooperation. Public bodies and intermediary organisations, however, remain crucial to fostering international exchange and collaboration, so that start-ups and SMEs can be provided with opportunities and financial support that they need to participate in overseas visits and competitions, as well as study trips and B2B meetings required to learn more about the developments being delivered by like-minded entrepreneurs in other markets. Bilateral research and development grants and partnerships between key enablers or renowned research institutes in Hungary and Hong Kong could be an effective way to open new doors for companies in both locations. 
While world-famous universities and public bodies, such as the HKTDC, Hong Kong Science Park, Cyberport and ASTRI, have been doing a great job when it comes to promoting international R&D, Hungary has a lot to offer in terms of access to world-class research infrastructure. This has been highlighted by the National Research, Development and Innovation (NRDI) Office, which late last year issued a publication  showcasing Hungary's national research infrastructure and its laboratories of international significance. 
Hungary participates in 16 of the projects and landmark initiatives included in the latest Roadmap 2018 of the European Strategy Forum on Research Infrastructures (ESFRI), as well as working with several other non-ESFRI related research bodies, such as the European Organization for Nuclear Research (CERN), the European Molecular Biology Laboratory (EMBL) and the International Centre for Genetic Engineering and Biotechnology (ICGEB). 
A notable ESFRI example here is the next-generation high-power laser facility, Extreme Light Infrastructure Attosecond Light Pulse Source (ELI-ALPS) in Szeged – the first scientific facility in the world capable of investigating the interaction between light and matter at the highest intensity in the so-called ultra-relativistic range. This will provide the international scientific community with attosecond sources beyond previously available in terms of repetition rate, intensity and reliability. This trans-European facility is expected to have a considerable impact on a variety of fields including material science, medicine and environmental protection. 
As a significant automotive manufacturing hub in Europe, Hungary is also keen to stay ahead of the market in the new era of electric vehicles and smart mobility. As well as encouraging international investment, including the establishment of battery factories built and run by SK Innovation (the world-leading manufacturer of batteries for e-mobility solutions and energy storage systems), research structures have been put in place to serve the needs of the automotive industry in relation to electric vehicles and autonomous driving. ZalaZONE's vehicle test track in Zalaegerszeg, for instance, replicates real urban environments, while the Budapest University of Technology and Economics's Modular Hybrid Drive System Laboratory allows electric vehicle makers to test drive systems and components. 
Looking at the possibilities for future collaboration between Hungary and Hong Kong, I would like to highlight one intriguing example of a potential model from Mainland China. The Chinese-Hungarian Technology Transfer Centre in Chongqing was opened in 2017 by Hungary's leading applied research institution, Bay Zoltán Nonprofit Limited, the Chongqing Hi-Tech Incubation Center and the predecessor of the Hungarian Export Promotion Agency (HEPA). Today, the Center acts as an incubator for Chinese-Hungarian joint science and technology projects that are deemed to have particular market potential.
Eastern Europe
EU
Hong Kong
Hungary
Hong Kong