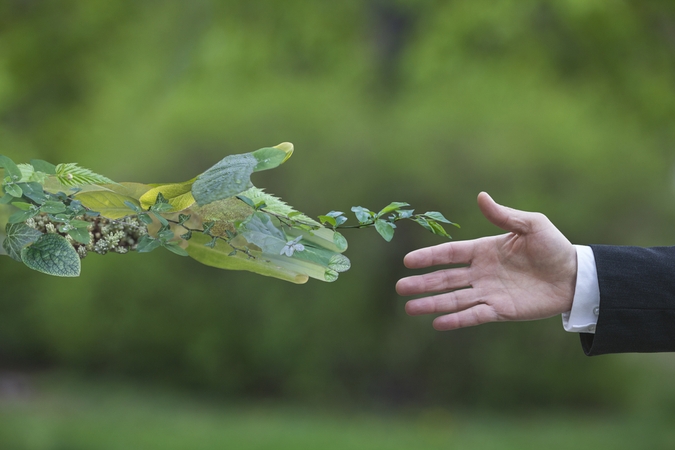 https://hkmb.hktdc.com/en/NzUyMDczOTIy
Post-pandemic Supply Chains: Riding the Sustainability Train
Interview with Ian Spaulding, the CEO of ELEVATE
Business leaders have become increasingly aware of the importance of incorporating environmental, social and governance (ESG) considerations into their business activities. This has come in the light of a flurry of Covid-led supply chain disruptions that have highlighted the need for greater resilience and enhanced corporate social responsibility.
Indeed, those businesses that have managed to demonstrate sustainability commitment by, for example, turning some of their production lines into facilities for making medical masks or sanitisers, establishing best-practice to safeguard employees' health or honouring procurement contracts with factories in emerging countries, are widely regarded as more trusted and have, therefore, proven more resilient in the face of the current economic headwinds.
This has encouraged, if not obliged, more companies to factor sustainability into their long-term corporate strategy as they look to streamline or transform their operations to embrace the post-virus new normal. This has led to more than half [1] of all global company CEOs now planning to put in place more stringent ESG practices.
With this in mind, HKTDC Research talked to Ian Spaulding, the CEO of ELEVATE, a Hong Kong-headquartered business risk and sustainability solutions provider with more than 20 years of hands-on experience. In particular, discussions focused on the way companies are incorporating sustainability into their corporate strategy and the consequences of this for the global supply chain.

Sustainable Finance on the Rise
Spaulding believes business leaders are now pursuing more ambitious sustainability agendas, many of which go far beyond regulatory compliance. Many no longer just face pressure from regulators, but also from investors, lenders and consumers who are all contributing to a more sustainable and inclusive recovery in the post-pandemic era.
When it comes to the emergence of sustainable finance as a fiscal incentive for companies to enhance sustainability, Spaulding said: "To appeal to the increasingly socially minded investors and lenders and secure competitive funding, companies are keen to develop sustainability-related projects that are subject to rigorous sustainability performance reports on a regular basis in accordance with a set of concrete, time-bound commitment targets."
Explaining why sustainable finance has grown quickly in recent years, Spaulding says: "Since the 2008-09 global financial crisis, which unveiled the fragility of the traditional business and funding models, private / public institutional investors and financial institutions have been under tremendous pressure to show themselves as a force for good. Other than cutting hefty bonuses and perks to executives, the private sector overall is making a bigger commitment to society by factoring sustainability into asset allocation and business planning."
One of the prominent examples of this is said to be BlackRock, the world's largest asset manager. Refer to their report, after achieving its 2020 game-changing sustainability goal of ESG-integrating its active and advisory strategies across its US$2.9 trillion of assets under management (AUM), its investment management team is now aiming for net zero emissions across all its AUM by 2050 [2]. As well as public investors – such as sovereign wealth funds – other institutional players, such as stock exchanges (including the Hong Kong Stock Exchange) and other key stakeholders, are also increasing their commitment to integrating impact investing as a means of generating measurable, beneficial social or environmental impacts alongside positive financial returns.

A More Active Sustainable Debt Market
With the common vision of rebuilding the global economy into a more sustainable one, an increasing number of central banks have laid out novel policies to channel capital into sustainable assets – equity and debt – during the pandemic. This is likely to further accelerate the development of sustainable finance. For instance, the European Central Bank (ECB) pledged [3] to increase the share of green bonds in its fund portfolio in September 2020 by including a broader selection of sustainable assets in its Asset Purchase Programmes (APP) and Pandemic Emergency Purchase Programme (PEPP).
Global governments have increasingly resorted to green bonds to finance their sustainability investments and reboot their economies. A recent example includes the EU's €225-billion green bond, which will be issued starting Q2 2021, as a means to finance the bloc's Covid-19 recovery package [4].
Private investors and borrowers have also cast their vote for a more prosperous outlook for sustainable finance during the pandemic and beyond, with global fund managers reportedly investing more than US$360 billion in sustainable assets in 2020 [5], more than double the amount recorded for 2019. Also worth noting is that the majority of investors believe the pandemic will be an accelerator of ESG investment momentum over the next three years [6].
More companies have explored the use of a broader range of sustainable debt instruments, such as sustainability-linked debt instruments, in their financial plans. For instance, many European businesses have started to use sustainability-linked debt instruments for financing business needs after sustainability-linked bonds were included in the ECB's buying programmes of September 2020 [7]. This saw three leading companies – the luxury fashion brand Chanel, the Swiss drug giant Novartis AG and the Brazilian paper maker Suzano SA – issue a total of nearly US$9 billion of sustainability-linked bonds [8].
The rising popularity of sustainability-linked debt instruments reflects the fact that more companies are embracing the inherited incentive mechanism that requires issuers to decide and achieve a set of pre-defined, time-bound ESG goals in order to avoid penalties in the form of higher borrowing cost or fines. As a side benefit, this can also serve as a valid business reason for justifying corporate spending on sustainability.
For example, in its issue of its first €300 million sustainability-linked bonds in September 2020, Chanel agreed to cut its greenhouse-gas emissions by half and reduce emissions in its supply chain by 10% by 2030. Failure to do so will entail a cash penalty of 0.7% in addition to the 1% interest payable. In the second issue, the luxury brand promised to adopt 100% renewable electricity across the company's operations by 2025, with a penalty clause of an additional 0.5% premium on top of the 0.5% interest rate.
In Hong Kong, at least five real estate developers, namely Link REIT [9], Hongkong Land [10], Sunlight REIT [11], Hang Lung [12] and Swire Pacific [13], secured sustainability-linked loans worth billions of dollars during the pandemic. For example, Hongkong Land is eligible for a tiered interest-rate discount on its HK$1 billion loan if it achieves the pre-determined ESG targets on greenhouse-gas emissions, electricity consumption, food waste, solar-energy generation and maintaining green-building certifications.
More Responsible Consumers
Seeing the pandemic as a boost to responsible consumerism, Spaulding says: "The Covid-19 crisis is a wake-up call for global consumers and companies to rethink their relationship with the planet and their responsibility to it." This echoes a Boston Consulting Group survey, [14] which found that, post-Covid-19, some 70% of responding consumers have become more aware that many human activities can be detrimental to the environment and, therefore, harmful to humanity. As a result, more and more consumers are set to avoid retailers and brands that fail to create sustainable products and to support workers during tough economic times.
In other words, consumers are fast becoming an important source of pressure, driving companies to make progress with regard to sustainability that goes well beyond basic regulatory compliance. Highlighting this, Spaulding said: "Consumers are voting for companies that are able and willing to give higher priority to sustainability on their business agendas and sourcing decisions. Therefore, brands and retailers are expected to take concrete actions to address different ESG issues and communicate these achievements to their consumers in order to improve brand equity and attract investors."
Many large companies, such as Unilever, P&G, Mondelez and Nestlé, have laid out sustainability targets to rein in the environmental impact on their supply chains, such as sourcing sustainable materials, using recyclable packaging and reducing the use of non-recyclable materials. At the same time, some have focused on delivering greater transparency by, for example, improving the tracking and tracing of their carbon footprint throughout their supply chain.
Now or Never
Acknowledging that more business leaders are prioritising sustainability agendas under unprecedented pressure from governments, investors, lenders and consumers during the pandemic, Spaulding says: "When Covid-19 first started, I was worried that companies might choose to put sustainability agendas aside during tough times. However, it turned out that our global clients have doubled down their spending on sustainability by launching more initiatives than ever before."
A good indicator of the increased sustainability effort is the fact that more companies have started to regularly and rigorously report their sustainability performance to the public via concrete, time-bound sustainability targets, such as those stipulated in the Paris Agreement [15].
With companies pursuing more ambitious and concrete sustainability goals, Spaulding believes that more pressure will be applied to global suppliers, saying: "Global buyers are likely to require suppliers to play their part in the sustainability movement.
"At the same time, companies are stepping up efforts to more closely scrutinise their suppliers, which will make it increasingly unlikely that suppliers can skirt their sustainability responsibility. This is especially true when more advanced technologies, such as IoT and blockchain, start to play into delivering more credible, real-time data collection and sharing along the whole supply chain.
"Therefore, it is critical for suppliers to catch up with this trend, innovate and come up with new ideas and practical means to reduce waste, improve performance, enhance supply chain transparency and address various sustainability issues. It is a decision to be made now or never."
Spaulding also sees a possibility of global companies adjusting their sourcing practices and budgets in line with their sustainability agenda, saying: "In the past, investment in sustainability was made based primarily on return on investment (ROI). When evaluating investment in more efficient machinery to save electricity, the primary decisive factor will be whether it will help reduce the overall energy cost and thus give rise to a positive ROI.
"Now, though, companies are more willing to factor sustainability into their investment decisions. Quite often, in order to achieve such goals, they will have to implement various plans and actions, such as using sustainable materials, even if that will mean a higher cost."
As the world economy undergoes a more sustainable recovery from the Covid crisis, Spaulding has high hopes of Hong Kong evolving from an international sourcing centre to an international centre for sustainable supply chain management. This will only happen, though, if several obstacles – most notably a shortfall in high-end IT staff – can be overcome.
According to Spaulding, Hong Kong could also play an important role in the post-Covid world by maintaining its commitment to developing a more sustainable approach to finance. To date, the city has already taken a lead in terms of providing subsidies for eligible green bond issuers and loan borrowers through the Green and Sustainable Finance Grant Scheme [16], issuing a flurry of government green bonds under the Government Green Bond Programme [17] and prioritising ESG investment in the Exchange Fund of Hong Kong in instances where long-term risk-adjusted return is comparable to other investments [18].