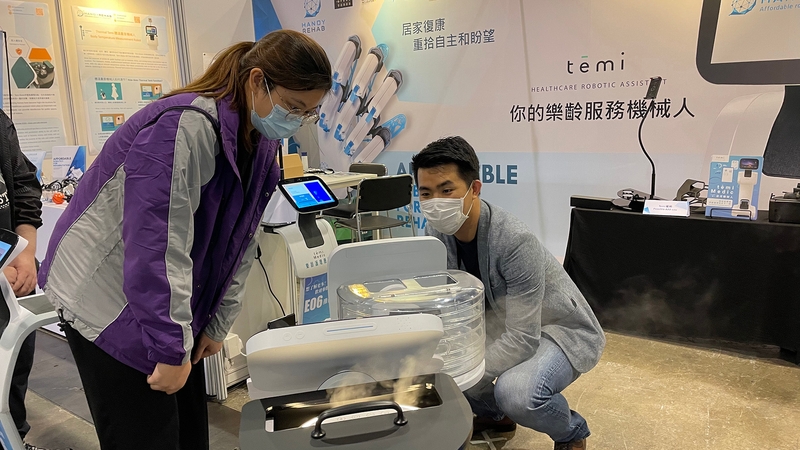 https://hkmb.hktdc.com/en/NzQ0ODEyNzYw
Healthtech Innovations: Promising Assistive Robotics Solutions
Interview with Alvin Cheung, CEO, Zunosaki Ltd
According to Department of Health figures, cerebrovascular disease (CVD) is the fourth leading cause of deaths in Hong Kong, claiming thousands of lives a year, with stroke being the most common. In general, stroke patients have different degrees of after-effects, including physical and cognitive impairments, making frequent rehabilitative treatment in hospital necessary.
Under Covid-19, more and more people are increasingly aware of the positive impacts of advanced healthcare services technology. Alvin Cheung, Chief Executive Officer of Zunosaki Ltd (HandyRehab), talked to HKTDC Research about his company's healthtech products, namely a self-developed robotic glove system for stroke patients and the Temi Medic robot introduced from Israel, as well as new opportunities brought about by the pandemic.
Accessible Assistive Robotic Technology
Generally speaking, the first three to six months after a patient has suffered a stroke is the golden period for rehabilitation. Intensive training during this critical period can greatly help reduce the chance of muscle atrophy. However, due to the shortage of physiotherapists in Hong Kong, stroke patients currently have to wait a long time before they can access rehab training. Patients who miss the golden period may fail to achieve the best rehabilitation result.
In view of this, Newmen Ho, former University Researcher, founded Zunosaki in 2015. The company focuses on R&D into an innovative stroke rehab robotic hand in a bid to make post-stroke rehabilitation more accessible.
The smart robotic glove developed by Zunosaki is an upper limb robotic exoskeleton system designed to strengthen the recovery of hand functions in stroke patients. The system has three components: a wireless robotic glove, electromyography (EMG) sensors, and a tablet downloaded with the required app. When a user wearing the robotic glove tries to extend the hand or grip with the fist, the sensors on the arm will detect the signals sent out by the arm muscles and the robotic glove will assist in completing the action.

The app offers a number of different training modes for the user to choose from, according to needs. For instance, under the passive mode, the patient does not need to exert any strength because the robotic glove controls the movements of the hand during the whole process. By undertaking intensive exercise, the patient can re-train brain cells to better control muscles. Cheung said: "Stroke patients who have received robotic-assisted rehab therapy do make marked progress in their motor control. According to studies conducted by PolyU, after using similar types of robotic hands, over 70% of the pilot users have seen the functions of their upper limb improve by more than 50%."

Compared with conventional robotic hands, Zunosaki's stroke rehab robotic hand uses plastic covering instead of metal for supporting finger bones, reducing the weight by about half to 400 grams and pushing the price down to only one-third of its traditional counterpart, at about HK$100,000. Using Bluetooth for wireless control, the device is portable and easy to operate.
These design features help increase the accessibility of robotic-assisted therapy so that it is no longer restricted to medical institutions but can be provided in community rehab centres and elderly care homes too. Moreover, the app can record data about the patient's training exercises, allowing the physiotherapist to monitor the patient's progress and enhances the effect of training.
At present, this robotic hand developed in Hong Kong is produced on the mainland. Cheung said: "Hong Kong, as a cosmopolitan city, offers a large pool of local and international talent. While Hong Kong has sound infrastructure supporting scientific research activities, the mainland has advanced manufacturing know-how. Integrating the advantages of both places helps bolster the growth of Hong Kong start-ups."
Developing a Consumer-Grade Model
Today, the robotic glove system is already in use in a number of non-profit organisations, community rehab centres, elderly homes and hospitals. With the assistance of nursing staff, patients can make full use of the golden period to undertake additional intensive rehab training to improve their motor functions and resume normal daily activities.
Zunosaki also worked with physiotherapists in launching a pilot plan for renting out the robotic glove system on a monthly basis, so that the patient can do exercise at home while the physiotherapist can monitor progress from a distance. Currently, about 10 patients have joined the plan. Cheung said: "Generally speaking, the patient only needs to rent the system for a few months, up to half a year, before hand functions make marked improvement.
"However, as we found the monthly rental plan rather high in operating cost but low in economic benefit, we are now developing a consumer-grade model of the robotic hand at a lower cost to replace the monthly rental plan in the hope of further increasing the flexibility and accessibility of rehab therapy."
In 2019, the smart robotic glove system was included in the list of Recognised Technology Application Products published by the Innovation and Technology Fund for Application in Elderly and Rehabilitation Care. This Fund offers financial assistance to elderly and rehabilitation care service providers in buying, renting and trial using technology products. Cheung said: "The high price of conventional robotic hands has kept many local elderly homes away. With the support of the Fund, we believe that more elderly care homes would buy this cheaper model of robotic hand, which can in turn relieve the pressure on nursing staff and caregivers, as well as raise the efficacy of rehab therapy."
Expanding Income Sources
Funding is one big hurdle deterring many Hong Kong healthtech start-ups. Cheung highlighted some of the problems, saying: "Although the consumer-grade robotic hand has a huge market, we did not launch this model at the initial stage. Since consumers in general are sceptical about medical devices, if the commercial-grade model of a product is already in use at hospitals, when the consumer-grade model is launched consumers tend to have greater confidence. That is why initially we only launched the commercial-grade model."
On the start-up ecosystem in Hong Kong, Cheung said: "Hong Kong investors are relatively conservative and medical-related R&D usually takes years. Since we spent three years developing our robotic hand, it means the investor payback period is rather long and that explains why it is not easy to seek investment."
He added that during the pandemic, many start-up competitions and entrepreneurship investment programmes were suspended while investors became more cautious in the face of economic slowdown. This made raising funds even more difficult. In view of this, Zunosaki is adjusting its business model by introducing innovative products from abroad for enhancement so as to expand income sources.
Healthcare Assistant Robot
Zunosaki introduced Temi Medic, a healthcare assistant robot from Israel, in late 2019 in an effort to diversify the company's business. With built-in automatic navigation, artificial intelligence (AI) and audio-visual systems, the Temi robot supports voice control and has long been adopted in different sectors, such as customer service in retail. Some schools also use Temi to give briefings to visitors.
Under the pandemic, as human contact is reduced in order to minimise the risk of infection, robots have become an important tool for fighting the virus. To meet the demand in Hong Kong Zunosaki carried out enhancements of Temi, adding such functions as receiving instructions in Cantonese, taking body temperatures and spraying disinfectant, which all help to upgrade the robot into a caregiver. Cheung said: "Covid-19 has greatly increased medical professionals' awareness of and receptiveness to robots. Currently, more than 50 care homes and hospitals are using Temi Medic to provide automated services, such as telehealth visits, night time ward rounds and health monitoring assistance. We will also be working with the Hong Kong Society for the Blind to provide them with custom-made robot caregivers for the visually impaired."
Bright Prospects
Zunosaki is setting its sights on the mainland and overseas markets. Currently, a university in Germany has already purchased the company's robotic glove for research purposes, while a number of mainland hospitals are using it on a pilot basis. With regard to the different medical devices regulatory systems between mainland China and Hong Kong, Cheung said: "First of all, sales channels in the two places are different. In Hong Kong, we normally negotiate with and sell to potential buyers directly. But in the mainland, it is difficult to contact medical institutions directly, so it is more effective to sell through intermediaries.
"Secondly, we are ready to modify our products according to different market demands. For instance, due to the large population base in the mainland, we expect the product usage frequency to be higher and wear and tear to be faster. In view of this, we are now developing a more durable robotic glove system for the mainland market.
"Thirdly, as the regulatory requirements in the two markets are different, we have to go the extra mile by applying for certification recognised by mainland supervisory departments for our robotic glove system."
The pandemic has not only increased the public's health awareness, it has also accelerated the development and application of medical technology. According to the 2020 Policy Address, Hong Kong-registered drugs and common medical devices can now be used in designated Hong Kong-owned healthcare institutions in Greater Bay Area (GBA) mainland cities. This measure generates boundless business opportunities for local healthtech companies to tap the huge GBA market.
Medical Supplies & Medicine
Technology