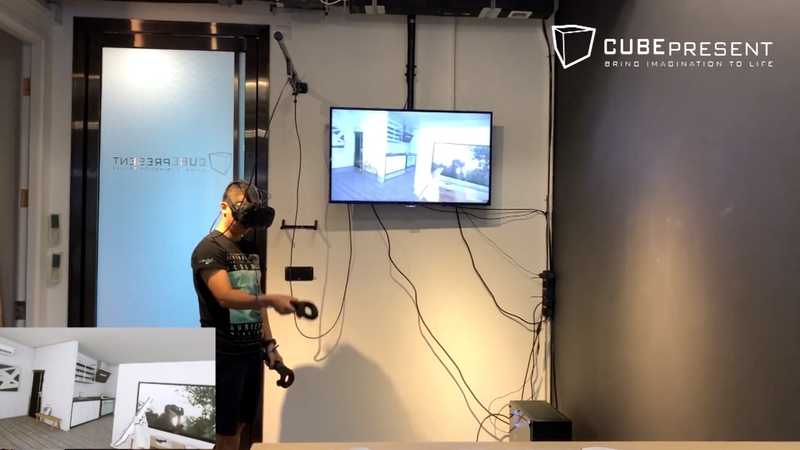 https://hkmb.hktdc.com/en/NzI4NDIzOTQx
Start-Up Hong Kong: Design Via VR Visualisation
Because their drawings are mostly two-dimensional, designers often find it hard to explain the underlying ideas behind their design concepts to their customers. To try to overcome this obstacle, Deky Leung and two of his friends began searching for suitable solutions, using an "unreal engine" platform to provide services in virtual scene designing, spatial designing and virtual visualisation. Leung, the founder and chief operating officer of Cube Present Limited, told HKTDC Research about how he had gone about starting a business. He said that because start-up entrepreneurs often feel enormous pressure and frustration, it is vitally important for them to stick to their beliefs.
Visualisation Services​​​​​​​

Cube Present uses an unreal engine platform to create virtual reality (VR) solutions and visual images, thereby offering services in virtual scene designing, spatial designing and virtual visualisation. Its services have a wide range of applications, from visual experiences in gaming, three-dimensional displays of products and helping designers present their concepts. Cube Present's customers include, among others, architects, interior designers and even event planners, for whom it can design pop-up stores and produce augmented reality (AR) experiences.

Leung pointed out that, though unreal engine platforms are already commonplace in places such as Singapore, Taiwan and mainland China, they are still a relatively new thing in Hong Kong. Leung and his partners realised that there were potential business opportunities in this market, and decided to use the platform to develop their own solutions. They spent a lot of time and effort accumulating skills and experiences and eventually developed a variety of technologies with which to meet the needs of potential customers. On the strength of this, they succeeded in becoming an incubatee with the Design Incubation Programme (DIP) at the Wong Chuk Hang Centre. Cube Present was launched there in August 2019.
Operational Support
In many cases, nascent companies like Cube Present need to spend a great deal of time and money accumulating skills and a knowledge of solution applications. Leung describes this as the "money burning" stage. A steady supply of capital is vital for start-ups at this point in their development. Cube Present was mostly reliant on money from its founders for its start-up capital, so it benefited enormously in terms of operations and marketing funds from its successful enrolment in the DIP. As well as providing assistance with funding, the DIP has helped cultivate the entrepreneurial mindset of Cube Present's founders by requiring them to participate in various training courses. It also provides mentors who can offer guidance and share experiences at different stages of the company's development. There are even some courses which can help start-ups acquire the legal knowledge they need for their business operations. Leung said that the contents covered by these courses are very useful and helped him learn about how to run a business. (For more information about the DIP, see Start-Up Hong Kong: Government Looks to Incubate Design and Fashion Talent).
Leung urged start-ups to seriously consider applying for the many subsidy schemes currently available in Hong Kong. However, he noted that some start-up entrepreneurs tend to tailor their business plans to help get their subsidy applications approved, even though these plans may not be consistent with their original business models. Leung regards this as an unhealthy trend and contends that, when confronted with severe competition in the market, a start-up should stick to its business beliefs even though they may be subject to challenge every now and then.
Development Amidst Pandemic
Because of the coronavirus pandemic, the model of working or providing services remotely has become a new trend. Under the government's Anti-epidemic Fund, the Innovation and Technology Commission has launched the Distance Business Programme (D-Biz), implemented by the Hong Kong Productivity Council (HKPC). Cube Present is one of the suppliers recognised by the HKPC to help companies improve their customer service experience through technology. Leung believes that D-Biz can boost the application of AR and VR technologies in the market. He expects that there will be a steady growth in business after the pandemic.
Hong Kong will continue to be Cube Present's priority market in the future. However, Leung and his partners are also seeing demand for their company's services from the many real property projects in the Guangdong-Hong Kong-Macao Greater Bay Area (GBA). The mainland GBA cities offer a better working environment and a larger talent pool than Hong Kong does, and as a result - if there were to be an increase in working partners and potential customers on the mainland in the future - Cube Present would consider expanding its business into the GBA. Nevertheless, because there are differences in work culture and work processes between Hong Kong and the mainland, any company looking to expand into the GBA must be prepared to invest time and effort in integration and adaptation.
Design Services
Technology