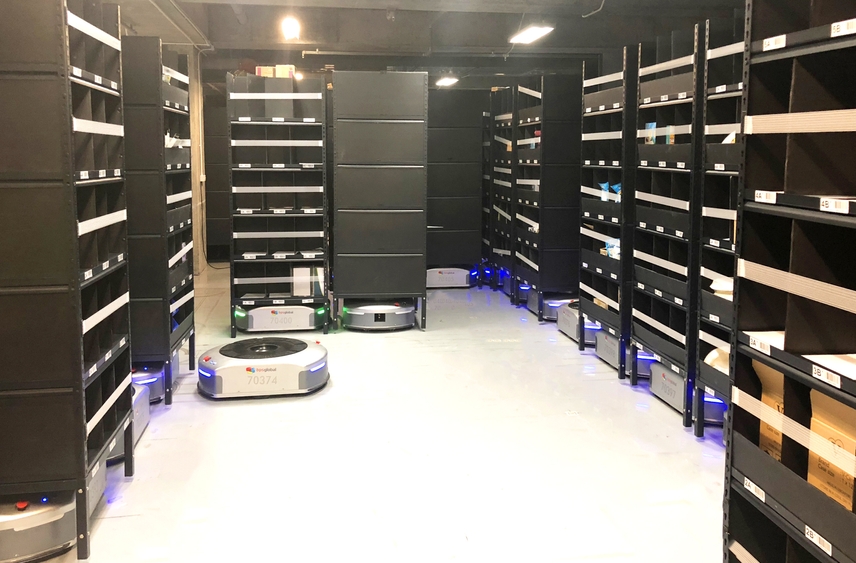 https://hkmb.hktdc.com/en/NzA3NzQ0NDMw
Supply Chain Automation: The Business Benefits
Interview with BPS Global Team
C H Poon
As online shopping becomes increasingly popular, the fragmentation of order flows has become a major trend in supply chain development in mainland China and Hong Kong. China's annual express delivery revenue and business volume increased by 21.2% and 26.2% year on year between 2015 and 2020 1. The value added of courier services in Hong Kong grew at an annual rate of 7.9% between 2015 and 2019, while the sector's business receipts and other income increased by an annual rate of 4.1% in the same period 2. Online shoppers expect businesses' supply chains to provide more personalised products and to be able to deliver them faster in the future. Traders and manufacturers focusing on the mainland and Hong Kong markets should promote supply chain automation to increase efficiency in the manufacture and delivery of products. This would help them be better prepared for the modern supply chain.
HKTDC Research interviewed executives of the BPS Global Group (BPS Global Team) to get a clearer picture of the development of supply chain automation in recent years, as well as how small and medium-sized enterprises (SMEs) can achieve business growth through automation. Founded in 1992 in Hong Kong, BPS Global Group is one of the territory's leading providers of logistics infrastructure and consultancy services. Rated by an international market survey company as "the largest warehouse automation system integrator in Hong Kong" in 2020 3 , it provides local and overseas companies with logistics solutions such as designing the systems integration of warehouses and factory premises to help them optimise their supply chain operation and management.
Affordable Automation
Supply chain automation means using automation equipment to improve supply chain efficiency. Explaining this concept in more detail, BPS Global Team told us: "Different equipment can now be used to do labour-intensive work in the supply chain. For example, with automated guided vehicles (AGVs), companies no longer need that many workers to move goods. AGVs with robotic arms can move to the designated mobile racks and carry the goods to the picking station. Machines can also do sorting work. Automatic sorting systems can identify the barcodes/QR codes of the goods and accurately send the goods to delivery points. Supply chain automation allows employees to devote more attention to inventory management and quality inspection, thus making it possible for companies to make better use of their human resources and improve logistics efficiency."
BPS Global Team pointed out that the logistics industry is keeping a close watch on supply chain automation systems that are more flexible and modular, saying: "In the past, users of supply chain automation solutions were all big businesses. Most of them had specially-built big warehouses and could use custom-built and fixed equipment suited to their business to achieve optimum efficiency. The drawback is that these systems are costly and cannot be moved to other premises. Today, many SMEs are beginning to realise the benefits of supply chain automation to their business. However, since their warehouses are usually quite small and are rented, they may have to move out when the lease expires. As a result, there is a growing demand in the market for modular and movable automation systems that require a relatively small investment, such as automated guided vehicles and high-bay robots that are quite small in size.
"Furthermore, because consumers can now browse products of different brands online, businesses tend to speed up the launch of new products to attract consumers. This directly shortens the life cycle of products in the market. More flexible warehousing equipment allows businesses to adjust their supply chain according to their latest product specifications and business size. In the past, supply chains were mostly designed with a life expectancy of 5 to 10 years. Now businesses have to reconsider their supply chain planning every 3 years or so. We have discovered that businesses are more willing to invest in equipment that can be installed easily and moved at any time according to need."
Automation Solutions for SMEs
BPS Global Team explained how automation equipment can be used by SMEs in a number of business situations, saying: "Many SMEs in Hong Kong have their warehouses in factory buildings, which have many limitations compared to large warehouses. One major limitation is their low ceilings, which do not normally exceed three metres. So if they want automation, they might first consider using automated guided vehicles and mobile racks. The advantage of this solution is its low cost. It only costs about HK$100,000 to buy an automated guided vehicle and the necessary mobile racks. This is particularly suitable for companies handling about 1,000 items of goods on a daily basis (or 100 items per hour). If they have a larger warehouse and need to handle more goods each day, they could consider installing logistics conveyor and fixed racking systems. This reduces the space that workers need to cover when moving the goods and helps companies make good use of their storage space.
"Companies can also use automation solutions to improve production processes in their workshops. The growing trend in the market towards greater personalisation of goods means there are more production lines in factories. In some factories specialising in the production of more personalised products, one employee might be assigned to oversee the entire production line of one particular product. Automated guided vehicles can accurately deliver the necessary raw materials from the warehouse to different production lines and send the finished products back to the warehouse. With the help of inventory software, companies can keep inventories of the quantities of raw materials and finished products in real time. In this way, automation not only helps companies increase their efficiency but allows them to manage their inventories more accurately."
"Different companies face different situations and have different needs. There is no such thing as a cut and dried supply chain automation solution. When a company comes to us for help, we first try to understand the problems it faces in its operation as well as its future development objectives, and then analyse the weaknesses and flaws in its supply chain in order to find the most suitable solution. Supply chain optimisation means more than just installing some automation equipment. It requires analysis of the management and operation of the supply chain as a whole and sustained efforts to implement the optimisation solution. Supply chain consultants can help companies analyse and plan their supply chain and provide professional and technical advice on their upgrading and transformation. This is the value that supply chain consultants provide."
Automation Enhances Competitive Edge
When optimising its supply chain, a company should do more than just turn to advisers for help. BPS Global Team pointed out that the company must also prepare itself for changes and learn new technologies, saying: "It is inevitable that some employees will become resentful when their company is undergoing upgrading and transformation. They will be worried that management will have more of an incentive to make layoffs or pay cuts after automation. The company's management should explain to its employees how automation can improve efficiency, give the company a leading edge in fierce market competition and boost its development in the long run. Moreover, the management should point out that automation also provides employees with a more comfortable and safer working environment, which is in their overall interest.
"On the whole, society is starting to find supply chain automation solutions increasingly acceptable. One factor that has helped this happen is the boom in start-ups in Hong Kong in recent years. Many of these start-up entrepreneurs welcome new things with open arms. They generally think that innovation and new technology are crucial to help them secure a firm foothold in the market. Secondly, the pandemic has convinced many businesses of the importance of upgrading and transformation. We have received many inquiries from traditional manufacturing enterprises lately."
"Hong Kong is blessed with the advantages of free movement of capital and goods and has low tax rates. It is also an important global trading centre. We believe that, as long as they embrace innovation and make sustained efforts to optimise their supply chain, Hong Kong businesses will be able to use their strengths and seize the opportunities arising from the development of the Greater Bay Area and the high-quality development of China's domestic economy."
---
1 Source: State Post Bureau of China
2 Source: Key Statistics on Business Performance and Operating Characteristics of the Transportation, Storage and Courier Services Sector, Census and Statistics Department of Hong Kong
3 According to the Study of Warehouse Automation Solutions Market in Hong Kong conducted by market survey company Ipsos in the third quarter of 2020, BPS Global Group is a leading system integrator in Hong Kong covering the largest range of industries for warehouse automation technology solutions in Hong Kong.