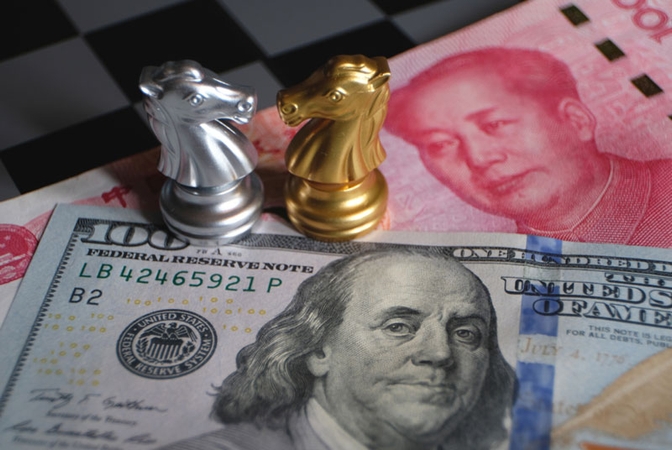 https://hkmb.hktdc.com/en/NjgwMDk5NTM4
Lawmakers Introduce Various Bills Aimed at Mainland China
U.S. lawmakers recently introduced a number of bills aimed specifically at mainland China. Two of these bills would restrict investment inflows from as well as outflows to mainland China, while another bill would establish certain restrictions on software downloads. Some of the most relevant bills are summarised below.
Investment and Software Download Restrictions. Introduced by Rep. Jim Banks (Republican-Indiana) on 18 February, H.R. 1092 would empower the Committee on Foreign Investment in the United States to prevent predatory investments in U.S. companies by the mainland Chinese government, while H.R. 1093 would seek to prevent investments from flowing to mainland China's military industrial base by requiring a U.S. Treasury Department-led effort to produce a list of PLA-linked companies in which U.S. individuals, entities, companies, banks and financial institutions would not be able to invest. Also introduced by Rep. Banks on 18 February, H.R. 1090 would prohibit the download of an application or software from a country that poses a national security risk to the United States without first acknowledging a warning about the application's or software's source nation. 
Countering Chinese Propaganda Act. Legislation introduced on 23-24 February by Rep. Banks and Sen. Tom Cotton (Republican-Arkansas) – H.R. 1214 and S. 429 – would create a new sanctions authority against state-backed disinformation networks and require the U.S. Secretary of State to examine whether the United Front Work Department meets the criteria to be sanctioned under this new authority. Rep. Banks and Sen. Cotton noted in a press release that the "United Front has led aggressive campaigns of subversion and espionage on U.S. college campuses through the Chinese Students and Scholars Association (CSSA) and Chinese-language centers called Confucius Institutes."
Visitor Visa Restrictions. Introduced by Sen. Cotton on 24 February, S. 417 would prohibit the Secretary of State from issuing B1 and B2 visas to mainland Chinese nationals for periods of more than one year unless certain conditions are met.
Efforts Against Censorship Activities. Introduced on 24 February by Sens. Merkley (Democrat-Oregon), Rubio (Republican-Florida), Warren (Democrat-Massachusetts) and Cornyn (Republican-Texas), S. 413 would monitor and address the impacts of mainland China's "censorship and intimidation strategies." It would require the president to establish an interagency task force – designated as the China Censorship Monitor and Action Group – to oversee the development and execution of a strategy to better understand and respond to the ramifications of mainland China's censorship of Americans and American companies.
Package of Bills to Counter Mainland Chinese Influence. On 18 February, Rep. Mark Green (Republican-Tennessee) introduced the following five bills "to confront the Chinese Community Party's malign influence": (1) the Bring American Companies Home Act (H.R. 1128) would cover the moving costs of companies moving production back to the United States (a similar effort in this regard involves legislation introduced on 28 January by Rep. Posey (H.R. 590) that would provide a tax credit for certain expenses of moving manufacturing equipment from mainland China to the United States); (2) the Our Money in China Transparency Act (H.R. 1129) would require a full reporting of all federal funds spent in collaboration with mainland Chinese institutions; (3) the Secure Our Systems Against China's Tactics Act (H.R. 1130) would prevent mainland China from purchasing vulnerable U.S. defence companies; (4) the China Technology Transfer Control Act (H.R. 1131) would prevent mainland China's military from acquiring sensitive technology and intellectual property; and (5) the China Debt Repayment resolution would call on mainland China to repay US$1.6 trillion "in sovereign debt owed to the American people."
U.S. Federal Funding Oversight. Introduced on 8 February by Rep. Elise Stefanik (Republican-New York), H.R. 954 would direct the Comptroller General of the United States to conduct a study on certain federal funding made available to entities located in mainland China or majority owned or controlled by the CCP.
U.S. Entry Ban on CCP Members. Introduced on 4 February by Rep. Debbie Lesko (Republican-Arizona), H.R. 824 would prohibit certain members of the CCP from entering the United States until such time as the mainland Chinee government ceases the theft of U.S. intellectual property.
In addition to the above, House Resolution 130, introduced on 18 February, would censure the "continued violation of rights and freedoms of the people of Hong Kong" by mainland China and the governments of mainland China and Hong Kong.
Finance & Investment
Finance & Investment
Finance & Investment
Finance & Investment
Finance & Investment
Finance & Investment
Finance & Investment
Finance & Investment
North America
Mainland China
Hong Kong
USA
Hong Kong
North America
Mainland China
Hong Kong
USA
Hong Kong
North America
Mainland China
Hong Kong
USA
Hong Kong
North America
Mainland China
Hong Kong
USA
Hong Kong
North America
Mainland China
Hong Kong
USA
Hong Kong
North America
Mainland China
Hong Kong
USA
Hong Kong
North America
Mainland China
USA
North America
Mainland China
USA