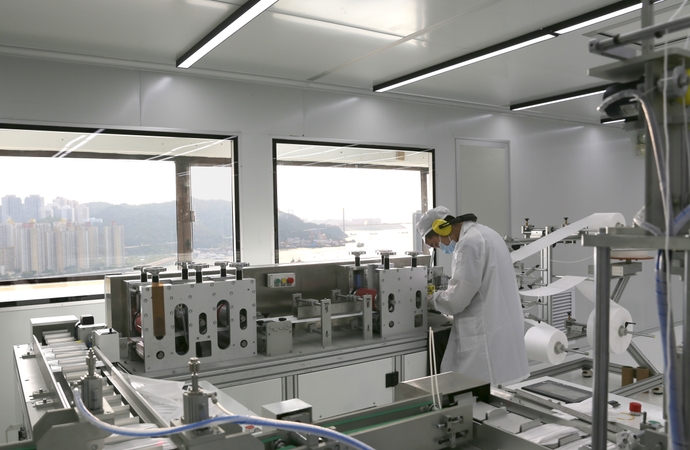 https://hkmb.hktdc.com/en/Njc0MjI5MTM5
Navigating Covid-19: A Local Mask Producer
Interview with Raymond Chan, Executive Director, S.E.C. Accessories Ltd (S.E.C.)
S.E.C. is a worldwide manufacturer of garment accessories, with factories in China (Hong Kong and Dongguan) and Cambodia. Over the years, it has served global and local brands by mass-producing a full range of high-quality accessory products. Its sales offices are now found in Hong Kong, Shanghai, Indonesia, Cambodia, the Netherlands, Italy, Turkey and the USA.
During the Covid-19 pandemic, in a bid to safeguard workplace safety by minimising the risks of contracting and spreading the coronavirus, S.E.C. reconfigured some of its plants into clean rooms for producing pandemic-prevention products. The products were initially meant for internal use only, but production capacity has subsequently been scaled up to supply the government and public.
S.E.C. is known for the high quality of its products, winning it the trust of international apparel and fashion brands. The company also wants to further improve its pandemic-prevention products with the addition of AB Diamond, an antiviral and antibacterial coating developed by Hong Kong scientists. To better prepare for a post-pandemic era in which sustainable development will be given more emphasis, S.E.C. also plans to continue studying the use of this patented ingredient, as well as other environmentally friendly materials in its garment accessories production.
Major Reshuffling in Industry under the Pandemic
With pandemic-fighting measures being implemented around the world, whole industries are under stress. The clothing retail sector, which has traditionally been heavily reliant on in-store sales, is especially hard hit. Global market research company, Euromonitor International, has estimated that the shares of offline and online global apparel sales in 2019 were 70% and 30% respectively. Though online retail sales of apparel grew by almost 20% in 2020, offline retail sales tumbled 30%, resulting in a year-on-year contraction of 18% in total apparel sales globally.
S.E.C. focuses mainly around the mid-to-upper stream of the global garment supply chain, involved in the supply of high-quality accessories for major garment brands, particularly in the area of heat transfers. With the pandemic proliferating around the world, S.E.C. of course did not escape unscathed. Through efforts in different areas, however, its overall business saw a rise instead of a fall. The company's Executive Director, Raymond Chan explained, saying: "The pandemic affects mainly traditional clothing enterprises, which are reliant on offline sales. Luckily, our major clients are international brands, such as Adidas, Nike and Puma, most of which already had well-run online sales arrangements in place before the pandemic.
"That said, we did feel the colossal impact of the pandemic on the clothing industry as a whole. All along, we have been maintaining close communications with our industry peers and the clothing industry associations in Cambodia. There are currently some 300 garment factories in Cambodia, each employing 5,000 to 10,000 workers, and many of them are familiar to us.
"To our knowledge, many manufacturers are experiencing a dearth of orders and have been forced to stop production since May 2020."
​​​​​​​Switching to Mask Production

​​​​​​​Though orders for S.E.C. products have not been affected materially by the outbreak, how best to provide enough reliable personal protective equipment to all employees worldwide in the shortest time possible became the biggest challenge for the company at the beginning of the pandemic. Chan said: "As a company with several hundred employees, we cannot bear the risk of a group infection outbreak and the ensuing economic and life losses. To ensure that every employee gets sufficient protection, we decided to produce our own pandemic-prevention products."
As of today, there are six mask-making machines in the clean room that S.E.C. has set up in Hong Kong. Chan said: "Though face mask production should not be complicated for us, the fact that there was a global scramble for mask making machines and the travel bans implemented by many countries had made the procurement and setting up of these machines not as simple as it seemed. At first, we thought that once the machines were bought, we must be able to produce enough masks within a specific time. What we had not expected was, like other local mask producers, we had to deal with a host of technical problems in the installation, operation and maintenance of the machines.
"Moreover, since the technicians from the mask machine supplier were not able to come to Hong Kong, we had to resort to relying on distant video-conferencing to get help. Eventually, after spending immeasurable time figuring things out and hiring local machinists to upgrade the design and functions of the machines, we were able to produce masks in time."
Once mask production was up and running S.E.C. moved to the testing approvals stage, as Chan explained, saying: "After we had ensured the effective operation of our mask machines, we started working with several international testing agencies to carry out ISO and other international certifications for our clean room and the masks we produced there.
"Testing pandemic-prevention products involves various professional instruments, but many testing agencies in Hong Kong were only able to complete acquiring these instruments by the middle of last year. So, at the beginning of the pandemic, we had no alternative other than sending our masks to laboratories in Taiwan and the US for testing. But during that period, many labs had to abide by local government stipulations to give priority to serving local enterprises. Consequently, it took us a long time to obtain the certifications we needed."
As a pioneer in local mask production, S.E.C. is one of the manufacturers subsidised by the Hong Kong Government under the Local Mask Production Subsidy Scheme. Chan elaborated, saying: "Originally, we produced masks only for our own use. Afterwards, in response to the government's call to maintain stability in the production and supply of masks locally, we scaled up production capacity to offer masks to the government and general public.
"In March 2020, after we had been granted the subsidy, we started working towards getting the necessary testing reports to prove that our masks meet the ASTM F2100 Level 1 standard or above. As one of the first batch of approved local mask producers that had succeeded in supplying masks since last May, S.E.C. has already supplied more than 13 million masks to the government."
Chan was convinced that Hong Kong's flexible and hard-working talent pool was a contributory factor to such a rapid ramp-up of production. He said: "It is the resilience of Hong Kong people that enables us to quickly effect mask production. We have recruited people from different walks of life to join our mask production team. Among them, there are aircraft engineers responsible for installing, operating and improving our mask machines, and there are also former flight attendants, shop assistants and receptionists in charge of quality control and packaging. At the time when mask supply was tightest, we had implemented a three-shift system to produce masks 24 hours a day."
Setting Foot on Both Online and Offline Arenas
Other than satisfying employee needs and fulfilling government orders, S.E.C. is also supplying its business partners and starting retail business with retailers. Chan said: "We are one of the few local mask producers recognised by the government and able to guarantee quality. More and more companies would like to maintain or build brand awareness during the pandemic, so they have ordered masks printed with their trademarks from us."
Responding to demand, the company has also diversified from B2B into selling to consumers directly. Chan said: "From April to June last year, there were large numbers of people queuing up outside our factory to buy our masks. Since garment accessories wholesaling is our bread-and-butter business, the pandemic offered us the opportunity to flex our muscle to develop online as well as offline retail business."
"S.E.C. now has an online sales platform that allows consumers make payments easily with credit cards or e-wallets. We can then arrange delivery by courier to designated pick-up points, convenience stores or personal addresses. We have also set up a social media page to allow followers to obtain information about our latest pandemic-prevention products and promotional offers."
In the offline channel, S.E.C. mainly partners with LCX, a high-end retail outlet located in the hustle and bustle of Tsim Sha Tsui. Chan said: "All we need is to offer LCX a certain quantity of free masks or a few thousand dollars in rental. In return, sales personnel from LCX will help promote our products and offer trial samples to customers. Such a flexible offline retail sales model is not only low in initial cost, but can also cater to quickly changing consumer behaviours.
"Next, we are planning to co-operate with Waterfall Sports and Wellness in Olympian City to have a point-of-sales set up. As with LCX, a barter model will be adopted: we will offer pandemic-prevention products to the fitness club members and trainers in return for getting a channel to promote and sell our products."
Invest in Developing an Antiviral and Antibacterial Coating
Chan said that S.E.C. has long maintained close communications with the local research circle and research-oriented local universities to tap results which can be applied to garment accessory production. He said: "We are in frequent liaison with specialists in the Hong Kong Science Park and in the Hong Kong Productivity Council to explore the application of factory automation and 3D printing technologies. In early 2020, on learning that a company in the Science Park had developed a patented technology for producing an antiviral and antibacterial coating, we approached them and eventually made huge investment to buy the patents involved."
Chan pointed out an antiviral and antibacterial coating is more effective in protecting mask wearers, saying: "Ordinary masks can only filter out viruses and bacteria, which will remain on the surface of the masks and cannot enter our respiratory tract.
"Most users will take down and put back the same mask before and after eating. If their hands touch the viruses or bacteria on the mask surface and then touch their mouth or eyes, the chance of their getting infected will greatly increase. If we can have the viruses and bacteria on a mask surface wiped out automatically the risk of reusing masks will be greatly reduced."

S.E.C. began studying how to spray an antivirus and antibacterial coating on the surface of face masks in March 2020. Chan said: "Scientists have proved the effectiveness of an antiviral and antibacterial coating and provided a formula for the active ingredients. Then, as a producer, we will have to find out how to combine the active ingredient with other raw materials and how to use a suitable machine to apply a coating evenly to allow for mass production.
"We have discovered that the process of spraying the antiviral and antibacterial coating cannot be too quick, or the coating will be too fragile to be effective. After spraying on the coating, we have to test its thickness and evenness. This means that the time for producing antiviral and antibacterial masks is 10 times that of ordinary masks and that the production cost is considerably higher, not to mention the fee for buying the patents involved.
"If we want to recoup our investment through selling antiviral and antibacterial masks, the price of each mask will have to be marked up by HK$5. To avoid setting the price too high and to maintain competitiveness at a time when the global supply of masks has gradually returned normal, our only option is to make full use of this coating technology by developing different products. One such product is a non-alcohol based long-effect hand rub we officially rolled out last November."
S.E.C.'s hand rub is an extension product from the antiviral and antibacterial coating which has a sanitising effect on skin surfaces. Chan explained, saying: "Most hand rubs in the market make use of the antiviral and antibacterial effect of alcohol, but alcohol can easily cause skin irritation and dryness. Children using too much alcohol-based hand rub may run the risk of absorbing too much alcohol through their skin, which may harm the liver.
"The main ingredients of the S.E.C. hand rub are water, acetic acid, nano-silver and patented microparticles. The hand rub has passed skin sensitivity tests and food safety tests and has been proven harmless to the human body."
S.E.C. is now also studying the applications for the antiviral and antibacterial coating on heat transfers. Chan said: "We wish to make the coating on a piece of garment to stay free of virus and bacteria. But garments usually have to undergo repeated washings, so the stability of the coating is of vital importance. We are still studying this problem presently."
Greater Bay Area: An Incubation Base for Product Innovations
S.E.C. has been producing garment accessories for over 14 years and has witnessed multiple cycles of changes in the global supply and value chains. Previously, it was mainly engaged in carrying out large-scale OEM production in mainland factories. In recent years, its main production base has been gradually relocated from the mainland to Cambodia.
The S.E.C. plant in Cambodia employs about 400 workers and accounts for almost 80% of total company turnover. Chan explained the shift, saying: "In the last decade, with wages rising relentlessly and labour welfare and business regulation getting increasingly stringent on the mainland, a lot of clothing manufacturers are considering (if they have not already done so) the relocation of labour-intensive processes to Southeast Asia, where human resources costs are lower. We set up a factory in Cambodia as early as 2018 out of cost considerations on the one hand, and on meeting customers' place-of-origin requirements on the other.
"In 2018, our US customers, seeing that China-US trade tension was simmering, asked us to increase the share of production from areas outside China. This indirectly prompted us to seriously consider setting up a new production base. Eventually, we chose to set up shop in an industrial park in Cambodia.
"One main reason was that the business environment there was very free, so much so that foreign investors are permitted to own 100% of a local business. Another reason was that foreign exchange control was non-existent there.
"Moreover, the S.E.C. Chief Operating Officer, Ping Chan, is an overseas Chinese from Cambodia. As such, he is conversant in the local dialects and able to communicate with local businesses and government authorities in Khmer. As a result, we were able to acquire a plot for building a factory there and set up production lines within one year."
Despite this shift in production base, mainland China continues to play an important role in the global manufacturing supply chain. As Chan said: "Mainland China remains very competitive in the prices of raw materials, accessories or semi-finished products. Taking masks as an example, because S.E.C. gives top priority to product quality, it insists on using meltblown fabric from Germany, Japan or South Korea, resulting in a minimum cost of HK$3 for each mask. If mainland-produced meltblown fabric were used, however, the cost of a mask would be lowered to less than HK$1.
"By virtue of its price advantages, mainland China is still an important supplier worldwide for garment raw materials. Our factory in Dongguan can easily source raw materials of different prices and quality, so naturally, it is very suitable for focusing on developing new products and making samples. The generally low cost of 'trial errors' in the Greater Bay Area (GBA) is conducive to product R&D and innovation."
Hong Kong: A Research and Intellectual Property Trading Hub
As its research- and knowledge-based economy becomes increasingly mature, Hong Kong can continue to leverage its advantages in the rule of law, professional services and intellectual property (IP) regime to attract high value-added activities, such as international research and IP trading. Between 2015 and 2019, Hong Kong has received over 70,000 patent applications from more than 70 countries and territories. The majority of these applications came from the US (about 27,184 cases), followed by Japan (6,890 cases), mainland China (6,113 cases) and Switzerland (4,600 cases) [1].
Chan pointed out that Hong Kong will continue to be an important base for the protection of patented S.E.C. technologies, saying: "Knowing that the businesses and people of Hong Kong are generally respectful of IP rights, we have no worries about carrying out R&D and production of core technologies in Hong Kong, such as the formulation of antiviral and antibacterial coatings."
Chan expected that, after the pandemic, local industries in Hong Kong will continue to focus on R&D in leading-edge technologies, and will connect with production chains in the GBA and Southeast Asia, driving the development of sophisticated production and trading in Asia. S.E.C. is ready to overhaul its Hong Kong factory again to embrace the technology development trend in the post-pandemic era. Chan said: "During the pandemic, we have already tried out what we are capable of by making highly elastic ear loops for our masks with environmentally friendly recycled materials. In 2021, we have plans to relocate some of our mask making machines to Cambodia to make space available in the Hong Kong clean room for biodegradable ink R&D.
"Many European and American clients have told us that, by 2025, raw materials not made with environmentally friendly recycled materials or that are not biodegradable will be phased out. As green living and sustainable production become the post-pandemic new normal, we will continue to station in Hong Kong to explore the application and patent registration of green technologies."
Chan is very optimistic about the prospects of the heat transfer printing business. He said: "We have plans to increase production capacity in 2021. For this, we are already recruiting additional personnel and ordering raw materials. The pandemic is an important watershed that catalyses the elimination of the weak in the industry, so much so that almost half of our competitors have now left the market. For this, we believe that those businesses that can survive the pandemic will see that there is a beautiful world ahead."
Medical Supplies & Medicine
Garments, Textiles & Accessories
Hong Kong
Mainland China
Southeast Asia
ASEAN
Hong Kong
Cambodia