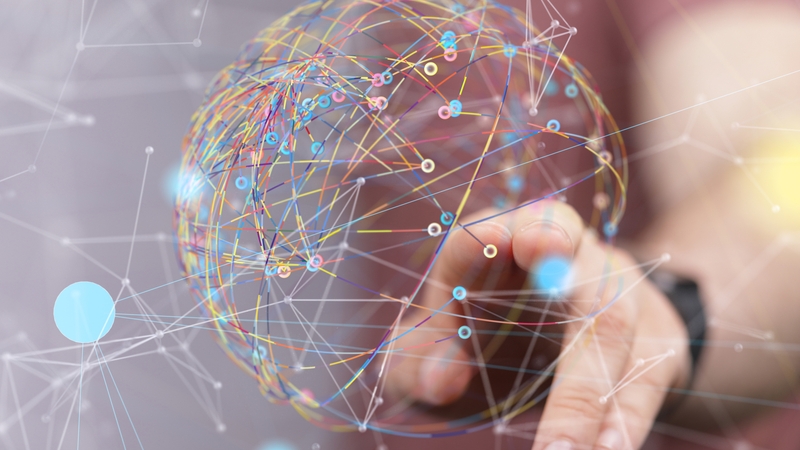 https://hkmb.hktdc.com/en/NjI0OTQ1NTE0
Online Marketing Platform Goes Global via Greater Bay Area
iClick Interactive Asia Group Limited is an independent online marketing and enterprise data solutions provider headquartered in Hong Kong. Terence Li, its Chief Financial Officer, says that the international free flow of capital and information in Hong Kong gives it a critical advantage in its operations and development.
Data-driven Marketing Technology Platform
Founded in Hong Kong in 2009, iClick Interactive Asia Group Limited has been listed on Nasdaq since 2017. In just 10 years, it has established itself as an independent online marketing and enterprise data solutions provider with business across the globe, covering 98% of Internet users in China. Leveraging advanced technology and its proprietary platform, iClick caters for its customers' diversified needs through big data and AI-driven automation solutions, helping international and domestic brands connect with target audiences in China more precisely and effectively.
Expanding into Mainland and Global Markets
iClick currently has offices in 10 countries and territories worldwide. Terence said its Hong Kong headquarters play an important strategic role for the company, primarily because Hong Kong is at the centre of Asia. This not only enables iClick to develop the mainland market, but also facilitates the expansion of its business into south-east Asia and even Europe and America.
Terence believes that while Hong Kong's free flow of capital is vital to iClick's operation and development, its free flow of information is also important, offering marketing solutions suppliers advantages when it comes to business expansion. iClick also benefits from Hong Kong's status as a long-established regional financial centre, which gives the company access to abundant resources from international institutional investors. Terence argues that all these factors have been instrumental in iClick's growth in the capital market.
iClick's core business is mainly in the China market. It has offices in several major Chinese cities, including Hong Kong, Shenzhen, Guangzhou, Shanghai and Beijing. Its Beijing and Shenzhen offices were set up in 2010. Its mainland offices are mainly responsible for sales, technical support and data analytics in the mainland market.
There are several reasons why iClick has organised its business this way. Firstly, as its main customer base is on the mainland, having offices there facilitates its local operations. Secondly, overall operating costs (including human resources costs) are lower on the mainland, resources are plentiful and there is an innovation- and start-up-friendly business environment atmosphere.
There is a distinct division of labour in iClick's current business layout. Its core management is mostly based at its Hong Kong headquarters, providing long-term strategic direction for the company so that all its offices in different parts of the world can carry out their business and operational duties smoothly. It is through this synergistic collaboration that the effectiveness of the company as a whole can be maximised.
Hong Kong's Advantages within the GBA
When asked to comment on Hong Kong's status as an international business hub in the Guangdong-Hong Kong-Macao Greater Bay Area (GBA), Terence said Hong Kong's traditional advantages are still outstanding. One of these is its proximity to both mainland China and south-east Asian markets. Another is its status as Asia's leading professional services centre. The quality of Hong Kong's professional services in areas like accounting, finance and legal work is recognised internationally, and the providers of these services are well known for their global vision and extensive networks.
iClick was listed on Nasdaq in 2017. Terence noted that at various stages of the listing process, from listing preparation, valuation and business analysis to corporate governance and financial strategies, it received invaluable accounting services assistance from PricewaterhouseCoopers and legal support from Cleary Gottlieb Steen & Hamilton. Both these Hong Kong professional services firms have extensive listing experience in the mainland and overseas capital markets, as well as in-depth knowledge of the regulatory regime and investor base of these markets.
While Hong Kong serves as a bridge linking the mainland and western markets, its free flow of capital, its mature financial system and its transparent legal regime also helps to facilitate co-operation between iClick and overseas enterprises. Pointing to a recent example, Terence said that when iClick set up a joint-venture company with Thai business VGI Global Media Plc, Hong Kong provided a steady and important base for investment and trading.
Terence is convinced that the development of the GBA is an excellent opportunity for local start-ups. If the GBA provides start-ups with a clearly defined market, start-ups can draw up appropriate business strategies in response. He noted, however, that there are potential obstacles to the development of the GBA, and said that the differences between systems, as well as problems in the flow of capital, information and personnel within the region, need to be ironed out by government authorities through closer communication and co-operation.

Importance of a City's Ecological Environment
While the ecology for innovation and technology has grown increasingly mature on the mainland in recent years, the pace of development of that ecology in Hong Kong has lagged. However, in the long term, development in innovation and technology in the GBA is expected to drive the development of personnel, R&D and markets in Hong Kong in return. Innovation is not a stand-alone industry but can be merged into different traditional industries. An entrepreneur's aspirations should not be limited to the local market. Start-ups should focus on how best to integrate the mainland, Asian and even global markets to create business opportunities. Terence said that this is the reason why iClick is focusing on expanding into the mainland market. Through localised service solutions, it helps brands in the region make use of marketing resources in more targeted and effective ways. It has also been promoting digital transformation by expanding the application of big data to fields other than marketing.
Terence suggested that in the future Hong Kong's authorities could use different methods to encourage young people in Hong Kong to innovate and start their own businesses. The government could also invest more resources to improve the entire innovation and technology ecosystem. As well as providing support hardware such as the Cyberport and Hong Kong Science Park, the government could bring more leading global venture capital institutions into Hong Kong.
A venture capital firm with plenty of experience in investing in innovation and technology industries can offer more than just financial support to local start-ups. More importantly, it can provide professional know-how, it can introduce Hong Kong to the business models of overseas and mainland start-ups as well as the market acumen and technology of innovation industries, and it can even directly bring in related enterprises from aboard to increase the chances that local start-ups will succeed. Learning from the success of other places in promoting innovation and technology will help more start-ups follow suit.
Terence added that the government could even cultivate specific leading start-ups to serve as examples to the rest of the sector. By doing this, it could use the personnel, capital and business opportunities generated to propel the growth and improvement of the entire innovation and entrepreneurship ecosystem, creating a virtuous circle.
Company interview conducted by PricewaterhouseCoopers Advisory Services Limited
---
Note 1: The opinions and views expressed are those of the interviewees and do not necessarily reflect the views of HKTDC or PwC. HKTDC or PwC shall in no way be responsible for the accuracy, completeness or timeliness of the information provided by them, and for any loss associated with the use of such information.


Note 2: This English version of the case study is translated by HKTDC based on the Traditional Chinese version prepared by PricewaterhouseCoopers Advisory Services Limited. Should there be any inconsistency or ambiguity between this English version and the Traditional Chinese version, the Traditional Chinese version shall prevail. PricewaterhouseCoopers Advisory Services Limited will not have or accept any liability, obligation or responsibility whatsoever for any loss, destruction or damage (including without limitation consequential loss, destruction or damage) however arising from or in respect of any use or misuse of or reliance on the English version of this case study.
Advertising Services
Media
Advertising Services
Media
Advertising Services
Media
Advertising Services
Media
Advertising Services
Media
Advertising Services
Public Relations
Advertising Services
Public Relations
Advertising Services
Public Relations
Hong Kong
Mainland China
Hong Kong
Hong Kong
Mainland China
Hong Kong
Hong Kong
Mainland China
Hong Kong
Hong Kong
Mainland China
Hong Kong
Hong Kong
Mainland China
Hong Kong
Hong Kong
Mainland China
Hong Kong
Hong Kong
Mainland China
Hong Kong
Hong Kong
Mainland China
Hong Kong