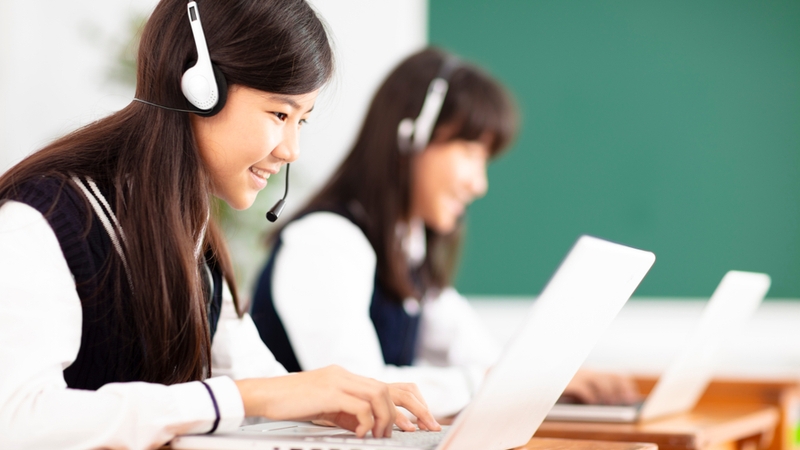 https://hkmb.hktdc.com/en/NjE3ODMzMjk5
The Post-Covid New Normal: The Online Tutoring Opportunity
Under Hong Kong's exam-oriented1 education system, success is measured by academic results. To attain higher exam scores, many students hurry off to tutorial centres after school every day for extra drilling. Founded in 2018, AfterSchool is an online tutoring platform, aiming to let students learn at their own pace while saving much of their travelling time. The company is also a social enterprise, seeking to give back to the society by offering free tutorial classes to grassroots students.
In an interview with HKTDC Research, Raymond Wong Wai-fung, Co-founder of AfterSchool, explained how the platform's membership increased by over 60% during the epidemic. Wong also described how the company copes with the threat of piracy and what opportunities lie ahead.
Wide-Ranging Services
AfterSchool currently offers more than 200 courses, targeting secondary three to six students through a 50-strong teaching team. Online courses come in two formats: live-broadcast courses with a higher interaction level, or video courses carrying greater flexibility. Students can view both types of courses as many times as they wish. A handful of free-of-charge courses are also available.
Overall, the courses cover 14 subjects, namely Chinese, English, Mathematics (including extended modules M1 and M2), Liberal Studies, Physics, Chemistry, Biology, Economics, History, BASF2, Information and Communication Technology and Visual Arts. Fees per hour stand at an average HK$100, much lower than what other tutorial centres charge. The standard courses aside, AfterSchool also runs classes on examination skills and other intensive courses to help students improve on their weaknesses.
While the Covid-19 outbreak has dealt a severe blow to most businesses, to AfterSchool, the epidemic is instead a catalyst boosting the popularity of this relatively new learning model. As physical classes in schools were suspended, DSE (Diploma of Secondary Education Examination) candidates were eager to turn to online tutoring lessons to ensure that they did not fall behind in their studies.
Noting the phenomenal growth in membership, Wong said: "The number of our members has soared by over 60% during the epidemic, with the return rate of some live-broadcast classes reaching as high as 100%. This is clear evidence that students and parents have grown much more receptive to online tutoring."
As of September 2020, AfterSchool's accumulated registered users has topped 50,000. Of these, more than one-third are DSE candidates. The epidemic has not only generated increased revenue for online learning institutes, but also driven up the share of online learning in the market overall.
Teacher Quality Assured Through Scoring System
AfterSchool has not imposed any limits on the background or qualifications of its teachers. Anyone interested need only produce a teaching video, which will be vetted by AfterSchool. Once it is endorsed, the teacher can teach on the platform.
A scoring system is in place to review teachers' performance regularly to phase out those not up to par and ensure teacher competence. At the end of each course, students are asked to rate their learning experience on a scale of 1 to 5 stars (with 1 star being the lowest score and 5 stars the highest). To allay students' worries in score-giving and enhance scoring objectivity, the exercise is conducted on an anonymous basis.
Any course given only 1 star by students will be withdrawn instantly. Enquiries will be made with students to find out the reasons for the one-star rating, followed by a review of the course and the teacher concerned. On the other hand, teachers receiving excellent ratings will be highlighted in AfterSchool's publicity and invited to work more closely with the platform.
Wong said: "The scoring mechanism allows us to assess teachers' performance from a student's perspective and pick teachers who best meet students' needs. That is why our teaching team enjoys tremendous popularity among students. After taking their first course with us, many students are keen to enrol in other courses."
AfterSchool's teaching team comes from a diverse background, ranging from teachers with 20 years' experience, to DSE top scorers and in-service secondary school teachers.
Outwitting the Pirates
Online education institutions have seen many of their e-learning courses copied by others and resold online at low prices. Combatting the piracy issue, Wong said: "We have in fact fallen victim to piracy ourselves, but our edge lies in our full suite of services, which the infringers are incapable of replicating. For instance, within three to five days after enrolling in our courses, students will receive hard copies of the teaching materials with plenty of practice questions. After each class, teachers and teaching assistants also offer services like correcting compositions and homework and answering students' questions.
"In courses on Chinese and English, oral practice exercises are made available. Our full range of services has won students' loyalty to our platform. As such, piracy is not expected to impact our user numbers."
To encourage students to put their heads together and further optimise its services, AfterSchool has launched a smartphone app featuring a Q&A community to better engage the students. Wong explained, saying: "Our app is very easy to use. Students don't even need to type out their questions but send us an image of their question."
A game has also been built into the Q&A community, where the questioner picks the best answer to his question. The student who provides the best answer is awarded some tokens offered by the questioner as an incentive, which can be exchanged for book coupons or used for charitable causes. The game has proved effective in motivating students to help one another while consolidating their own knowledge. Presently, an average of 30 to 100 students are active participants in the Q&A community every day.
Giving Back to Society
AfterSchool is also a social enterprise embracing the goal of helping students in need. Wong said: "Many grassroots families cannot afford tutoring classes for their children, whose learning support is hence rather limited. We aspire for equal educational opportunity for everyone, and care a lot about this group of children."
Since 2018, AfterSchool has partnered with non-profit organisations like the Principal Chan Free Tutorial World to offer free courses to under-privileged students. To date, more than 500 students have benefitted. Preparations are also underway to launch scholarships for students on the Comprehensive Social Security Scheme to help them enrol in paid courses at lower prices.
Looking ahead, AfterSchool also plans to run targeted courses for students with special education needs. These include courses using mainly pictures for teaching students with learning difficulties to stimulate their motivation and interest, and courses with elements of music for autistic students. In addition, plans are afoot to cater to the needs of ethnic minority students.
New Technologies Spur New Opportunities
AfterSchool is also in the process of developing a smart test system. Data on students' day-to-day learning and test results will be collected and analysed using artificial intelligence (AI). Appropriate courses will be recommended to students based on their different needs and services will be personalised. Wong explained, saying: "Through AI, we can analyse students' logical thinking capability and mathematical ability. If a student's capability is above average, we will recommend courses that are faster-paced and more advanced. If the student is not so strong, teachers who give detailed explanation on each knowledge point will be recommended."
Apart from becoming a more personalised teaching tool, AfterSchool also looks to enriching its service line-up. Wong added: "In addition to covering secondary school subjects, we also aim to launch career planning courses targeting university students and non-academic courses, such as courses on job interview skills, logical thinking and cursory reading."
In teacher recruitment, the company also seeks to break new grounds. Wong said: "As online teaching can break through geographical constraints, our teachers should no longer be confined to local talent. Talent from overseas and the mainland may also be recruited to our platform where they can capitalise on their expertise to deliver the best teaching results."
Indeed, in the digital era, online teaching combining the use of the internet and smart technologies is poised to be a trend in education. Online learning platforms do not merely provide extra study options for students on top of conventional models, but also spell good business opportunities for Hong Kong companies.
---
1 An exam-oriented education system is generally deemed as one which aims primarily at enhancing students' capability in sitting for exams, with a heavy emphasis on memorising, question-answering and exam results.
2 BAFS refers to business, accounting and financial studies.
Education & Training
Education & Training
Education & Training
Education & Training
Education & Training
Hong Kong
Hong Kong
Hong Kong
Hong Kong
Hong Kong
Hong Kong
Hong Kong
Hong Kong
Hong Kong
Hong Kong