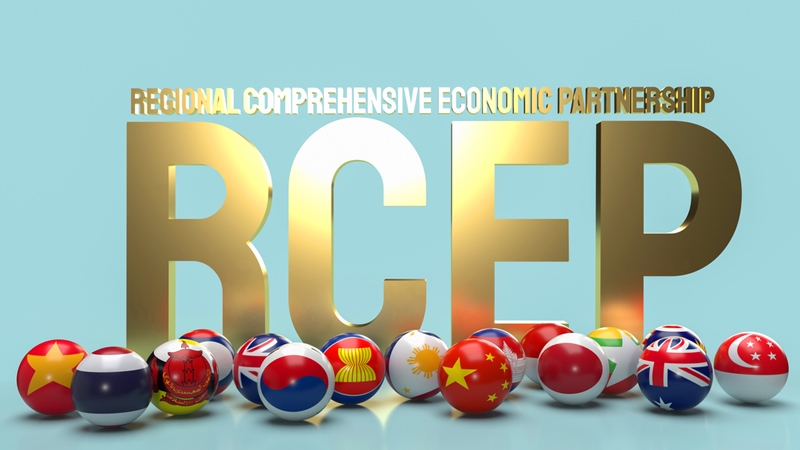 https://hkmb.hktdc.com/en/NjAxNDY4NDE0
What the Regional Comprehensive Economic Partnership (RCEP) Means for Business
After eight years of negotiation, the Regional Comprehensive Economic Partnership (RCEP) was signed on 15 November 2020 by 15 member states – the ten ASEAN countries, China, Japan, South Korea, Australia and New Zealand. The RCEP Agreement will come into effect 60 days after a minimum of six ASEAN member states and three non-ASEAN member states have ratified it. That could be as early as the second half of 2021.
Highlights
The world's largest free trade agreement – it covers a market of 2.2 billion people (almost 30% of the world's population), with a combined GDP of US$26.2 trillion (about 30% of global GDP), and accounts for nearly 28% of global trade (based on 2019 figures). This makes it bigger than both the United States–Mexico–Canada Agreement and the European Union.
A diverse mix of member countries – it comprises a diverse mix of developed, developing and least developed economies in the region, with provisions for special and differential treatment especially for Cambodia, Laos, Myanmar, and Vietnam, and additional flexibility for the least developed member countries.
Remains open to India – India was part of the negotiations but withdrew last year. The RCEP ministers have been it clear they are very willing to re-engage with India. India can as well, prior to any future accession to the RCEP Agreement, participate in RCEP meetings as an observer and in economic cooperation activities under the RCEP Agreement. 
Goes against the headwind of protectionism – while RCEP is ASEAN-centric (and was initiated by ASEAN in 2012), the pact is generally seen as an extension of China's influence in the region. At a time when Sino-US tensions have intensified and historical anti-Chinese sentiment is increasing in neighbouring countries, the signing of the RCEP Agreement has demonstrated member countries' support for an open, inclusive, rules-based multilateral trading system.
Goes beyond existing FTAs – while most of the member countries already have free trade agreements (FTAs) with each other (see the table below), the RCEP Agreement contains provisions that go beyond these existing FTAs. Japan's presence is of particular interest in this regard, as it does not have existing FTAs with China and South Korea, its two largest trading partners. Under the RCEP, the percentage of tariff-free products traded between Japan and China is expected to increase from the current 8% to around 86%, while up to 92% of Japanese exports to South Korea will be tariff-free, compared with 19% currently.
Details and Implications
Trade in Goods Commitments
The RCEP will eliminate import tariffs on most industrial products, encompassing about 92% of all products. This will be implemented progressively over the next 20 years in accordance with each member country's Schedule of Tariff Commitments. Some member countries have only one tariff schedule applicable to all other member countries, while others, like China, Indonesia, South Korea, the Philippines and Vietnam, have separate schedules for different member countries.
RCEP also addresses non-tariff barriers to trade in goods, with all 15 member countries agreeing one rule of origin with a regional value content of 40%, which is on par with or higher than most of the existing FTAs among the RCEP's member countries. Businesses trading with multiple RCEP countries will only need to comply with one set of rules and procedures. It will provide businesses with greater choice and flexibility in fulfilling the origin documentation requirements, reducing the time and simplifying the procedures of customs clearance.
Regional Value Content Requirements of Existing FTAs
| | | | | | | |
| --- | --- | --- | --- | --- | --- | --- |
| | ASEAN | China | Japan | South Korea | Australia | New Zealand |
| ASEAN | | | | | | |
| China | 40% | | | | | |
| Japan | 40% | * | | | | |
| South Korea | 40% | 40% | * | | | |
| Australia | 40% | 40-60% | 40% | 30-40% | | |
| New Zealand | 40% | 30-50% | 30-60% | 30-40% | 30-45% | |
Note: * no existing FTAs in force
Source: HKTDC from the respective FTAs
Given these commitments regarding trade in goods, RCEP is expected to facilitate the transformation of the regional value chain. Member countries of RCEP, especially Japan, South Korea, China and the ASEAN countries, have a high level of intra-industry trade (mainly in the electronics sector), thanks to the well-established supply chains in the region. With RCEP's rules of origin reflecting contemporary production processes and trade logistics arrangements, the movement of goods in the region will become easier, facilitating the extension of the regional supply chain out of China. Electronics, garments, textiles, toys, machinery and plastics are key sectors in which manufacturers are looking to diversify their operations outside China. In addition, Japan's new commitments to China and South Korea are likely to benefit the automotive sector, given that China's imports of Japanese auto parts account for 27% of the bilateral trade between the two. Under RCEP, 90% of Japanese auto parts exports to China will be tariff-free.
Trade in Services and Other Commitments
RCEP also delivers improved market access, beyond that provided by existing FTAs, for services exporters and investors in some RCEP markets. For example, New Zealand services exporters and investors will for the first time benefit from market access commitments from China, and also from ASEAN countries that are not party to the Comprehensive and Progressive Agreement for Trans-Pacific Partnership (CPTPP), such as Indonesia and the Philippines.
When it comes to trade in services, Cambodia, China, Laos, Myanmar, New Zealand, the Philippines, Thailand and Vietnam have offered a positive listing of schedules while other member countries have made services offers on a negative list basis where the market will be fully open for RCEP participation, apart from restrictions specified in the list. Overall, at least 65% of services sectors will be fully open to foreign investors, with commitments to raise the ceiling for foreign shareholding limits in various industries, such as professional services, telecommunications, financial services, computer services, and distribution and logistics services. However, the actual impact will depend on how the measures are adopted and implemented at the business level as there is often a big gap between policy and realities when it comes to services trade liberalisation under FTAs.
RCEP also includes chapters on intellectual property, electronic commerce, competition, small and medium enterprises (SMEs), economic and technical cooperation and government procurement.
Benefits to Hong Kong
Although Hong Kong is not one of the signatories of RCEP, most of the merchandise trade initiated and managed by Hong Kong companies is produced in RCEP member countries, particularly China, and there is an increasing trend for Hong Kong manufacturers to extend their supply chains from China into ASEAN countries. Hong Kong companies producing in the region are set to benefit from the lower tariffs, simplified rules and procedures, and better market access.
RCEP member countries are important trading partners for Hong Kong. According to the Hong Kong Census and Statistics Department, Hong Kong's merchandise trade with RCEP member countries amounted to HK$6 trillion in 2019, accounting for 71.3% of the total. China and ASEAN were Hong Kong's largest trading partners. As for offshore trade activities (i.e. transactions conducted by Hong Kong companies without the goods passing through Hong Kong), China and Japan are among the top five markets for Hong Kong companies, which earn more than HK$78 billion a year from the respective merchanting and merchandising activities.
Under RCEP, the movement of goods in the region will become easier and the extension of the regional supply chain out of China will be facilitated, an on-going trend which will boost intra-industry and intra-regional trade, particularly in electronics. As witnessed in the past decade, Hong Kong has seen a strong growth in trade with ASEAN and China amid ASEAN's rise as a manufacturing hub. China and ASEAN's shares in Hong Kong's total trade have edged up from 50.2% and 11.4% in 2017 to 51.5% and 12.8% in the first ten months of 2020. During 2017-2019, Hong Kong's trade with ASEAN expanded strongly by 8.2%, a much faster rate of growth than the 3% rise in Hong Kong's trade with the world. The rapid expansion of Hong Kong's trade with ASEAN is largely due to semi-conductors, which accounted for 51% of the total in the first ten months of 2020, compared with 43.4% in 2017.
Hong Kong's Total Trade with RCEP Member Countries



2017

2019

Jan-Oct 2020

Amount (HK$bn)

Share (%)

Amount (HK$bn)

Share (%)

Amount (HK$bn)

Share (%)

China

4,136

50.2

4,269

50.8

3,389

51.5

ASEAN

937

11.4

1,018

12.1

843

12.8

Japan

382

4.6

374

4.4

283

4.3

South Korea

309

3.7

277

3.3

237

3.6

Australia

54

0.7

50

0.6

39

0.6

New Zealand

9

0.1

11

0.1

8

0.1

Sum

5,827

70.7

5,999

71.3

4,799

72.9
Source: Hong Kong Census and Statistics Department

Gross Margin/Commission Earned from Offshore Trade in Goods
by Hong Kong Companies by Major Markets in 2018
| | | | |
| --- | --- | --- | --- |
| | Amount (HK$bn) | Share (%) | Year-on-year change (%) |
| US | 108.8 | 35.0 | +6.8 |
| China | 64.7 | 21.0 | +7.5 |
| Germany | 18.9 | 6.1 | +1.5 |
| UK | 18.6 | 6.0 | +3.2 |
| Japan | 13.6 | 4.4 | +2.1 |
| Others | 84.9 | 27.4 | +4.0 |
| All Destinations | 309.7 | 100.0 | +5.4 |
Note: Earnings include gross margin from merchanting and commission from merchandising for offshore transactions
Source: Hong Kong Census and Statistics Department
Major Commodities of Trade between Hong Kong and ASEAN



2017

2019

Jan-Oct 2020

Amount (HK$bn)

Share (%)

Amount (HK$bn)

Share (%)

Amount (HK$bn)

Share (%)

Semi-Conductors, Electronic Valves & Tubes, etc

407

43.4

468

46.0

430

51.0

Telecommunications Equipment & Parts

109

11.7

117

11.4

83

9.9

Parts & Accessories of Office Machines / Computers

34

3.6

38

3.7

35

4.2

Computers

38

4.1

38

3.7

25

3.0

Electrical Apparatus for Electrical Circuits

27

2.8

26

2.5

23

2.7

Others

322

34.3

332

32.6

246

29.2

Sum

937

100.0

1,018

100.0

843

100.0
Source: Hong Kong Census and Statistics Department
Hong Kong-based companies do not benefit directly from the RCEP in the area of services liberalisation, but Hong Kong already has high-standard FTAs in place with ASEAN, Australia and New Zealand, on top of the Mainland and Hong Kong Closer Economic Partnership Arrangement (CEPA). Nevertheless, Hong Kong is very interested in joining the RCEP and according to the Hong Kong government, it is ready to start talks on accession with the RCEP's member economies as soon as the RCEP is ready to take on new partners.
ASEAN
Southeast Asia
Mainland China
Japan
Korea
Australasia
Brunei Darussalam
Japan
Korea, Republic Of
Australia
Cambodia
Laos
Myanmar
Viet Nam
Indonesia
Malaysia
New Zealand
Thailand
Philippines
Singapore
ASEAN
Southeast Asia
Mainland China
Japan
Korea
Australasia
Brunei Darussalam
Japan
Korea, Republic Of
Australia
Cambodia
Laos
Myanmar
Viet Nam
Indonesia
Malaysia
New Zealand
Thailand
Philippines
Singapore
ASEAN
Southeast Asia
Mainland China
Japan
Korea
Australasia
Brunei Darussalam
Japan
Korea, Republic Of
Australia
Cambodia
Laos
Myanmar
Viet Nam
Indonesia
Malaysia
New Zealand
Thailand
Philippines
Singapore
ASEAN
Southeast Asia
Mainland China
Japan
Korea
Australasia
Brunei Darussalam
Japan
Korea, Republic Of
Australia
Cambodia
Laos
Myanmar
Viet Nam
Indonesia
Malaysia
New Zealand
Thailand
Philippines
Singapore
ASEAN
Southeast Asia
Mainland China
Japan
Korea
Australasia
Brunei Darussalam
Japan
Korea, Republic Of
Australia
Cambodia
Laos
Myanmar
Viet Nam
Indonesia
Malaysia
New Zealand
Thailand
Philippines
Singapore
ASEAN
Southeast Asia
Mainland China
Japan
Korea
Australasia
Brunei Darussalam
Japan
Korea, Republic Of
Australia
Cambodia
Laos
Myanmar
Viet Nam
Indonesia
Malaysia
New Zealand
Thailand
Philippines
Singapore
ASEAN
Southeast Asia
Mainland China
Japan
Korea
Australasia
Brunei Darussalam
Japan
Korea, Republic Of
Australia
Cambodia
Laos
Myanmar
Viet Nam
Indonesia
Malaysia
New Zealand
Thailand
Philippines
Singapore
ASEAN
Southeast Asia
Mainland China
Japan
Korea
Australasia
Brunei Darussalam
Japan
Korea, Republic Of
Australia
Cambodia
Laos
Myanmar
Viet Nam
Indonesia
Malaysia
New Zealand
Thailand
Philippines
Singapore
ASEAN
Southeast Asia
Mainland China
Japan
Korea
Australasia
Brunei Darussalam
Japan
Korea, Republic Of
Australia
Cambodia
Laos
Myanmar
Viet Nam
Indonesia
Malaysia
New Zealand
Thailand
Philippines
Singapore
ASEAN
Southeast Asia
Mainland China
Japan
Korea
Australasia
Brunei Darussalam
Japan
Korea, Republic Of
Australia
Cambodia
Laos
Myanmar
Viet Nam
Indonesia
Malaysia
New Zealand
Thailand
Philippines
Singapore