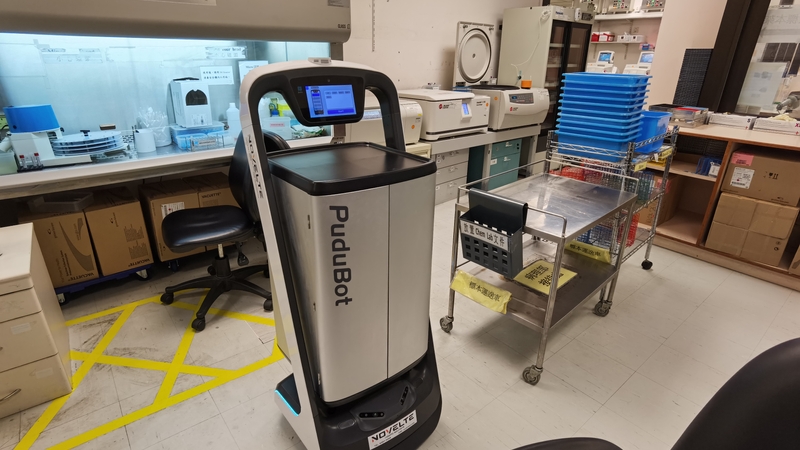 https://hkmb.hktdc.com/en/NjAwNTM3MjUx
Start-Up Hong Kong: Inno-Tech Development – The Case for State Support
With the Covid-19 outbreak understandably limiting person-to-person interaction, there has been a global surge of interest in the adoption of multi-function robotic systems, many of which can now take on tasks that once required the presence of a human operator. It's a development that many Hong Kong industry players are rightly optimistic about – most notably Novelte Robotics, a Kowloon-headquartered start-up with a focus on the design and build of robot workers. Recently, HKTDC Research took the opportunity to sit down with company Co-Founder Albert Lam, who maintains the pandemic underlines just what a significant contribution to economic development the robotics sector is poised to make. Essentially, Lam believes the time is now right for the government to take a lead in adopting many of the high-tech developments nurtured by local start-ups on a pilot basis. He is convinced this would play a key role in enhancing the general public's understanding of the importance of innovative and emerging technology.
Confidence in Market Potential
Lam had worked in a variety of different companies and different sectors before discovering the market potential of robot applications and deciding to break into the robot market in Hong Kong. A year ago, he founded Novelte Robotics along with four partners, all from different professional fields and with their own entrepreneurial experience. Lam himself, for example has a background in and knowledge of corporate technology solutions and robot engineering, while the company's chief technology officer possesses extensive experience of AI and autonomous driving.
The company began designing and manufacturing commercial robot solutions to meet the business needs of customers and provide related services. It now offers five types of robots, including a robot cleaner that can provide clean-up and sanitisation services along programmed routes, a concierge robot that can recommend activities and make reservations for customers, and a meal delivery robot.
Opportunities Prompted by Pandemic​​​​​​​

Novelte Robotics has already won customers from many different sectors – amongst them, property management companies, cleaning services providers, securities firms and telecoms operators. Its products are now used in retail stores, restaurants, shopping malls and hotels. The advent of the coronavirus pandemic has created further opportunities for the company – for example, its meal delivery robots are now being used in Queen Elizabeth Hospital in a co-operative project with the Hong Kong government.

In fact, Lam attributes the opportunities that have sprung from the pandemic as the main reason for the company's initial success. Because of the spread of the virus and the measures put in place to curtail it, a number of activities became difficult or impossible for humans to carry out. One example of this would be visits to elderly care homes. When these become restricted or forbidden because of the virus, robots can be deployed to allow video calls between residents and their family and friends. Likewise, with hospitals wanting to minimise face-to-face contacts between medical personnel and patients to reduce the risk of infection, robots can be used to fill in the gaps. The pandemic has helped change people's preconceptions about robot workers. Until now, many have seen them only as a means to reduce manpower or carry out repetitive processes. Now robots are being seen in a new light.
Government Urged to Take Lead
It's clear that there is a market demand for robots. However, running a business in Hong Kong means having to deal with other issues, such as the problems of high operating costs and limited space. Furthermore, business support funds in Hong Kong have a limited scope and are mostly limited to research and development (R&D). There is a dearth of support for new companies looking for help with product commercialisation and market promotion. Lam said he has come across customers who wanted to apply for the Technology Voucher Programme under the Innovation and Technology Fund, hoping to raise their operational efficiency through the adoption of new technology. But they found the approval process complicated and tedious. Despite submitting a wealth of documents and justifications, they failed to obtain any funding even after nine months and decided to give up.
Lam said he hopes Novelte Robotics' application to enrol in the incubation programme of the Hong Kong Science Park will be approved within this year so that they can have more exchanges with their industry peers in the Park and expand their vision. In the meantime, the company is participating in promotional activities to raise its profile, and continuing to apply for funds from the Innovation and Technology Commission. He wants the scope of funding to be expanded from R&D to defraying the costs and expenses of recruiting industry experts, and marketing and promotion. He also pointed out that although a shortage of funds is common among start-ups, the "spend first, reimburse later" arrangement of most support programmes is of little help to them. He would like the government to simplify the application process and exercise a degree of flexibility in this regard.
However, while Lam believes financial support is important, what he really wants is for the government to launch a pilot programme in which it sets an example by using local start-ups' technological products and services on a trial basis. This, says Lam, would not only bring publicity to start-ups and raise their visibility but would also encourage society and large local corporations to embrace innovation and technology.
Lam added that the government should review its regulations regularly to keep pace with the rapid advances in technology. For example, during a recent consultation with the Electrical and Mechanical Services Department on the occupational safety of robots, Lam raised the question: "Is a robot allowed to take a lift ride unaccompanied?" Lam usually seeks out the views of industry insiders or consults trade associations (such as the Internet Professional Association) about legal issues related to his company's business activities. He said that if there was a suitable channel for start-ups to talk to the government about problems they encounter in their business, it would go a long way to solving their difficulties.
GBA as R&D Base
Novelte Robotics currently uses offices in Beijing and Guangzhou for software development, in order to lower costs. In the long-term, mainland China's policies of offering tax relief and assistance to Hong Kong residents is likely to encourage the company's founding partners to go north and start businesses there. Lam reckons that Macao, Zhuhai and Zhongshan are markets with potential and are conducive to the implementation of different marketing programmes. Moreover, small- and medium-sized enterprises (SMEs) in the mainland benefit from the support the authorities give to start-ups by buying their products, and from their willingness to source goods and services from SMEs. These are effectively another form of subsidy.
In order to expand the company, Lam is also keen to make good use of the resources and support available in the Guangdong-Hong Kong-Macao Greater Bay Area (GBA). He believes that the GBA is best suited to carrying out R&D co-operation. Products developed there can be exported to markets such as Europe and the Americas, where there is a higher acceptance and circulation of innovation and technology products.
Technology
Technology
Technology
Technology
Technology
Technology
Technology
Technology
Technology
Technology
Technology
Technology
Technology
Hong Kong
Hong Kong
Hong Kong
Hong Kong
Hong Kong
Hong Kong
Hong Kong
Hong Kong
Hong Kong
Hong Kong
Hong Kong
Hong Kong
Hong Kong
Hong Kong
Hong Kong
Hong Kong
Hong Kong
Hong Kong
Hong Kong
Hong Kong
Hong Kong
Hong Kong
Hong Kong
Hong Kong
Hong Kong
Hong Kong