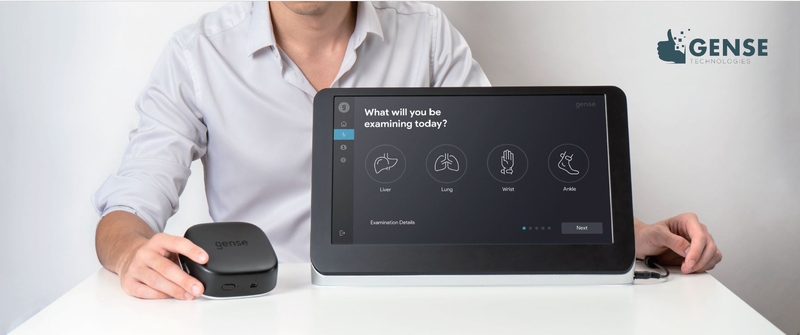 https://hkmb.hktdc.com/en/NTkzODc1OTcy
Navigating Covid-19: A Home Diagnostic Screening Trailblazer
Interview with Justin Chan, the CEO at Gense Technologies
Increased health consciousness as a result of the coronavirus outbreak has been fuelling demand for medical innovation, including — but not confined to — telehealth solutions. This remote treatment approach facilitates long-distance patient and clinician interaction, care, advice, reminders, education, intervention and monitoring, through a unique combination of technology, clinical expertise and support.
For Covid-19, as with all communicable diseases, prevention is better than cure. At-home diagnostic screening equipment and devices, like other widely-adopted stay-at-home arrangements, have been thrown into the spotlight, as people are increasingly concerned with their health, while wary of hospital or clinic visits due to the heightened risk of infection.
This is a life-or-death concern for patients who are immunocompromised and relying on public healthcare services, which are under pressure to prioritise resources in the fight against the global health crisis. The millions of recovered coronavirus patients also require close monitoring and continued support, especially as the long-term sequelae of infection are still not well established.
Among the encouraging signs, though, are the advances being made in at-home biomedical imaging technology that could help build the backbone of a health information exchange to support the future of telemedicine. Against this backdrop, HKTDC Research sat down with Justin Chan, CEO of Gense Technologies, to learn how the award-winning start-up has been working on proprietary AI health tracking, diagnostic algorithms, and low-cost, portable bio-imaging IoT technology applicable to the early preclinical detection of diseases that can sometimes be asymptomatic.
Empowering the Healthcare System
With limited medical resources, waiting times in public clinics and hospitals are often long. A triage system has already been implemented in most, if not all, public health systems to help determine the relative priority of individual patient needs in order to assure smooth patient flow. However, it is not uncommon for patients to exhibit reduced general health conditions and suffer further deterioration during their wait, especially when the median waiting time at some Hong Kong specialist out-patient clinics could be as long as 120 weeks, according to data released by the Hospital Authority.
Complicating matters further is the ongoing Covid-19 pandemic, with the highly infectious disease having proven difficult to control in densely-populated places like Hong Kong. Indeed, patients with chronic illnesses could be at surprisingly great risk of deteriorating if no proper care and monitoring is given.
Home imaging devices could represent a safe approach, offering a means of remote consultation in these critical situations. Social contact during the pandemic can thus be reduced, as well as the risk represented by infected patients being referred to general practitioners (GPs) or emergency departments, while also allowing healthcare professionals to have real-time access to a patient's health parameters for continuous monitoring, pre-assessment and prioritisation.
Transcending Barriers
The primary types of biomedical imaging technologies currently used in hospitals are not a good fit for home use. Explaining why this is the case, Chan said: "X-ray, computed tomography (CT), magnetic resonance imaging (MRI), positron emission tomography (PET) and ultrasonography – the five most popular biomedical imaging technologies – are almost impossible to use at home. This is down to a variety of reasons, including a series of unique safety hazards, the release of radiation and the necessity for invasive procedures, such as the injection of contrast agents or tracers.
"All these five biomedical imaging technologies have to be operated by technicians and / or doctors. For X-ray, CT and PET procedures, all of which involve the high-frequency radiation of electromagnetic waves, they have to be conducted in a shielded room to prevent potentially harmful rays from leaking out. In the case of PET, radioactive tracers are used to enable scanning, which sometimes require intravenous (IV) injections. This is a prime example of why these imaging technologies are not home-use ready.
"MRI, for its part, has a highly specific safety protocol. Given its strong magnetic field, which is more than 30,000 times the strength of the earth's magnetic field, it has to be operated in a magnetic field-shielded room. Moreover, to ensure the environment is ferromagnetic-free, there must be no metal present. The fact that the procedure requires the use of a scanner that weighs more than a tonne only makes home use all the more inconceivable.
"Finally, ultrasonography, while non-invasive and non-radioactive, requires thorough anatomical knowledge and technical skills in order to guide the probe to image at the appropriate location."
The Right Technology
In a bid to fill this particular gap, Chan has led his Gense Technologies team to focus on electrical impedance tomography (EIT) in the firm belief that it can be a way for at-home biomedical imaging technologies to strike the right balance between cost-effectiveness and diagnostic accuracy, especially for the household market. Chan explained, saying: "EIT is non-invasive and non-radioactive. It probes the body with a low electric current some 1,000 times smaller than static electricity.
"The method is sensitive to changes in electrical properties so, by using known amounts of current and measuring the resulting electrical potentials around the body, it is possible to determine the electrical properties of that region of the body. This allows the early detection of any abnormalities."
While his company is using it in a new way, the technology is well established, as Chan explained, saying: "As a matter of fact, EIT is a well-developed biomedical imaging technique, one that has been used since 1978. Nowadays, it has become peripheral and is less commonly used for medical diagnosis at hospitals, mainly because there are now alternative ways of generating images that deliver a higher resolution. It is, however, still being used in Intensive Care Units (ICUs) for monitoring patients' lung functions in conjunction with ventilators.

"The coronavirus has given us an opportunity to reinvent it, though, as home-based assessment and monitoring solutions are now much sought-after. Technological advances over the years have also made EIT a more accessible and useful screening tool."

Unleashing the Full Potential
Despite its advantages, EIT still has some problems to overcome before its full potential as an integral part of telemedicine can be realised. Gense Technologies has been striving to reduce the cost of the equipment, enhance its portability, develop a user-friendly interface and, more importantly, raise imaging accuracy, with the aim of appealing to the largest portion of the market.
Chan was positive that his start-up offered advantages over existing EIT device suppliers, saying: "There are a handful of established European companies offering similar EIT medical devices, which are primarily used for monitoring lung functions at hospitals but at a relatively less affordable cost. Size itself could also be an issue, as German EIT equipment for lung diseases, for example, can easily be 1.5 metres or more in height. Moreover these hospital-use devices have only been deployed for the monitoring of lung diseases."
In order to tackle these problems, Chan and his team have worked to develop a low-cost, portable biomedical imaging solution using EIT. This has seen them design a brand-new AI health tracking system, innovative diagnostic algorithms and several corresponding wearables. After years of R&D and rounds of trials in partnership with local university professors, Chan has secured a number of patents in several international territories for his start-up, including the US, the UK and mainland China. His proprietary, affordable, portable and self-administrable diagnostic screening imaging device is now set for use not only in clinics and hospital wards, but also in gyms, care homes and even just everyday households.
The Covid-19 Boost
With the Covid-19 outbreak having understandably obstructed the implementation of its ongoing trials, the Hong Kong start-up has decided to focus on the monitoring of patients with lung diseases and detecting potential abnormalities. In particular, they have focused on recovered Covid-19 patients in an effort to help Hong Kong and the global community combat the pandemic.
Chan and his team, supported by public grants, are currently preparing for the first round of clinical trials on recovered Covid-19 patients in Hong Kong, with the aim of providing users with affordable and portable at-home diagnosis screening imaging solutions. The trial will track and gauge their health parameters for an extended period to look for signs of potential sequelae of infection. This exercise is considered crucial in the long-term battle against the coronavirus, as little is known about its long-term effects and how it may progress once lockdowns and social distancing measures are eased.
Gense Technologies' low-cost, at-home diagnostic screening imaging solutions allow the relevant clinical trials to be conducted on a massive scale. The aim is to gather significant amounts of biomedical information in order to draw useful inferences, not only benefitting Covid-19 patients (recovered or not), but also telemedicine development and society as a whole.
To guarantee a statistically significant sample size, Chan is open to the idea of expanding the clinical trials overseas. He said: "Given the relatively small number of confirmed cases in Hong Kong, the benefits of expanding clinical research to more countries around the globe are clear."
A Roadmap to Digital Health
Digital health solutions continue to grow in both number and capabilities. While slightly side-tracked by the global pandemic, Gense Technologies remains committed to developing a household diagnostic screening imaging solution capable of detecting multiple diseases in a bid to pave the path to telemedicine. With this in mind, Chan and his team are expanding the scope of clinical trials to cover every part of the body, starting with the liver – the second-largest organ in the human body after the skin – and tendons, where pathological changes can be completely asymptomatic and therefore easily overlooked before becoming serious health problems.
With more generous public and private resources being channelled to the biotech field in the midst of the global pandemic, Chan is looking forward to a full launch of his enhanced household diagnostic screening imaging solutions in two to three years' time. He hopes to gather more biomedical data from the coming rounds of clinical trials. The company is also preparing to launch a simplified, palm-sized version in the coming six months, with gesture-control wristbands and voice-translation wristbands for deaf users to be phased in over the longer term.
By making at-home biomedical imaging more affordable and accessible, Chan foresees a breakthrough, not only in the healthcare industry, but also in other related fields, such as medical and clinical research and fintech initiatives, such as telehealth insurance.
Medical Supplies & Medicine