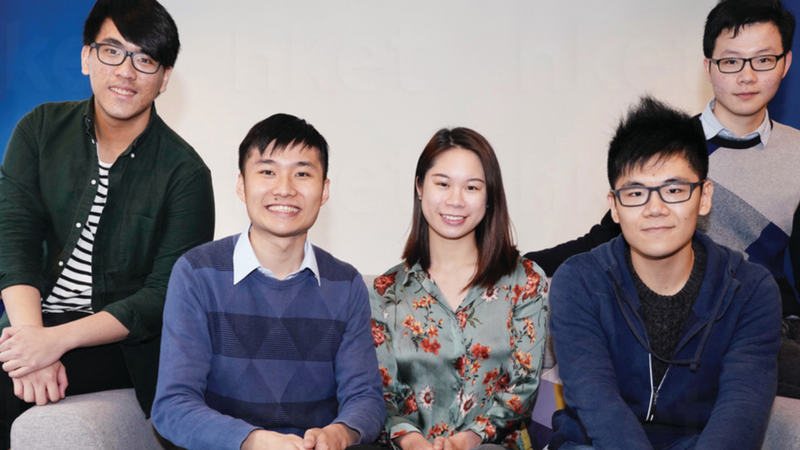 https://hkmb.hktdc.com/en/NTk1NTQ3NTMx
Start-Up Hong Kong: Vigour and Drive Pay Off for Young Entrepreneurs
Modern shoppers get much of their consumer information – price comparisons and user reviews, for example – via the internet. But the huge volume of information available online means that they have to spend a great deal of time browsing through websites and filtering and consolidating the relevant data. ReUbird is a local entertainment booking platform that helps consumers cope with this burden by making recommendations about recreational activities and entertainments in Hong Kong, and providing support with all the chores involved in organising gatherings, such as hiring caterers, booking venues, ordering cakes and so on. The aim is to provide consumers with one-stop, online-and-offline booking services. Carson Yau and Brian Chui, co-founders of ReUbird, talked to HKTDC Research about the challenges facing young entrepreneurs, and about how they have responded to the impact of Covid-19.
Starting Young
Yau and Chui met at university where they frequently organised activities together. Realising that they spent a great deal of time looking up relevant information on different channels, they came up with the idea of building a platform that would incorporate all booking services for activities. This would serve both general consumers and commercial clients.
Yau and Chui founded ReUbird a year before their graduation. Their aim was to make it the service platform that instantly comes to Hong Kong people's minds when they look for entertainment or want to throw a party. As this was their first business venture, they put a lot of effort into running the company and developing products. Since the platform went online in 2018, they have learned a great deal on the job, and their operation started to break even during its first year. Yau and Chui believe that the most important factor contributing to their early success is their team's exceptional vigour and drive. Recruited mainly through the university, it is made up of young people aged between 23 and 25, backed by a dozen university students who work on a part-time basis. They have a good grasp of the market and the trade, and can respond promptly to market changes. The duo point out that a great deal of effort is put into ensuring the platform offers what its customers want, saying: "Whenever a new software is developed, we will test it time after time to make adjustments in response to market feedback. We never work behind closed doors."
Although ReUbird's workforce is currently very young, Yau and Chui are not averse to hiring older employees. Acknowledging that young people generally lack experience in life, the pair said they would consider taking on more mature people in the future to take care of certain tasks such as customer service. However, they pointed out that they would expect to encounter some difficulties persuading middle-aged employees to join a start-up.
Being young entrepreneurs, Yau and Chui have overcome many of the hurdles of starting a business through vigour and enthusiasm. However, their lack of experience meant that they suffered many setbacks when they started out, particularly when seeking collaboration with potential business partners. They were always younger than the clients they approached, and sometimes found themselves inadequately prepared for the questions and challenges their potential clients put to them. They came to realise that the key to win clients' confidence was to consistently provide professional services and quality products. Once the pair had grasped this, ReUbird gradually began to progress on the right track.
Incubation Programmes
Looking back on ReUbird's development over the past two years, Yau and Chui agreed that the activities and programmes offered by many local organisations helped accelerate the start-up process and is useful for promoting young entrepreneurship. Their decision to start a business only came after winning a grant from the Cyberport Creative Micro Fund, set up by Hang Seng Bank and the Cyberport in 2017. They were then admitted to the Cyberport Incubation Programme and the iDendron SEED Programme of HKU Innovation and Entrepreneurship Hub, both of which provided them with funding and free workspace to support ReUbird's initial operation.
Once the company was part of the incubation programme, it benefitted from the opportunity to make contacts for commercial collaboration. The programmes also gave the pair the chance to share experiences with mentors with commercial networking activities, which have broadened their horizons and social connections. Describing the benefits of being part of the Cyberport's programme, Yau said: "The confidence of clients in us was greatly boosted once they learned that our company was a graduate of the Cyberport Incubation Programme. The reference letter from Cyberport also helped make banking procedures easier during the initial stage of our operation."
Yau and Chui are grateful for the support of the Cyberport Incubation Programme which lasted nearly a year. As well as the initial operating fund and workspace, which they say were very important, they found it particularly valuable to meet experienced mentors through the programme, who gave them advice and guidance whenever they encountered problems. The talks and workshops they participated in as part of the programme also helped increase their knowledge of how commercial operations work.
Funding Difficulties
During the next stage of development, however, the pair discovered that the accelerator support programmes available in the market were not be able to meet the needs of a young company in their particular sector. From what they could see, these programmes mostly focus on emerging industries like artificial intelligence and blockchain, or those promoted by the government such as innovation and technology. The business nature of e-commerce platforms is often excluded.
Since the sector they belong to has been developing in the market for some time, it is difficult to seek funding support. Yau and Chui say there are fewer angel investors in Hong Kong than there are overseas, and local investors are more interested in the emerging industries mentioned above. They also tried to approach risk investors, but their investments usually exceed HK$10 million and come with conditions and restrictions beyond the scale of ReUbird's current operation. Some mentors advised them to apply for overseas accelerator support programmes, such as those in Singapore, Taiwan or South-east Asian countries. In order to draw in foreign start-ups, these economies have devised different programmes providing funding and commercial matching support. These offer an option for Hong Kong start-ups looking to expand overseas.
Preparing for a Post-Pandemic World​​​​​​​​​​​​​​
When Covid-19 broke out in Hong Kong at the beginning of 2020, social distancing measures were put in place and physical gatherings were cancelled. This dealt a direct blow to ReUbird and as a result, the company's turnover dropped significantly. Yau and Chui took the opportunity to focus on research and development, expanding their commercial collaboration network and identifying more diversified services that they can provide when the pandemic is over. The pair point out that ReUbird has been in business for less than two years and the scope of its services has already expanded from booking venues to a full range of event-related services, such as catering. They believe there is ample room to develop their range of products and services.
When asked if they have ever considered moving into the mainland market in light of the robust development of the Guangdong-Hong Kong-Macao Greater Bay Area (GBA) in recent years, Yau and Chui replied that this was unlikely in the immediate future. They recalled that in 2018, when they were still in university, they joined a Qianhai delegation after taking part in an innovation competition organised by the Youth Development Commission. Using the opportunity to take a closer look at the mainland market, they found that the GBA was more suitable for businesses in the information technology sector, such as those engaged in hardware development. The online platforms in mainland China, such as WeChat, QQ and Baidu, are unique in their own right and are very different from the platforms that people in Hong Kong are used to, such as Facebook and Instagram. This, coupled with the intense competition in the mainland market, means that they would not consider expansion into the mainland at this stage.
When it comes to overseas markets, however, the pair said they would use the successful experience of industry players as a reference point. One example is Shopline, a local platform for setting up online stores. This company first took into account the consumer preferences and consumption patterns of various markets, and then prioritised developing markets similar to Hong Kong, gradually expanding from Hong Kong to other South-east Asian markets such as Taiwan, Vietnam and Malaysia. Yau and Chui hope that when ReUbird becomes bigger, it can expand through the same model and stand out from the competition.

Hong Kong
Hong Kong
Hong Kong
Hong Kong
Hong Kong
Hong Kong
Hong Kong
Hong Kong
Hong Kong
Hong Kong
Hong Kong
Hong Kong
Hong Kong
Hong Kong
Hong Kong
Hong Kong
Hong Kong
Hong Kong
Hong Kong
Hong Kong
Hong Kong
Hong Kong
Hong Kong
Hong Kong
Hong Kong
Hong Kong