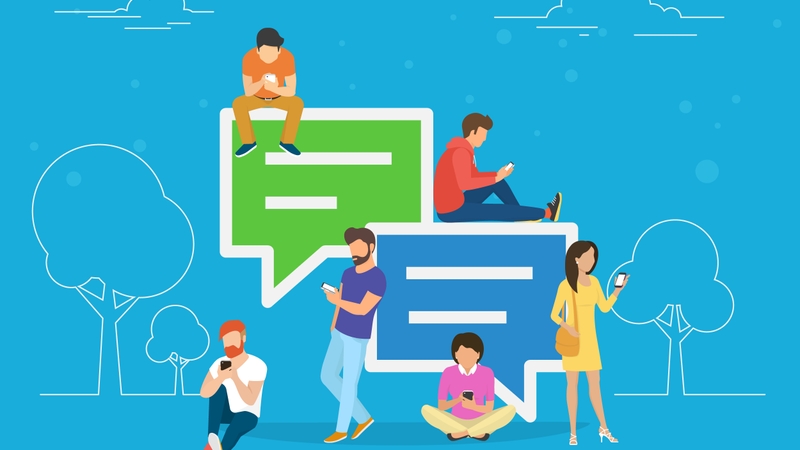 https://hkmb.hktdc.com/en/NTgyNDE2NDc3
Breaking into Mainland Digital Marketing Via Messaging Apps
With various preventive and control measures in place combating the spread of Covid-19, enterprises are facing many different hurdles connecting with customers through offline channels. For example, trade fairs are cancelled and retail outlets' footfall is reduced. Under the shadow of the epidemic, companies are keen to develop online channels to reach new customers and sell their products. However, for many Hong Kong small- and medium-sized enterprises (SMEs), the related setup and subsequent administrative costs are prohibitively high.
In view of this, HKTDC Research recently interviewed Tencent International Business Group ('Tencent Team') to understand how companies can release corporate news and sell products to customers through the WeChat Mini Program and WeChat Official Account. Making the best use of these functions helps Hong Kong companies launch online sales on the one hand, and connect with the multitude of mainland consumers on the other.
Mini Program and Official Account​​​​​​​​​​​​​​
WeChat and Weixin1 ('WeChat' in short) are among the primary messaging tools connecting users in mainland China and Hong Kong. Their combined monthly active users reached 1.2 billion2 as of June 2020. A 'Mini Program' is a mini app with multiple functions built within the WeChat platform without downloading or installation.
At present, many companies use Mini Programs as online shopping platforms, where customers can use WeChat Pay or WeChat Pay HK as the payment gateway. Many mainland organisations and government bodies also make use of Mini Programs to provide free and public services. For instance, Yueshengshi (the Guangdong provincial portal) launched by the People's Government of Guangdong Province allows local WeChat users to complete more than 1,000 government service procedures online, such as checking the payment information of personal provident funds and social insurance accounts, acquisition of electronic tax receipts and replacement of household registers.
To launch a Mini Program, commercial operators can use an in-house development team or hire outside professionals. The Mini Program can then go online upon approval by WeChat.
WeChat Official Accounts serve as platforms for companies to release the latest information and answer simple customer enquiries. Similarly, applications for setting up Official Accounts are subject to approval by WeChat. Companies can choose between Mini Program and Official Account as appropriate.
Cost Advantage of Mini Program
​​​​​​​Cost saving is one advantage of developing Mini Programs, which come from an open ecosystem that can be set up by identifying suitable resources on the internet, thereby controlling development time and cost. The Tencent representative explained, saying: "Mini Programs have built up a maturing ecosystem through years of development. Many developers have released abundant resources online for free use and reference by other developers.
"WeChat has also provided many components to facilitate developers. For example, if developers want to include a function for contacting customer service agents, they can use the related free function provided by the WeChat platform. The ecosystem not only helps developers save time and money, but also allows them to share their ideas in improving app functions on an ongoing basis."
The interoperability between operating systems is another cost advantage of developing Mini Programs. The Tencent spokesperson continued, saying: "If a developer is to work out a mobile phone app, he has to prepare both iOS and Android versions. Yet for a Mini Program, the developer only needs to turn out one version for the WeChat platform to be run on both operating systems. It thus greatly reduces the development cost, as well as the subsequent updating and maintenance costs, and in turn more resources can be spared for the day-to-day operation of the Mini Program.
"Whenever an update is available and uploaded, the latest version will be automatically activated upon user access, without going through the downloading or updating process as in the case of mobile phone apps. Mini Program's interoperability and the automatic updating feature can therefore help both developers and users."
With the benefits of convenience and cost control, Mini Program has rapidly become a recent upstart in the market. The Tencent representative said: "Mini Program has shown a rapid development trend in recent years. As of August 2020, there were more than a million Mini Programs involving 5.36 million operators in the market. Apart from mainland China, many overseas developers are also going with the tide, showing that Mini Programs are well received. Hong Kong companies also show an increasing demand for using Mini Program to speed up their digital transformation and tap the mainland market."
WeChat Features Interconnectivity
An Official Account or Mini Program is not an absolute choice of one over another, but can work side by side. Optimised use of various WeChat features can build up more effective connection with customers. The Tencent Team representative said: "WeChat is a one-stop platform where features are interconnected. For instance, the Official Account is not only a platform for releasing corporate news to customers and answering simple customer enquiries, it is also a gateway for customer access to the related Mini Program. Bundling a specific Mini Program with an Official Account will save customers the trouble in looking for the desired mini app.
"Companies can also use the QR code generator and display the code at physical stores or on business cards to encourage customers to visit the Official Account or Mini Program. This way, the online and offline sales settings can be linked up."
Commercial operators should not overlook WeChat's data analysis support. The Tencent representative said: "In managing their Official Account and Mini Program, companies can use the data analytic tools provided by the WeChat system. For example, if a company is operating a Mini Program with online shopping functions, the system can generate information regarding the access mode3 and time with the highest customer visits, the merchandises with the highest numbers of views, and the duration of customer visits.
"This information not only allows companies to better understand their customers for devising more targeted marketing strategies, it also helps operators optimise Mini Program design for better user experience. As WeChat is a very popular day-to-day mobile phone app, we hope that its features can provide greater user convenience and more options for bridging the gap between operators and customers."
The WeChat Ecosystem
Companies intending to set up an Official Account or Mini Program are advised to first gain a thorough understanding of the WeChat ecosystem and make the necessary preparation. The Tencent representative said: "Many Hong Kong companies are making posts on other social media platforms. It has been found that content put up by some companies at their Official Account are exactly the same as those at other social media platforms.
"As a massive ecosystem, WeChat has actually created its own culture over the years, including writing style and layouts that users (mostly from the mainland) are accustomed to. Should the operating formats of other social media platforms be applied directly to Official Account or Mini Program, customers will inevitably find them unnatural, which may in turn negatively impact customer engagement and interaction with the companies."
Tencent was also keen to emphasise that WeChat attaches great importance to the quality of its content. The company spokesperson said: "In order to ensure user experience, WeChat rigorously restricts the quantity of advertisements. Operators need to rely on drawing customer visits to their Official Account and Mini Program. To attract and retain customers, they should understand and have a good grasp of customer preferences, release information that customers find interesting, and offer practical and useful functions.
"The fact that customers are willing to pay attention to a company's Official Account and use its Mini Program reflects, to a certain extent, their support to the company. Businesses can make use of the social networking nature of WeChat to build a closer rapport with customers and penetrate their daily lives, so as to bring in more loyal supporters."
Conclusion
The outbreak of Covid-19 has driven home the importance of developing online sales for many companies. Moving sales and marketing online can not only expand sales territories through the internet, but can also reduce any unforeseeable blows to operations.
However, with the severe economic impact of the pandemic, cost control has become an important task for many companies, particularly SMEs. Fortunately, with the ongoing development of mobile communications technology in recent years, there are an increasing number of simple and cost-effective ways to help companies introduce gradual digitisation. Firms can consider setting up a platform for customer engagement and online sales through Official Account and Mini Program, so as to move closer to their customers.
Given that the crux of WeChat is social networking and information dissemination, Hong Kong companies can capitalise on their extensive connections, as well as their wide range of channels for accessing global information, and apply these strengths to the use of WeChat to move forward in digitising their sales setting and tapping the mainland domestic market.
---
1 Both WeChat and Weixin (微信) are Tencent's communications and social platforms, with the former for overseas markets and the latter for mainland China.
2 Source: Tencent 2020 Second Quarter and Interim Results
3 Users can open a WeChat Mini Program through scan, search via WeChat, or click on the related Official Account.
Mainland China
Mainland China
Mainland China
Mainland China
Mainland China
Mainland China
Mainland China
Mainland China
Mainland China