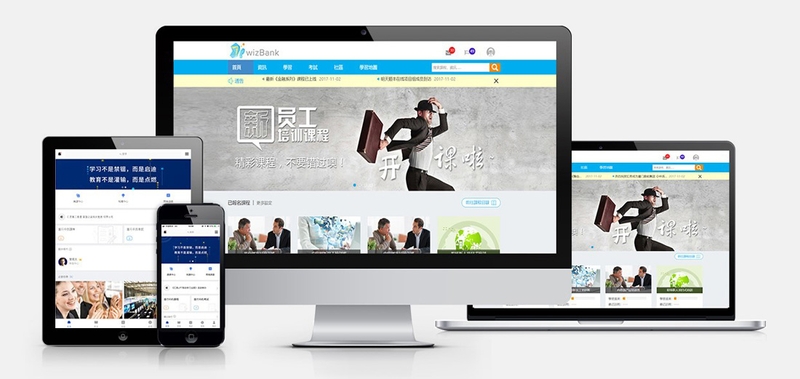 https://hkmb.hktdc.com/en/NTg2MDUyMjg0
Navigating Covid-19: An E-Learning Specialist
The Covid-19 outbreak has forced companies around the world to rethink their business format and adopt more flexible digital operating modes and training programmes. E-learning platforms have mushroomed as a result, providing companies with distance learning, corporate information sharing assisting employees in adapting to the post-pandemic new economy. A global market research company estimates that the global e-learning market will expand by more than 14% a year on average between 2020 and 2025.
Hong Kong-based Cyberwisdom Asia Limited has been providing e-learning systems and e-teaching tool development services to companies in Hong Kong, mainland China and other Asian countries since 1999. It has witnessed the spread of e-learning from big businesses to small and medium-sized enterprises (SMEs) with the development of the internet into the cloud-computing era. The scope of application has also expanded from the financial services industry to all trades and professions. In an interview with HKTDC, Pure Lam, CEO of Cyberwisdom Asia, analysed development trends in e-learning technology and encouraged SMEs to grasp the opportunities generated by the popularisation and spread of information technology (IT).
First Mover in Corporate E-Learning
Likening the internet to the cornerstone of e-learning, Lam said: "The internet has broken the barriers of place and time, making it possible for multinational companies to provide employees working in different parts of the world with training and information sharing. Grasping the opportunity of the early-stage development of the internet, Cyberwisdom quickly became the digital training service provider for major public and private institutions, helping them build corporate knowledge databases and meeting their needs for e-learning, live-streaming of training sessions, and management of offline classroom teaching and assessment.
"At the same time, Cyberwisdom has also invested over HK$100 million to develop the wizBank Enterprise Management System, an e-learning platform for SMEs. As the partner of corporate e-learning solutions, Cyberwisdom also works in partnership with other companies in developing e-learning solutions for staff induction, product training, compliance, sales and management."
Lam noted that the coronavirus outbreak had increased the demand for distance learning among corporate clients, saying: "More companies' human resources and marketing departments have switched to e-learning during the pandemic. Most companies co-operating with us think that 'training is the best strategy for promotion and branding.'"
Big Companies Favour E-Learning
Before the popularisation of cloud computing, e-learning was a luxury that only big companies could afford. Seeing Hong Kong's edge as an international financial centre, Cyberwisdom began to provide e-learning services to multinational banks, insurance, securities firms. Also, Cyberwisdom established a good reputation right from the start. Lam explained this sector's particular need for staff training "The financial industry is subject to complicated regulations. As the business environment changes, even experienced employees must undergo periodic training to keep pace with time. These big corporations have high requirements for e-learning systems. Theyneed to oversee the progress of numerous employees across different locations, departments, positions and grades, that may have different certification requirements and entry time. We have to customise their learning roadmap, so that staff members can learn the relevant knowledge and skills at different stages of their career.
"E-learning systems that employees can use any time can record their learning hours and assess their study and work performance, thus facilitating companies in their personnel management. With increasingly higher requirements for Continuous Professional Development/Continuous Professional Training (CPD/CPT) and compliance certification, the way to manage the professional development in a company is important, besides simply improving and managing the employees' continuous learning efficiency. A CPD/CPT compliance management system that always remains valid is something indispensable for companies these days."
Lam also pointed out that a one-size-fits-all approach is inappropriate for e-learning, saying: "Companies have different requirements for their e-learning platform due to differences in their forms of operation and usage. We need to develop learning management systems and training programmes that suit their business requirements. For example, we are providing on-the-job training for over 20,000 Hong Kong Jockey Club employees through our Learning and Training Management System. The system offers courses for different departments, including banqueting, catering and compliance.
"Some of our clients are subject to strict information supervision. They need to install our software on their server or the private cloud of their clients. These companies have 100-strong IT team and are capable of taking care of their hardware setup and network security maintenance."
For training materials, Cyberwisdom usually provides clients with slideshows, videos, animation, dubbing and other production services at a cost ranging from less than $100,000 to several million dollars. The copyright of the content usually belongs to the clients, since they are important company assets. One multinational company has paid Cyberwisdom about $14 million to produce a set of corporate training solutions starting from enquiries to 'study roadmap'. Lam said: "On the surface, we are charging huge sums for our services, but for companies with thousands of employees, this kind of solutions can produce economies of scale. The average training cost is actually very competitive, compared with traditional classroom teaching." 
Cloud Opportunities for SMEs
Cloud computing marks an important milestone in the development of the internet and opens vast e-learning vistas. Compared with other big companies, Cyberwisdom with its wizBank Bebox Cloud provides companies employing over 100 people with e-learning systems, cloud storage, technical support and computing capabilities at a flexible rental cost. This helps save companies a lot of fixed costs in installing their private server or establishing their own IT team. In Lam's view, SMEs are the biggest beneficiaries of cloud computing because they can save a lot of up-front investments by using Software as a Service (SaaS) solution.
Lam said: "We work with many overseas and mainland cloud service providers to offer clients first-edition cloud e-learning systems in a few days. The cost has also been reduced to about $20,000 a year, from at least several hundred thousand dollars in the past.
"Thanks to the increasingly sophisticated features of smartphones, many SMEs are using smartphones and top-ranking software tools such as iSpring, Articulate and Zoom to produce their own teaching videos or conduct e-learning and uploading these materials onto our e-learning platform."
Lam saw improving technology as helping to drive down costs in the sector, saying: "The price for these services is becoming increasingly affordable with the growing popularity of smartphones and cloud service in recent years, making it possible even for SMEs with few employees to provide e-learning to their staff. Since we are a technology service provider on the government list, our clients can apply for the funding under the government's Technology Voucher Programme.
"E-learning platforms charging annual fees from $20,000 upwards turn out to be most popular during the pandemic, with sales revenue showing an increase of close to 300% over the same period last year. Many of these clients have successfully applied for the funding under the Distance Business Programme."
E-Learning Suits All Professions
The combination of cloud service with smartphones and mobile networks can overcome restrictions in training time and locations. Lam said: "Space is precious in Hong Kong. Retailers such as convenience stores cannot keep computers in their stores for staff training. Staff members can now use their phones to link up with the cloud for training.
"The number of employees receiving training via smartphones is still relatively small in Hong Kong, accounting for about 40% of our users. By contrast, nearly 80% of mainland users are learning by mobile devices."
Mainland and Asian Markets Amid Pandemic
The strict social distancing measures enforced on the mainland during the pandemic has forced many companies to shift their training programmes online. In the first half of 2020, Cyberwisdom signed service contracts with more than 200 mainland businesses in finance, IT, biotechnology, healthcare, logistics, the automobile industry, trade in goods, and wholesaling and retailing, while continuing its co-operation with over 500 business users.
One of the new clients is Meituan Dianping, which now uses the wizBank e-learning platform to manage the training accounts of employees and franchisee employees numbering over 3 million. Meituan finds it necessary to provide staff with continuous online training during the pandemic, because clients are becoming increasingly dependent and demanding on its delivery people.
Lam was convinced that the pandemic has served to significantly increase the demand for Cyberwisdom's services, saying: "Covid-19 is the catalyst for our expansion of business on the mainland. The mainland market, with a population of 1.4 billion, is a rich business ecosystem. The fact that mainland businesses are also keen to use new technologies opens vast room for Cyberwisdom's development."
Thanks to the rapid growth of smartphone sales and the popularisation of cloud applications on the mainland, Cyberwisdom has seen its mainland business growth over the past five years. Lam said: "Digitalisation has become part of everyday life on the mainland and the demand for innovation and technology is reflected in training applications. Most of our clients are taking part in e-learning programmes through Tencent's WeChat or Alibaba's Ding Talk. Only between 10% and 20% of our users are directly downloading our phone app.
"Once the account has been bound, users do not have to reset and login every time they use the Cyberwisdom e-learning platform. Users find our app well-designed with an interface that allows software developers to add new properties and functions to meet different needs."
The use of QR codes has also become part of everyday life on the mainland. QR codes allow companies to let their new staff members familiarise themselves with the internal environment. All they have to do is to swipe the prepared QR codes at designated locations of their workplace to understand the working regulations and how to use the equipment.
Cyberwisdom has experienced rapid growth in recent years. Lam said: "Our staff has increased from 50 to 150 in five years. Through investment in big data, artificial intelligence and other technologies, we have launched new products in a bid to let companies in Asia and other regions enjoy quality e-learning service at the lowest price possible."
Integrating with Overseas and Mainland Practices
Most of Cyberwisdom's target customers are MNCs and leading mainland companies. They use different front-end systems (such as HTML5, iOS and Android) and back-end systems (such as SAP, Oracle and IBM). Cyberwisdom must have systems capable of connecting with these platforms in order to serve its clients. Lam said: "In order to gear ourselves to international standards at all times, we have Certified Data Privacy Officers to satisfy privacy requirements in different countries, besides meeting requirements regarding cloud technology, IT and safety. We also have ties with Amazon, Microsoft and Alibaba Cloud, which makes us one of the few companies with experienced overseas and local teams of professionals."
The travel restrictions imposed by different countries during the pandemic have not slowed Cyberwisdom's overseas expansion. Lam said the company is negotiating with a Singaporean smart sensor manufacturer to explore the possibility of assisting in establishing an e-learning system, as well as developing a series of e-learning courses.
New Era of Game-Based Learning
With many years of experience in managing e-learning strategies and developing teaching content, Lam thinks that game-based learning is the way forward for e-learning. He said: "Teachers all like to see students attending classes like they take part in games. Game-based learning can lead to this outcome. Allowing players to make mistakes and learning the correct method to move on to the next level through mistakes is the basic principle in game design. The same principle applies to course design. They must allow students to keep trying under teachers' guidance, so that students could fully immerse in the process of learning."
Game-based learning is suitable for many training scenarios, even for assessment. The game-based examination is a breakthrough from the traditional approach of single-trial tests within a limited timeframe with accuracy as the main assessment criterion. Instead, it allows every student to show their learning ability and competence through "unlimited" studies and tests. Also, teachers can change the learning model and assessment rules to suit different teaching objectives.
Another type of game-based learning, mostly scenario-based simulation training, blends learning elements with game playing. The choice made in one situation would affect how the following situation turns out, and the sum of different choices leads to different outcomes. Cyberwisdom has designed a mobile game software for a client company, simulating direct sales scenarios for sales personnel to practise and compete in different situations. Game-based learning not only helps companies in staff training but is also conducive to corporate image-building and helps attract young people to join the company.
More companies are expected to take the game-based approach to training, as the new generation of tech-minded young people enters the job market. Lam said: "We have developed many game-based learning course templates, such as simulation, secret chambers and level games.
"In recent years, we have designed a Monopoly board game learning package for the post-90s staff members of HSBC, which comes with rich learning elements, including diverse sound and visual effects and personalised role-setting. When players succeed in clearing a level, they gain a better understanding of the bank's business and individual positions.
"Games are a fascinating medium for training. Besides making good use of e-learning, companies should conduct more studies to make good use of gaming elements to improve the results of learning."
Information technology is developing by leaps and bounds, and mobile communications isadvancing from 4G to 5G. Online games and courses not only come with attractive audio-visual effects, but can make use of electronic components to interact with virtual objects in different environments through the application of multi-dimensional technologies such as virtual reality (VR), augmented reality (AR) and mixed reality (MR). Progress made in these reality sciences can result in new experiences in game-based e-learning. Lam said: "Reality science can significantly increase users' sense of participation. Some visionary companies have actively made preparations for this by producing VR and AR teaching materials, either on their own or in co-operation with third-party service providers. However, VR and AR components such as headsets are costly, usually costing over $10,000.
"Research and development investment in these software systems remains high. They will not be as common and affordable as smartphones until the relevant technologies have reached a more mature stage." 
In conclusion, Lam said: "Companies' demands for e-learning are fast-changing. While we must keep pace with development, we must stay true to our mission and make use of diversified products and services to satisfy different clients' training needs."
Education & Training
Education & Training
Education & Training
Education & Training
Education & Training
Education & Training
Hong Kong
Hong Kong
Hong Kong
Hong Kong
Hong Kong
Hong Kong
Hong Kong
Hong Kong
Hong Kong
Hong Kong
Hong Kong
Hong Kong