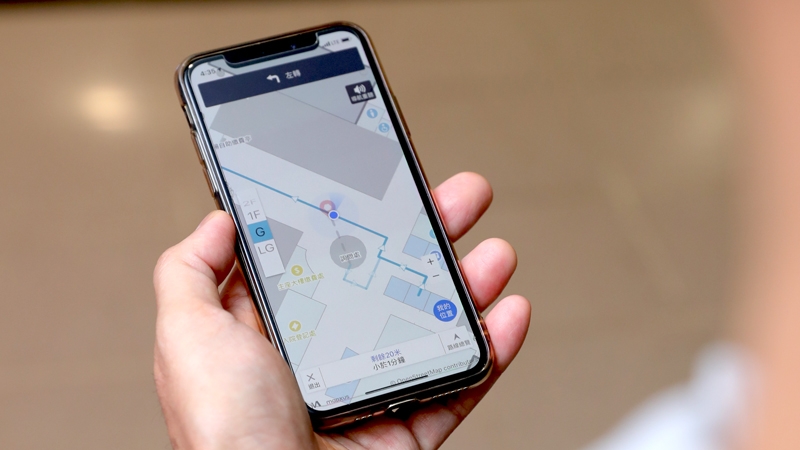 https://hkmb.hktdc.com/en/NTc3NDA0NTE3
Smart City Facilitators: Mapping the Way to Better Mobility
Navigating outdoors using digital maps on our smartphones facilitated by the global positioning system (GPS) has become all too commonplace, and relatively easy. Yet finding our way indoors, where GPS tends not to work too well, is another matter, often involving a fruitless search for signs, trial and error, and ultimately asking directions. That, however, may all be about to change.
Founded two years ago, Mapxus specialises in indoor mapping technology and strives to provide handy and affordable indoor positioning services for everyday use. Ocean Ng, Co-founder and Chief Operating Officer of Mapxus, believes that smart mobility is a key component of growth in ever growing cities, saying: "Through harnessing and visualising existing indoor location data, we hope to improve urban mobility and promote a more seamless and inclusive experience for everyone."
Plug-and-Play Indoor Navigation
Ng pointed out the limitations of GPS in indoor settings, saying: "Signals from GPS satellites have poor penetration due to the high density of high-rise buildings and complicated indoor structures with multi-levels. GPS gets you to a shopping mall, but it doesn't work inside."
Outlining the development of indoor maps and positioning systems in Hong Kong, Ng said: "There aren't many solutions available in the market because the development stages are complicated. Indoor spaces are more complex than street structure given their 3D characteristics, making it more difficult to outline building structure for mapping and positioning."
"The production of indoor maps can also be very costly. In the past, LiDAR [light detection and ranging] was commonly used to measure distance and develop indoor maps. BLE [Bluetooth Low Energy] devices were also used to enable indoor positioning. However, these approaches requires purchasing special instruments, installation of expensive infrastructure and the hiring of professionals. An indoor map for a space of about 10,000 square metres could easily cost HK$2-3 million."
To address these stumbling blocks, Mapxus developed a software-based, infrastructure-free indoor mapping and positioning solution that is affordable for businesses as well as for everyday use. Explaining how this works, Ng said: "Instead of Bluetooth and beacon technology, we adapt a Wi-Fi fingerprinting approach, which determines the approximate position of shops or rooms in indoor spaces based on Wi-Fi signals. Positioning error using Wi-Fi fingerprinting can be as low as three to five metres, compared with a few hundred metres using GPS in an indoor setting."
"With this approach, data collection for the development of indoor maps has become easier." Ng continued. "We only need a floor plan to scale provided by property owners to develop indoor maps. There's no need to install any additional hardware as Wi-Fi access points are readily available in many indoor areas in Hong Kong such as shopping malls. Whoever knows how to use a smartphone can use it to detect Wi-Fi signals and map the area by walking around the indoor spaces."
Ng pointed out that it takes only about two to three days to complete data collection for a shopping mall in Hong Kong, adding: "Compared with other industry players with hardware-based solutions, our technology allows us to cut time and cost significantly by up to 90%. Updating the indoor maps are also quite effortless as long as we're provided with a revised 2D map of the indoor spaces."
Promoting Mobility with Real-World Applications
Ng believes that indoor maps are becoming an indispensable tool to improve mobility, saying: "We spend more than 80% of our time indoors where location-based technology is minimal. In Hong Kong, there are about 220,000 buildings and we have only developed indoor maps for about 100 of them. It is definitely an untapped yet potentially lucrative field."
Ng remarked that indoor mapping and positioning could be of particular benefit to people with impairment and create a smarter and more inclusive city, adding: "We could claim that our city is a smart one if people with disabilities can enjoy a barrier-free travel experience and our visually impaired friends can explore the city freely, without the help of a human friend or guide dog."

Last year, Mapxus collaborated with the Hong Kong Blind Union, supported by the Hong Kong Jockey Club, to launch a Smart City Walk mobile app, aiming to assist visually impaired people in navigating indoor spaces. The app currently provides indoor digital maps of about 70 shopping malls and buildings in popular local districts such as Tsim Sha Tsui and Causeway Bay. Sharing about the rationale behind this move, Ng said: "Visually impaired people mainly rely on tactile guide paths to move around but that doesn't point out directions for them. We specifically include an audio navigation function on the app, which greatly improves the accessibility of the built environment and public spaces for visually impaired people."
Apart from applications in daily lives, Ng noted that indoor mapping and positioning can also be applied in commercial settings, such as business events and conferences. "Last year, we worked with the organiser of RISE and provided booth-level positioning as well as creating a 360-degree visual map for virtual visits." Ng elaborated. "It is slightly more challenging to develop digital indoor maps for events because floor plans are usually subject to last-minute changes and sometimes there'll be big changes in booth layouts between events. Luckily, with our software-based solution, updates are manageable and timesaving."
Looking to co-create a smarter city with better access to indoor spaces, Mapxus also encourages other software developers to create indoor digital maps and positioning applications, by providing them with a comprehensive model in the form of a Software Development Kit (SDK)[1]. In 2019, the company also became a collaborative partner of Apple's Indoor Map program.
Opportunities Beyond Boundaries
Apart from its Hong Kong experiences, Mapxus is in the process of growing its business overseas. Not long ago, the company participated in the Startupbootcamp Scale Osaka accelerator programme and successfully secured several proof-of-concept projects in partnership with Hankyu Corporation and JR West Group to develop digital indoor maps for metro stations and underground areas. Mapxus has also successfully implemented barrier-free tourist navigation for Kyoto Railway Museum.
Outlining the market opportunities in the country, Ng said: "Japan is very similar to Hong Kong in terms of density and amount of indoor spaces, yet the development of indoor mapping and positioning remains nascent. Japan is much bigger than Hong Kong and therefore provides a wider customer base for us to expand our services."
Ng remarked that Hong Kong is an ideal platform for Mapxus to showcase its solutions, saying: "It will give our overseas partners and potential clients more confidence when they know that our solutions work effectively and efficiently in Hong Kong. For example, we have launched trials for mapping public indoor spaces in MTR stations. We could then replicate the model to apply in metro stations in Japan."
Subsequently, Ng aims to expand the company's reach to other Asian countries and territories, including ASEAN nations, Taiwan and Australia. Mapxus has already set up an office in Singapore to facilitate expansions and operations in the APAC market. Highlighting its market entry strategies, Ng said: "As a starting point, we look to tap into the market by focusing on improving accessibility for the disabilities via indoor maps, similar to our Smart City Walk project in Hong Kong." Ng believes that governments and organizations will be more open and willing to invest in wayfinding and navigation services when the target user is the disability community, saying: "It could help strengthen their CSR [corporate social responsibility] efforts and build reputations."
Open Data and Talent Cultivation: Keys to Smart City
Ng remarked that more open data relating to the city's building plans and records will be a boon for smart city development in Hong Kong, saying: "The data are out there but not being effectively utilized. Building plans are accessible on the Buildings Department website, however, they are not digitalized – meaning we are not able to edit after downloading, and some of them are not up to date. The datasets should be available in a format that app developers or technology companies like us are able to leverage in order to build a city with better accessibility and improved mobility."
As a forward-looking entrepreneur, Ng is convinced that it is important to cultivate young talents for Hong Kong's smart-city ambitions. Sharing his aspirations in nurturing young talents, Ng said: "We're planning to simplify our technology and solutions so it can be used as teaching materials for STEM education in Hong Kong. I believe it is essential for pupils, who are the future pillars of society, to develop creative minds, problem-solving skills and the spirit of innovation. These attributes and qualities are key to the city's future success in becoming a smart city."
---
[1] Software Development Kit (SDK) is a set of software tools provided by hardware/software vendors that developers can use to build applications.
Technology
Technology
Technology
Technology
Technology
Technology
Technology
Technology
Technology
Hong Kong
Japan
Hong Kong
Japan
Hong Kong
Japan
Hong Kong
Japan