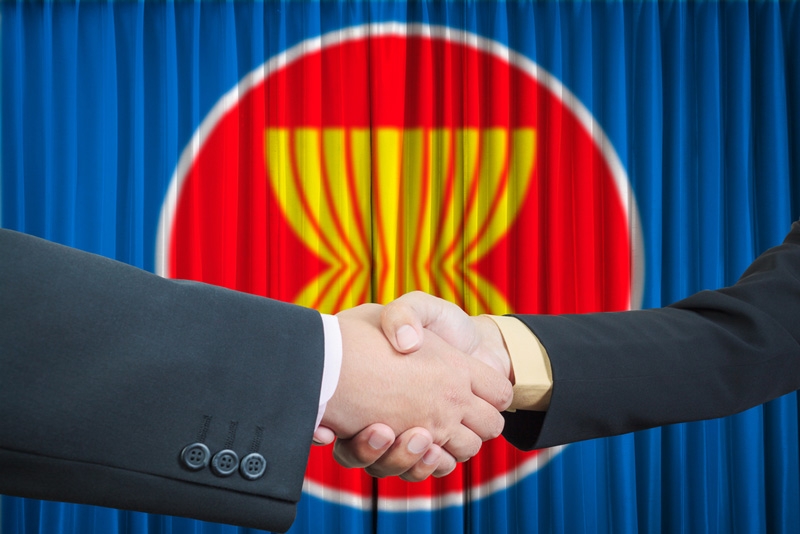 https://hkmb.hktdc.com/en/NTYxODg3Njcw
The Post-Pandemic World: Growing Presence in ASEAN Market
The uncertain outlook for global trade and the stagnating growth of developed markets are propelling a new search for market diversification by many Hong Kong businesses. In the hunt for new markets, the Hong Kong business community is taking a close look at ASEAN countries.
A HKTDC trade survey conducted in June 2020 found that 25 out of 100 surveyed companies had already established a presence in ASEAN. Malaysia (68%), Thailand (63%) and Singapore (51%) are among the most popular markets for entry.
The surveyed companies were from three broad categories, including manufacturers and traders of consumer products (e.g. consumer electronics, toys and collectibles, and skin care and cosmetics), providers of consumer services (e.g. health, beauty and wellness, catering, and travel), and providers of business services (e.g. IT solutions, commercial services and logistics). Among the surveyed manufacturers and traders of consumer products, 58% have their own brands.
ASEAN for Market Diversification
Amongst those respondents who were looking to enter the ASEAN marketplace, Malaysia (68%), Thailand (63%), Singapore (51%) and Indonesia (45%) were their top choices for diversification.
The survey investigated the reasons why Hong Kong businesses seek to expand into ASEAN markets. Major reasons cited by the respondents are "we need to diversify our markets" (70%), "we have identified demand for our products or services in ASEAN" (67%), "to increase revenue stream" (50%), and "we have reliable partners in ASEAN" (29%).
One of the lessons the respondents have learned in recent times of uncertainty and turmoil is the risks of relying solely on one or two major markets. The sudden closure of borders and rigid lockdowns can wipe out a major share of their business. The benefit of diversifying to new markets is that it can reduce the risk of one major customer being responsible for a severe loss of orders if global trade is disrupted. So it is not surprising to see the majority of respondents citing the need to diversify as the number one reason for developing ASEAN markets.
Another motivation for tapping into the ASEAN market is that respondents "have identified demand for their product in ASEAN". Growing income, urbanisation, and a rising middle-class in ASEAN has fuelled changing consumer spending habits from basic necessities to discretionary consumption and shopping experiences. Middle-class consumers in ASEAN have an insatiable appetite for a wide variety of products – electronic accessories, apparel, health and beauty, skin care and cosmetics, travelling, entertainment and so on.
Focusing on a manageable territory is smart for a business. However, when a market is saturated and the sales have reached a plateau, it becomes essential to develop new revenue streams by expanding geographic reach. 50% of respondents indicated that " to increase revenue streams" is their purpose in reaching out to the ASEAN market.
Core Capabilities of Hong Kong Companies
Asked about the strengths needed to succeed in ASEAN markets, most respondents quote "product design and manufacturing capabilities" (40%) and "being agile and accommodating customer needs" (40%). Hong Kong manufacturers are well-known for their OEM and ODM capabilities. There are also more of them moving up the value chain through building their own brands.
Strengths Possessed for Tapping into ASEAN Market
| | |
| --- | --- |
| Product design and manufacturing capabilities | 40% |
| Being agile and accommodating customer needs | 40% |
| Innovation in developing products, services or business models | 37% |
| Marketing knowledge and techniques | 26% |
| A well-established brand | 23% |
| Effective brand building strategies and skills | 18% |
| Business network in ASEAN | 16% |
| Good understanding of the ASEAN market and its consumers | 6% |
Note: multiple selections allowed
Regulatory Barriers: Major Challenge
Entering a new market can be a challenge without local knowledge of the market landscape. Cultural differences, language barriers and local bureaucracy can make it more difficult to operate a business in ASEAN. Fortunately, there are large Chinese business communities in many ASEAN countries such as Singapore, Malaysia, Thailand, and Indonesia. Such communities can provide critical guidance and advice to new entrants into these seemingly exotic markets.
Respondents quote regulatory barriers (77%) as the major difficulty when entering the ASEAN market. One respondent selling personal care products has found it difficult and time consuming to obtain the import permits. Others have encountered difficulties in understanding and fulfilling the food labelling requirements, or toy safety and other product standards.
One respondent who is a sales agent for licensed products in Asia said the enforcement of rules against counterfeit goods by Hong Kong Customs has been the most supportive factor for the success of his business in Hong Kong. He hopes the authorities in ASEAN can step up their efforts to protect the interests of intellectual property rights (IPR) owners and legitimate traders.
It is expected that the progressive implementation of the Hong Kong-ASEAN Free Trade Agreement will continue to lower the trade barriers, improve the business and investment environment, and foster closer co-operation between Hong Kong and the region.
In addition to the problems of regulatory barriers, a majority of respondents (63%) felt that they lacked the resources to build a brand. Although e-commerce seems to be an appealing distribution channel for Hong Kong exporters, most respondents in this survey admitted that they do not have the manpower and resources to manage their own e-commerce sites, which are considered time-consuming and outside their core skill set. Instead they are more willing to sell via third-party e-marketplaces such as Lazada or Shopee. Without a local presence or standalone shopping site, brand building becomes more difficult.
Respondents also pointed out that selling online lacks the personal touch. For products like clothing and jewelry, selling goods in person has an obvious appeal and can help build the brand image. One respondent selling women's clothing and accessories is planning to open a pop-up shop in Bangkok which may mitigate the limitations of online selling.
"A pop-up concept is exciting because it is only short-term and thus creates a sense of urgency. Many brands have already used pop-up shops as a complementary way to help build brand awareness and customer engagement. For us, it is an authentic, personal way to get to know our customers and take our relationships to the next level, but at the same time we do not have to commit for a long-term lease," said the respondent.
Difficulties or Challenges Encountered when Entering the ASEAN Market
| | |
| --- | --- |
| Regulatory barriers (e.g. licenses, quotas, patents or tariffs) | 77% |
| Lacking the resources to build a brand | 63% |
| Achieving economies of scale in a new market | 59% |
| Gaining access to local distribution channels | 49% |
| Unequal competition with domestic companies | 44% |
| Mastering the complex mix of online marketing tools | 43% |
| Gathering and analysing market information | 32% |
Note: multiple selections allowed
ASEAN
Hong Kong
Southeast Asia
Hong Kong
Malaysia
Thailand
Singapore
Indonesia
Vietnam
Philippines
Myanmar
Laos
Cambodia
ASEAN
Hong Kong
Southeast Asia
Hong Kong
Malaysia
Thailand
Singapore
Indonesia
Vietnam
Philippines
Myanmar
Laos
Cambodia
ASEAN
Hong Kong
Southeast Asia
Hong Kong
Malaysia
Thailand
Singapore
Indonesia
Vietnam
Philippines
Myanmar
Laos
Cambodia
ASEAN
Hong Kong
Southeast Asia
Hong Kong
Malaysia
Thailand
Singapore
Indonesia
Vietnam
Philippines
Myanmar
Laos
Cambodia
ASEAN
Hong Kong
Southeast Asia
Hong Kong
Malaysia
Thailand
Singapore
Indonesia
Vietnam
Philippines
Myanmar
Laos
Cambodia
ASEAN
Hong Kong
Southeast Asia
Hong Kong
Malaysia
Thailand
Singapore
Indonesia
Vietnam
Philippines
Myanmar
Laos
Cambodia
ASEAN
Hong Kong
Southeast Asia
Hong Kong
Malaysia
Thailand
Singapore
Indonesia
Vietnam
Philippines
Myanmar
Laos
Cambodia
ASEAN
Hong Kong
Southeast Asia
Hong Kong
Malaysia
Thailand
Singapore
Indonesia
Vietnam
Philippines
Myanmar
Laos
Cambodia
ASEAN
Hong Kong
Southeast Asia
Hong Kong
Malaysia
Thailand
Singapore
Indonesia
Vietnam
Philippines
Myanmar
Laos
Cambodia
ASEAN
Hong Kong
Southeast Asia
Hong Kong
Malaysia
Thailand
Singapore
Indonesia
Vietnam
Philippines
Myanmar
Laos
Cambodia