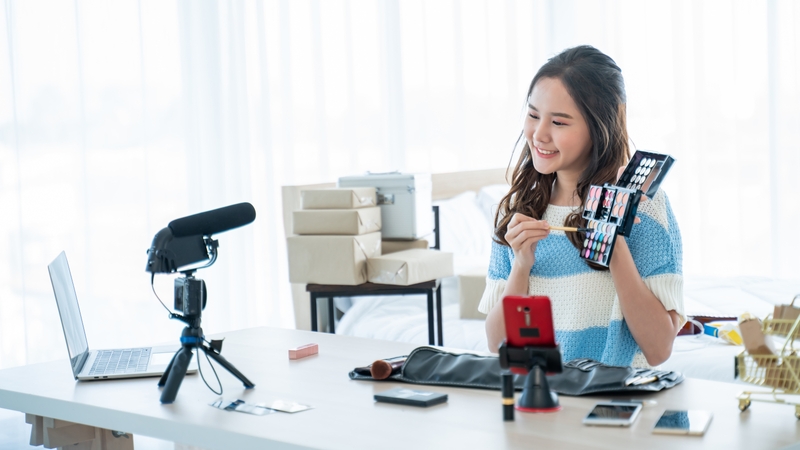 https://hkmb.hktdc.com/en/NTU3NTUzNjY2
New Marketing Strategies in China: Driving Sales with Short Videos
Interview with Coco Cai, Operation Director, Shenzhen Youliang Cultural Communication Co Ltd
Alice Tsang
Thanks to the ubiquitous use of social media among Chinese netizens, the rise of short videos in recent years has made branding approaches more diverse. As of March 2020, China boasted a netizen population of 904 million, of which 85.6%1 or about 773 million are short-video users.
Shenzhen Youliang Cultural Communication Co Ltd (Youliang) is an MCN2 company engaged in content design. Its focus is on short video production and intellectual property (IP) incubation3. It helps customers operate their Douyin accounts and conduct short-video marketing to boost brand exposure and follower numbers, thereby increasing online sales.
In an interview with HKTDC, Coco Cai, Operation Director of Youliang, provided valuable tips for Hong Kong companies in expanding into the mainland market, explaining the operation methods and techniques for short videos.
Pandemic Outbreak Sparks Online Promotion by Brand Owners
In its previous incarnation, Youliang was an advertising company with both online and offline business. Due to an increase in demand for short-video marketing, it started engaging exclusively in online business in 2019.
There are currently some 100 employees working in Youliang. Some are professionals from the film and television industry, such as directors, screenwriters, cameramen and post-production technicians. Others are planning and sales personnel, with extensive experience in operating media platforms and IP incubation. Cai said that Youliang has signed up with more than 100 key opinion leaders (KOLs) who have a combined 50 million active followers. It has joint projects with over 100 brands and its video clips have been played more than 800 million times. Its partner brands are mostly cosmetics, food and fast-moving consumer goods.
Cai said: "Because of the unexpected pandemic outbreak this year, many customers have switched the resources they originally meant for offline use to online use. Take, for instance, an auto enterprise. Since the auto show it originally planned could not be held because of the outbreak, it had no choice but to stage it online."
Cai also noted that a wider range of product types are now using short-video marketing, saying: "Compared with before the pandemic, other than FMCGs, there are now more durable consumer goods and other sectors seeking co-operation us, such as cars or even real property advertising. In staging an event, these customers usually utilise both the brand's own private traffic (follower groups and long-established users) and the public traffic promoted by new media (consumers landing on the webpage of a product or service through the search results pages of third-party platforms such as JD.com, Tmall and Pinduoduo)."
The pandemic has also driven advertising in service sectors. Cai said: "This year, we have new customers from the catering industry. We run joint events with food courts in shopping malls, and carry out marketing and promotion through short videos to help offline catering customers draw traffic."
Grooming KOLs
In KOL training, Youliang has a professional agent team that scouts out KOLs with potential. The selected KOLs' popularity is raised continuously by the team and Youliang subsequently signs them up. Youliang has its own trained KOLs on the Douyin platform, with the IP account of each KOL followed up by an independent team. Cai said: "The KOL market is exceptionally competitive, so we conduct preliminary screening and will not use novices who do not have creative ability or clear advantages. For example, if one wants to nurture a gourmet KOL or a cosmetic KOL, the person should at least have sufficient knowledge of the corresponding industry and possess knowledge of a certain level. It is very difficult to nurture someone into a professional KOL if that person has not already mastered a certain level of knowledge."
Youliang constantly assesses its KOLs on different criteria, such as follower growth rate, ratio of active followers and live-stream sales results. For high-calibre KOLs, it offers more lucrative and career-building terms, including bonus, resource support and referrals to variety shows to help the KOLs' long-term development and to maintain a closer working relationship.
KOL Matrix Advertising
As an MCN company with many exclusive KOL resources, Youliang is in a position to offer customers with a KOL matrix to give brands fuller exposure. Cai said: "For example, a certain brand promotion campaign might have a three-month duration. First, judging from the compatibility of the brand and our KOLs, we will distribute the publicity campaign to 50-80 KOL accounts. Then, by aiming at different target consumer groups, we will launch package promotion in stages from suitable KOL accounts. This will create a matrix that ensures sufficient exposure for the brand."
Cai pointed out that KOL matrix advertising and promotion requires the support of a large operation team. She said: "The content of each KOL broadcast is unique, so 50 KOLs will mean 50 scripts. All the copywriting, draft vetting, shooting and production will require substantial manpower. After the videos are released in stages, feedback on their effectiveness will be summarised every two to three weeks and the promotion strategy in the next step will be adjusted accordingly.
"Since Youliang is a strategic MCN partner of Douyin's parent company ByteDance, it is more certain of helping customers get more short-video traffic resources and channel advantages."
From Short-video Promotion to Live-stream Sales
Youliang mainly engages in producing original short videos and operating KOLs' IP accounts. It also offers customers different marketing and sales approaches, including operating their Douyin business accounts and carrying out short-video marketing and live-stream selling.
Cai said: "In general, brand owners plan the budget and progress of promotions in the coming year, so most customers sign annual contracts with Youliang and carry out advertising and promotion of different new products on a quarterly basis. They also set KPIs, such as the number of likes, comments and shares to assess brand promotion effectiveness."
In practice, Youliang develops promotional plans based on customers' needs, which typically involve identifying users' characteristics and needs and determining the content topics and scripts for short videos. The deliverables include a whole suite of planning, execution and production services, involving effectiveness assessment after the short videos are put into circulation.
Cai suggested that, when a new brand first enters the market, brand promotion should first be carried out through 'seeding'4 before entering the sales conversion phase. She said: "We have back-end data from which we can see the composition of the followers of different KOLs. Based on the positioning of the brand's target customer groups, we will identify the most appropriate KOL accounts and proceed with targeted promotion."
For long-standing customers, Youliang offers additional promotion approaches to try out. Cai said: "For example, some brand owners may not understand live-streaming sales5 very well. Because of the high cost involved, it is unrealistic to let them run a dedicated live-streaming sales session.
"For old customers who have done new media branding and are willing to attempt live-streaming sales, we will make special offers. We will only charge commission for the goods sold, so these customers can try out a non-dedicated session of live-streaming sales to give them an idea of the approximate conversion rate. Having some conversion rate data, they will have more confidence in running dedicated sessions, and it will also be easier for us to recommend to them better resources and KOL anchors who are more appropriate to their needs."
Cai explained that in each live-streaming sales session there are about 30 products and each brand generally launches three to four products. Some of the products are sold purely on a commission basis, but there are also some sold upon payment of a lump-sum live-streaming fee. Depending on how much a client pays, there will be differences in the duration of the presentation and how much effort is involved.
Brand Culture and Image
Youliang has worked with Hong Kong companies, including customers in the packaged food and cosmetic businesses. Cai found it interesting that, compared with their mainland counterparts, Hong Kong companies place more emphasis on results rather than the process, and tend to delegate the monitoring of details to the advertising agency. She said: "In a live broadcast session, for example, mainland customers usually pay attention to viewership rate data, whereas companies from Hong Kong or overseas are more concerned with conversion rates – how many viewers will convert into buyers."
Cai further pointed out that, in advertisement production, Hong Kong companies tend to pay more attention to content creativity, and in promotional activities they are more concerned with brand image building. She said: "Hong Kong companies generally believe that content creativity is more effective in bringing out brand culture, thereby drawing consumers who identify with the brand and increasing their brand loyalty. Also, Hong Kong companies are more far-sighted in investing in promotion."
"Previously, we have helped a leading Hong Kong beverage brand organise on-campus promotional activities, such as singing competitions. These activities may not translate immediately into sales increases, but this customer cares more about whether these activities can result in effective exposure and leaving a good brand image with the targeted youth groups."
Cai noted the relatively short campaign periods in some business sectors, saying: "The online promotion cycles of fast-moving consumer goods are generally three months long, and there are new product launches every quarter. Hence manufacturers are compelled to speed up product R&D while factories have to make sure that their production capacity can cope."
In some previous cases, a lot of resources had been invested in advertising and promotion at the early stages, only to see product launch delayed. Cai said: "The only solution is to postpone the promotional activities, which have not been launched and continue with the promotion when the products are ready. To a certain extent, this will disrupt the promotion rhythm and will certainly affect the conversion rates of the products.
"Hong Kong companies can further speed up their product R&D cycle to align with the fast promotion rhythm of the mainland market."
Another tip Cai offered was that before carrying out social media promotion, a brand owner should have a clear idea of the targets for the advertising and promotion campaign. This will enable them to give the advertising agency clearer guidelines, including the market positioning of the brand, target customers, its budget and the desired effectiveness and targets to be attained. She said: "Clear targets are the basis of communication and co-operation. Specific implementation details, such as how best to maximise product strengths and how best to make targeted investments, can be left to us."
---
1 The 45th Statistical Report on Internet Development in China.
2 An MCN (Multi-Channel Network) is a new type of entity that works with different internet content creators and utilises its own resources to offer professional services in content creation management, content publication, fans management and sales conversion under the internet celebrity economy.
3 IP incubation is what an internet/advertising company does when it provides unique contents and creative ideas and works with IP owners to determine the positioning, production, release, dissemination and business operations of contents.
4 "Seeding" refers to the process through which a strong buying desire is generated by seeing positive product posts shared by friends and other netizens.
5 For dedicated live-streaming sessions, an advertising agency and its client usually work out in advance targets such as sales volume, viewership and sales conversion rate, etc. The client can also specify product exposure duration and which KOL(s) to engage.
Advertising Services
Public Relations
Media
Mainland China
Hong Kong
Hong Kong