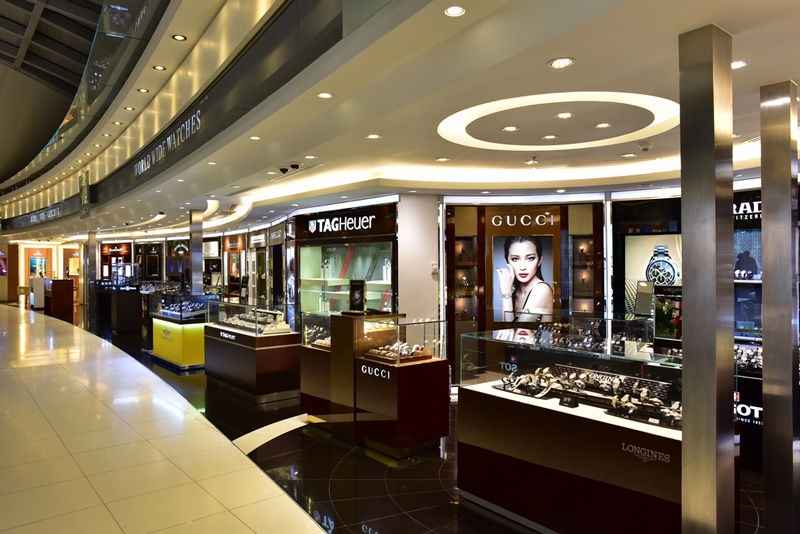 https://hkmb.hktdc.com/en/NDczNzc4NzY5
The Thai Watches and Clocks' Market: Established Players and Distribution Channels
Thai consumers trust Japanese-made and Swiss-made watches. Leading watchmakers such as Swatch focus on customer service and follow smart wearable trends. After-sales service is an important component that helps brands retain their customer base. New brands including Daniel Wellington and Undone focus mainly on online channels for retailing and marketing communication.
Japanese and Swiss Brands Lead the Market
The Thai watch market is led by Japanese and Swiss brands and the overall market is mainly driven by mid-price and "masstige" (mass-produced goods marketed as prestige) brands. Rolex continues to maintain its popularity as a luxury Swiss-made brand among Thai consumers. This reflects Thai consumers' preference for "Swiss-made" brand heritage.
Swatch Group has various watch brands in its portfolio covering different price segments. These include Swatch, Rado, Omega, Longines, Tissot and cK (Calvin Klein). Among these brands, Swatch has a young, lively, fun image which makes it a favourite choice among Thai teenagers and the younger generation.
Swatch Group is keen on undertaking collaborations with artists. One highlight collaboration was Rado x Kwankao Spring and Summer 2018. Rado partnered with Kwankao, a local Thai fashion designer, to organise an event which was a combination of a Rado watch exhibition and a fashion show inspired by Rado watches. Another highlight was "Swatch X You", a campaign which let customers customise their watch design on the Swatch website. In 2019, Swatch launched a local theme design for Thailand, the "Swatch Tuk-Tuk" special edition. The collection is sold only in King Power, the major duty-free retailer in Thai airports.
Leading brands focus on customer service and product innovation. For example, Swatch has an "energy for life" service which allows consumers to bring in their Swatch watches and change the battery at no cost. To take advantage of the rising demand for smart wearable products, Swatch has recently launched a new smartwatch called Tissot T-Touch Connect Solar.
Favoured Sales Channels and Unauthorised Imports
Thai consumers mainly buy watches at retail stores, predominantly the watch sections in department stores, specialised watch shops and brands' flagship stores. These channels are preferred by consumers since they can see, touch and try on the products before they buy them. More importantly, authorised retail channels are trusted to offer genuine products.
Initially, most brands sell through department stores. However, many well-known brands are now considering centralising their sales through their own flagship stores. In this way, brands can control the price and the quality of after-sales service. They can also reduce the risk of consumers becoming accustomed to discount product prices from promotions in department stores.
Thai consumers also buy watches from unauthorised importers, especially when purchasing luxury watch brands and limited collection timepieces. These unauthorised importers usually buy the watches from foreign countries and use the benefit of the tourist tax refund to offer lower prices. Based on trade interviews, it is estimated that 20-30% of Rolex's sales are via this unauthorised channel.
Swatch is one brand that has tried to resolve this issue. To preserve the exclusivity of its limited collections, Swatch reduces any price fluctuation that may occur between unauthorised importers and price promotions from different retail channels by centralising all its orders for the Swatch x Damien Hirst collection. Swatch allows customers to order only through its official website and pick up their purchase at selective Swatch stores.
It is also worth noting that the grey market channel in Thailand is quite significant, particularly for limited series, collector items and luxury brands. Sellers buy the products abroad and receive tourist tax refunds, then bring the products back to Thailand without paying any import tax and resell at prices that are lower than the market retail price.
New Brands Focus on Online Retailing
Online retailing is still small in terms of retail sales value when compared to offline, but it is gaining more popularity among Thai consumers. When targeting younger consumers, brands are recommended to sell their products through their official websites. Casio and Seiko have partnerships with Lazada and Shopee, with both brands setting up official stores on these two websites. Two newcomers to the market, Daniel Wellington and Undone, also started by selling via their online platforms and later engaged with retailers/distributors to build more brand awareness among Thai consumers.
Daniel Wellington is a Swedish mid-price watch brand that has recently entered the Thai market. However, the brand is rapidly becoming very popular among Thai consumers. It focuses mainly on online channels for retailing and marketing communication, with consumers able to make a purchase directly via the brand's official website. The brand can also be found in selective department stores and authorised retailers.
Undone is a customised watch brand from Hong Kong. It entered the market only a few years ago and built its brand awareness through social media by engaging online influencers, YouTubers and beauty bloggers to undertake product reviews. Currently, customers can make a watch customisation order on its website. Once the order is completed, the watch will be shipped from the factory in Hong Kong to Thailand. To increase brand awareness among Thai consumers, Undone has established an offline channel in the watch section of the department store Paragon.
Note: This article is taken as an excerpt and edited from the report "Thailand: Discovering Business Opportunities for Hong Kong Small-Medium Enterprises, 2019", commissioned by HKTDC and prepared by Euromonitor.
Watches & Clocks
Watches & Clocks
Watches & Clocks
Watches & Clocks
Watches & Clocks
Watches & Clocks
Watches & Clocks
Watches & Clocks
Watches & Clocks
Watches & Clocks
Watches & Clocks
Watches & Clocks
Watches & Clocks
Hong Kong
Southeast Asia
Thailand
Hong Kong
Hong Kong
Southeast Asia
Thailand
Hong Kong
Hong Kong
Japan
Southeast Asia
Western Europe
Thailand
Hong Kong
Switzerland
Japan
Hong Kong
Japan
Southeast Asia
Western Europe
Thailand
Hong Kong
Switzerland
Japan
Hong Kong
Japan
Southeast Asia
Western Europe
Thailand
Hong Kong
Switzerland
Japan
Hong Kong
Japan
Southeast Asia
Western Europe
Thailand
Hong Kong
Switzerland
Japan
Southeast Asia
Thailand
Southeast Asia
Thailand
Southeast Asia
Thailand
Southeast Asia
Thailand
ASEAN
Southeast Asia
Thailand
ASEAN
Southeast Asia
Thailand
ASEAN
Southeast Asia
Thailand