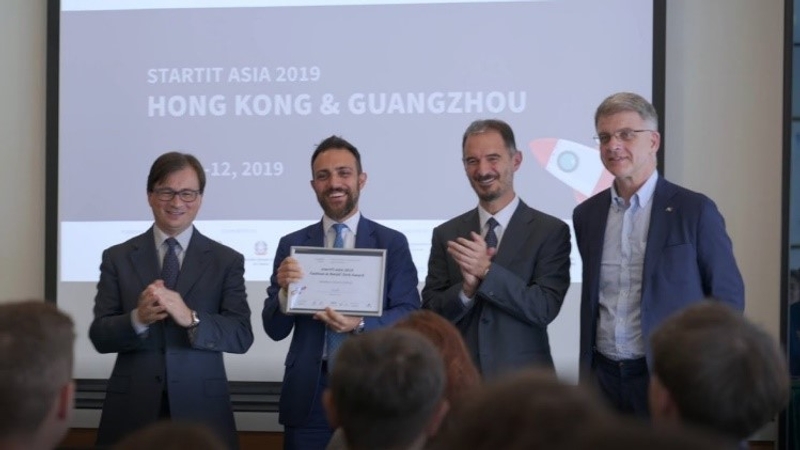 https://hkmb.hktdc.com/en/NDY1MTQzOTYz
The Greater Bay Area: Full Ahead for Finance
Solid financial foundations are at the core of economic success. If the Greater Bay Area (GBA) initiative is to thrive in the years ahead, it needs to ensure that its foundations are indeed secure.

One of the corporate financial pillars on which that success will depend is Turin-based banking group Intesa Sanpaolo – Italy's largest banking group by market capitalisation and one of the largest in the Eurozone. It has provided know-how and support to companies across China and Asia from its Asia Pacific regional headquarters in Hong Kong since it first set up in the city in 1984.
While the GBA initiative may be very much at the fledgling stage and will face a number of obstacles and challenges as it develops, the Italian banking group is in no doubt that the vision of a well-connected economic area spanning the Pearl River Delta can become a highly-value generating reality for long-established businesses and start-ups alike.
Backing the GBA
Intesa Sanpaolo has positioned itself squarely behind the outline development plan for the GBA, which was unveiled by the Central Government in Beijing in February 2019. The initiative forms part of China's wider economic strategy, as encapsulated in the Belt and Road Initiative (BRI). Its aim is to closely link nine major provincial cities in Guangdong province with the Hong Kong and Macao Special Administrative Regions (SARs) to create an economic zone which will form a key component in the next phase of China's economic development. The area covered by the initiative has a combined GDP of US$1.6 trillion.
Alessandro Vitale is the chief executive of Intesa Sanpaolo's Hong Kong branch and General Manager for its Asia Pacific Hub Corporate and Investment Banking (CIB) Division. He believes that the group's history in Hong Kong, mainland China and the wider Asia Pacific region puts it in pole position to drive business growth as the GBA initiative unfolds.
Long Journey
Describing how the group has prospered in the region, Vitale said: "We started, together with the full support and strong collaboration of Intesa Sanpaolo Innovation Center, a long journey some years ago, during which we have strived to create sustainable cross-border value between Hong Kong, the GBA, Greater China and Italy.
"Ours has been quite a journey and has involved many stakeholders, including government bodies, NGOs, investors, corporate entities and educational institutions. The aim of involving so many "actors" has been the creation of an enlarged ecosystem, one that will enable businesses to flourish and grow."
The first step was in May 2017 at an event where innovative Italian start-ups which were part of the digital and IoT industries, had the opportunity to pitch their ideas to a jury comprising Hong Kong professionals and entrepreneurs. The winner was a start-up that had invented a portable 3D printer that was compatible with mobile phones.
Recalling the event, Vitale said: "It was a very good experience for our Hong Kong branch as it helped us create a fairly diverse network of connections with private and public partners in the Hong Kong ecosystem that were then the basis for designing subsequent editions of StartIT.Asia."
In June 2018, the second edition of StartIT.Asia took place. This saw the participation of a number of European product-ready companies, with a specific focus on the circular economy. This is an area where Intesa Sanpaolo has been active since joining the MacArthur Foundation as Global Financial Partner. The winning company had developed a Blockchain / IoT-based solution for tracking food along the supply chain.
In 2019 Intesa Sanpaolo supported and co-organised two different events: the third edition of StartIT.Asia and Greater Bay Area Innovation Road (GBAIR).
Outlining the success of third StartIT.Asia, Vitale said: "Last year, we further improved the selection process, requiring start-ups to submit a business plan, a video pitch and to participate in a preliminary roadshow in Italy. This helped us choose the best candidates in the retail and fashion technology sectors. The 2019 prize also included a 6-month incubation program and a range of administrative, financial and business-matching services to ease the company's landing in Asia. The winner was a company that combined the online and offline experience to deliver custom-made Italian suits and shirts."
The Greater Bay Area Innovation Road, meanwhile, took place at the beginning of 2019 alongside the Asian Financial Forum. The aim of the event was to feature innovative Italian tech SMEs in their growth stage, those ready to scale and that could benefit the most from the opportunities offered by the GBA.
The selected companies took part in a four-day programme in Hong Kong and Shenzhen with the aim of helping them explore and capture new market opportunities through technology development in partnership with local and international investors.
Assessing the value of such initiatives, he said: "All these initiatives were supported by a number of leading Italian and Hong Kong institutions, including the Consulate General of Guangzhou, the Consulate General of Hong Kong, the Italian Chamber of Commerce of Hong Kong and Macao, the China-Italy Chamber of Commerce, the HKTDC, HKSTP, InvestHK, as well as a plethora of different co-promoters and partners. Collectively, it gave us a real opportunity to make considerable progress in our collaboration with Elite (part of the London Stock Exchange) and to establish an event that aim to open a business dialogue between the European and the GBA ecosystems – Elite 2019 GBA Roadshow."
Strategic Partnership
As part of its progress to date, Intesa Sanpaolo has been able to work with another strategic partner, The Floor, an Israeli technology platform that opened its own GBA base, in Hong Kong, in 2018.
Vitale described the relationship as part of a wider drive to develop deep and long-lasting relationships, linking different businesses and ecosystems, which can help ensure the durability of the GBA, saying: "We believe in open innovation and the inter-connection of different ecosystems, which are then able to generate an array of high profile and technologically-driven initiatives.
"Essentially, we all need to work together more in order to allow the two worlds – East and West – to get to know each other better and thus create sustainable value for all stakeholders."
Hong Kong Hub
Hong Kong is home to Intesa Sanpaolo group's Asia Pacific CIB regional headquarters, which co-ordinates four fully-fledged CIB branches (Hong Kong, Shanghai, Singapore and Tokyo), as well as six offices in Beijing, Ho Chi Minh City, Jakarta, Mumbai, Seoul and Sydney.
Outlining the pivotal role played by the Hong Kong office, Vitale said: "It provides clients with tailor-made solutions based on products and services that leverage our in-depth knowledge of APAC markets. Our major areas of business include Cash Management, Global Markets (Foreign Exchange and Interest Rate hedging solutions), Structured Finance (including Acquisition Finance and Project Finance), Structured and Export Finance and Trade and Export Finance."
"Furthermore, Hong Kong is our main gateway for cross-border investments and operations between Italy and the Asia Pacific region, as well as for innovative cross-border activities between Italy and the GBA."
GBA Potential
Vitale admitted that the GBA currently represents what he labelled "a limited proportion" of the overall turnover of the group's Hong Kong operation. He is, however, confident that that picture could well change over the next few years, saying: "The GBA is surely of interest and turnover could increase thanks to innovation and tech-related initiatives such as the Greater Bay Area Innovation Road, ELITE GBA Road Show and StartIT.Asia."
"In December last year, our CEO Carlo Messina announced that we were developing wealth management activities in China through our fully-owned subsidiary Yi Tsai – which means Italian talent – after we became the first foreign bank to receive a Fund Distribution License from the mainland authorities. With Yi Tsai, we have taken an important step forward in developing Intesa Sanpaolo's wealth management business on an international scale."
Making Adjustments
The group has also begun making adjustments to its business and operational strategies within Hong Kong, which it hopes will help it capitalise on the opportunities emerging from the GBA initiative over the next three years.
Explaining the logic behind the changes, Vitale said: "Hong Kong, the GBA and China as a whole remain a highly attractive market for us. Recently, a new role dedicated to the development of our business in China was created within our CIB division and the position has been entrusted to a very senior manager of the Group."
He confirmed that the new Head of the Group's China Program, Rosario Strano, will pursue business objectives in line with those set out in the Group's 2018-2021 Business Plan, adding: "He will further develop Intesa Sanpaolo's activities in mainland China, ensuring inter-divisional co-ordination of growth initiatives in the banking, financial advisory, insurance and asset management sectors. We believe that, in these areas, the development of GBA opportunities could represent an invaluable testing lab."
Opportunities and Challenges
Vitale claimed that the know-how Intesa Sanpaolo has acquired over many years of operating in the region will allow it to capitalise as the GBA develops, saying: "The most appealing opportunities are those that come about through the willingness of local institutions to support cross-border entrepreneurial initiatives that connect Italian and European companies with local players, who collaborate in various tech-driven industries and clusters."
He admitted, though, that there could well be bumps along the way. Offering up one example of a potential obstacle, he said: "One issue is the speed of execution in the co-organisation of cross-border initiatives. One of the areas we are exploring at present is boosting direct links between the GBA and Italy and the wider European continent."
He also pointed to the relatively 'soft' nature of cross-jurisdictional integration, which may need to be properly addressed for corporates – especially start-ups and SMEs – aiming for a 'soft landing' in China and hoping to use Hong Kong as a launchpad for further growth in the region. Overall, though, he believes the GBA initiative has the potential to flourish and deliver on its clearly-defined goals.
Banking Services
Finance & Investment
Banking Services
Finance & Investment
Banking Services
Finance & Investment
Banking Services
Finance & Investment
Banking Services
Finance & Investment
Banking Services
Finance & Investment
Banking Services
Finance & Investment
Banking Services
Finance & Investment
Banking Services
Finance & Investment
Hong Kong
Mainland China
Western Europe
Hong Kong
Macau
Italy
Hong Kong
Mainland China
Western Europe
Hong Kong
Macau
Italy
Hong Kong
Mainland China
Western Europe
Hong Kong
Italy
Hong Kong
Mainland China
Western Europe
Hong Kong
Italy
Hong Kong
Mainland China
Western Europe
Hong Kong
Italy
Hong Kong
Mainland China
Western Europe
Hong Kong
Italy
Hong Kong
Mainland China
Western Europe
Hong Kong
Italy
Hong Kong
Mainland China
Western Europe
Hong Kong
Italy
Hong Kong
Mainland China
Western Europe
Hong Kong
Italy