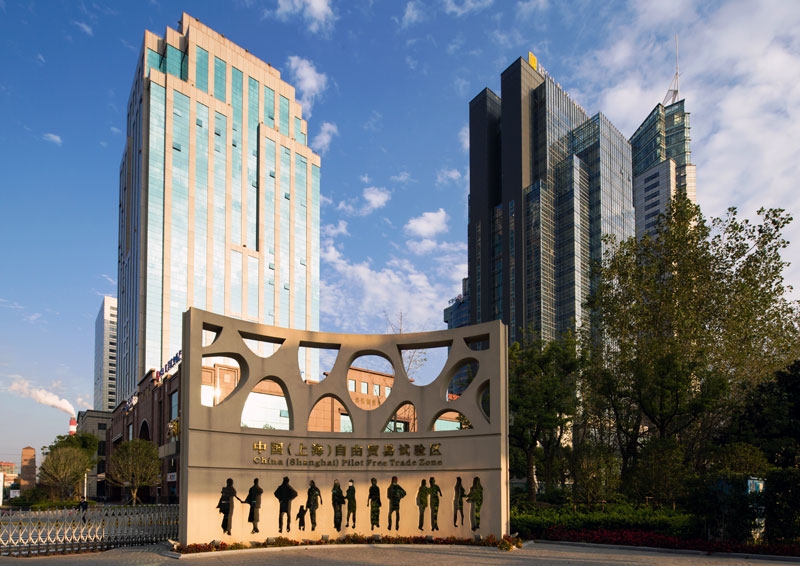 https://hkmb.hktdc.com/en/NDUzODY3ODIw
Accessing China's Domestic Market via Waigaoqiao's Service Platforms
Since the first China International Import Expo (CIIE) was held in Shanghai in 2018, 49 offline all-year-round exhibition and trading services platforms have been built in Shanghai to facilitate the imports of products, services and technologies from around the world into the mainland Chinese market. The platforms set up in the Shanghai Waigaoqiao Bonded Area also benefit from the open policies available in the China (Shanghai) Pilot Free Trade Zone (SHFTZ). This makes them the ideal entry point for Hong Kong companies looking to gain access to the mainland domestic market. Waigaoqiao Bonded Area was the first bonded area established in mainland China upon the approval granted by the State Council in 1990. Since then, it has amassed 30 years of experience in innovation development and evolved into a special customs supervision zone boasting the largest economic scale and widest range of business functions in the country. It is also China's first "national import trade promotion and innovation demonstration zone", as well as a globally competitive foreign investment hot spot.
In the UK Financial Times' fDi Magazine 2019 ranking of over 1,200 free trade zones worldwide, Waigaoqiao Bonded Area received four awards: Large Tenant Award – Asia-Pacific, and awards for Trade Facilitation, Expansion, and Efforts to Improve Transparency. Despite the impact of the recent economic downturn, its total business revenue grew 4.5% to Rmb2 trillion in 2019 [1]. The value of its total trade also climbed 2.7% to US$127.9 billion, with imports accounting for US$96.9 billion (up 4% from the year before) [2]. Major imports valued at over Rmb10 billion included pharmaceuticals, medical equipment, cosmetics and automobiles, in such large quantities that they accounted for 29%, 25%, 18% and 7% [3] respectively of the mainland's total imports of these products in 2018. This shows how important a channel Waigaoqiao Bonded Area is for the import of a wide range of foreign products into the mainland Chinese market.
Specialised Trading Services Platforms
It is worth noting that Waigaoqiao Bonded Area performs the functions of bonded products display, bonded warehousing and logistics simultaneously. Capitalising on SHFTZ's innovative pilot measures and years of development and exploration, the bonded area has formed a 'platform' economy built on a large number of specialised trading services platforms, and continued efforts have been made to optimise its service functions and operating models. As well as encouraging e-commerce operators to develop cross-border e-commerce platforms, the bonded area has opened a Direct Imported Goods (D.I.G.) Center and has been actively enriching the content of the various specialised trading services platforms in order to enhance interconnectivity and integrated development.
In a bid to accelerate the pace of trade facilitation, Waigaoqiao Bonded Area has brought in a number of administrative agencies, including a customs affairs service centre, a red wine testing centre, a medical equipment quality supervision and inspection centre, the Shanghai customs classification sub-centre, and a Shanghai entry-exit inspection and quarantine bureau Waigaoqiao Bonded Area sub-centre. All these agencies raise the bonded area's level of specialisation in international trade and help the businesses operating in the trading platforms there to handle customs clearance procedures quicker and more effectively, as well as bringing economic benefits and strengthening competitiveness.     
Wine Platform

The International Exhibition and Trading Center for Wine & Beverages was set up in 2008 as a specialised, convenient and highly efficient public trading services platform for wine dealers both from abroad and in the region. It acts as a green lane for imported wine products entering the mainland China market. Using events like the Shanghai International Wine Challenge (SIWC), the centre aims to increase the influence of the wine industry and improve the exposure of brands. It also provides a wide range of professional services for industry players, including bonded exhibition, product promotion, professional training, product information dissemination, trade negotiation, import agency, logistics, delivery, and business consultation.

Government departments (including customs) stationed in the bonded zone offer business operators various trade facilitation measures and services such as fast track customs clearance, advance booking for inspection, and rapid licence issue and customs declaration processes. A wine sampling and testing centre was also set up in Waigaoqiao in 2012 to provide clients with one-stop logistics services, ranging from customs clearance, inspection application and bonded warehousing to product labelling in bonded warehouses and logistic arrangements upon arrival of their goods at the port of Shanghai. The centre has also implemented an imported wine authentication and tracking system so that the source, destination and product liability of all imported wine can be traced. At the end of 2019, this platform had some 220 members and the value of wine imports handled by enterprises in the bonded area during the year amounted to Rmb12.5 billion.


Cosmetics Platform

The cosmetics platform in Waigaoqiao, established in December 2010, offers an extensive range of services to businesses dealing in imported cosmetics. These include policy consultation, professional certification filing, licence application, import agency and logistics. The Shanghai Waigaoqiao International Exhibition and Trading Center for Cosmetics Experience Hall at the cosmetics platform was officially opened in July 2017. The centre, with imported cosmetics as its core business, and trading, product display and logistics as supporting services, has developed into an important platform covering the cosmetics market in Shanghai, the Yangtze River Delta and the entire Chinese mainland. It has been able to take advantage of the new facilitation measures for non-special purpose cosmetics introduced in the SHFTZ and the establishment of the Shanghai Food and Drug Safety Research Association import-export cosmetics committee in Waigaoqiao Bonded Area . It has also been able to make use of the trade facilitation policies and customs clearance and supervision system in the bonded area.

From January to November 2019, imports of cosmetics into Waigaoqiao Bonded Area totalled Rmb15.56 billion, a 43.9% year-on-year increase and 18.7% of mainland's total imports of cosmetics. Companies in the bonded area registering substantial growth in trading included well-known names such as Chanel, LVMH (Louis Vuitton), Elizabeth Arden, Fantastic Natural Trading (Shanghai) Limited, and LG Household & Health Care. Their impressive performance in turn boosted the business growth of brands like L'Oreal, Estee Lauder, Shiseido and Amorepacific which operate outside the bonded area.


Parallel Imported Car Platform

The parallel imported car platform is a specialised public trading platform providing car import services, imported car wholesale and retail, and secondhand car dealing under one roof. The wide spectrum of functions it performs includes warehousing, product display, financial supervision, import and export agency, customs clearance, inspection, vehicle transfer, licence application, and secondhand car dealing, which covers all procedures involved in international trade and domestic transaction. In the past two years, the number of cars imported by pilot parallel imported car enterprises via this platform increased to over 10,000.
​​​​​​​

Medical Equipment Platform

The medical equipment platform in Waigaoqiao, built in late 2009, is a public services platform dedicated to medical equipment enterprises. The full range of professional services it provides includes enterprise establishment, product registration and filing, import-export customs clearance, GSP third-party medical equipment warehousing and transportation, bonded product display, policy and regulations consultation, compliance management, supply chain financing, and business matching. After years of growth and development, the platform has attracted the entry of the Shanghai Testing & Inspection Institute for Medical Devices, Shanghai Institute for Food and Drug Control, and third-party certification and registration agencies, all of which help to facilitate trade and create a more favourable business environment for the medical equipment industry in the bonded area. At the end of 2019, specialised GSP third-party medical equipment warehouses in this medical equipment platform occupied a total area of some 20,000m2, and had attracted over 50 well-known medical equipment enterprises.
Pharmaceuticals Platform

Established in August 2001, the pharmaceuticals platform encompasses customs inspection warehouses for drugs, food and medical equipment. It also includes the Shanghai Institute for Food and Drug Control Waigaoqiao Bonded Area Laboratory, a third-party services agency, whose presence has helped to shorten the duration of drug testing from 45 days to 30 days, thereby raising the efficiency of drug testing and lowering the cost of drug consumption during inspection. The platform also includes enterprises authorised to assign imported drug electronic supervision codes. At the end of 2018, there were 265 platform members, and total pharmaceuticals imports of enterprises in the bonded area amounted to Rmb56.8 billion, accounting for 29% of mainland's drug imports.
Watch, Clock and Jewellery Platform

The Waigaoqiao International Exhibition and Trading Center for Watches, Clocks and Jewellery is a specialised public services platform dedicated to the trading of consumer products such as watches and clocks, watch and clock movements and accessories, jewellery, ornaments, opticals, and photographic equipment. The platform provides industry players with multifunctional services including business consultation, product exhibition and display, market transaction, international trading, import and export agency, brand agency, warehousing, distribution, repair and maintenance, and simple processing.


Cultural Trade Platform

The National Base for International Cultural Trade (Shanghai) is the first of its kind in China. Using the preferential policies available in the Waigaoqiao Bonded Area, this service platform has been built gradually and encompasses functions like logistics warehousing, product exhibition and display, trading and negotiation, finance and insurance, appraisal and authentication, and copyright operation and management. About 1,000 enterprises have established a foothold in the platform so far. A number of national-level cultural resources including the National Museum of China, National Library of China and China National Academy of Painting are also found here, along with specialised agencies such as a copyright service centre and an artwork appraisal centre. All these help to promote the development of enterprises in the bonded zone.


Smart Equipment Platform

This specialised services platform, aimed at facilitating international trade for the advanced smart manufacturing industry, was set up in Waigaoqiao Bonded Area in 2009. Since then, the Shanghai Waigaoqiao International Intelligent Manufacturing Industrial Park, covering an area of about 100,000m2, has been constructed. It has attracted a large number of industry associations and service organisations, including Swiss Center Shanghai, the Association for Manufacturing Technology of the US, Germany's Mechanical Engineering Industry Association (VDMA), the China National Machine Tool Quality Supervision Testing Center, the Machinery Industry Product Quality Testing Center for Machine Tools, and the Shanghai Pudong Intelligent Manufacturing Association. This platform has over 140 members from Germany, Switzerland, Italy, Spain, the US and Australia, including 41 of the world's top 100 machine tool industry players such as Georg Fischer, Willemin-Macodel SA, TRUMPF, and Index. In the first three quarters of 2019, imports into Waigaoqiao Bonded Area of products related to smart manufacturing (such as machine tools, robots and cutting tools) totalled Rmb46.5 billion.


Shanghai Waigaoqiao D.I.G. Center

The Direct Imported Goods (D.I.G.) Center adopts the overseas direct purchasing model to bypass the existing multiple layers of import trade restrictions, thereby lowering the price of imported goods. This allows it to sell quality foreign goods directly to consumers. The D.I.G.PLUS (Senlan Shop) [4] on Senlan Road in Waigaoqiao occupies an area of about 400m2, has over 2,000 types of products from all over the world on display, and offers offline experiential and retail services to consumers. All the leading specialised trading platforms in Waigaoqiao Bonded Area, such as the International Exhibition and Trading Center for Wine and Beverages, the Exhibition and Trading Center for Cosmetics, the Parallel Imported Car Exhibition Platform, the International Exhibition and Trading Center for Watches, Clocks and Jewellery and other national (regional) goods centres and platforms, handpick their quality products for retail sale at D.I.G.PLUS (Senlan Shop). For example, the famous car brand Renault Duster, which made its entry into Shanghai in the form of parallel imports for the first time in 2018, chose to unveil its Renault Duster Adventure Edition to consumers at D.I.G.PLUS (Senlan Shop), offering customers advance booking for a trial run in the car.

D.I.G.PLUS (Senlan Shop) also serves as a product display and sales channel for countries along the Belt and Road routes looking to enter the Shanghai market. For example, the Azerbaijan Wine House in the Waigaoqiao International Exhibition and Trading Center for Wine and Beverages showcases different kinds of the country's famous vodka at D.I.G.PLUS (Senlan Shop). Consumers can also find wine products from Georgia at the centre. Wine is one of Georgia's most prestigious products. The unique red wine from the country's Kakheti region, for instance, is highly sought after by connoisseurs. Small and medium-sized enterprises from all over the world, including those from countries along the Belt and Road, can use this direct sales channel to import and promote their quality products and target the huge mainland consumer market directly.
For further information, please refer to HKTDC Research article:
Exploring Domestic Market of the YRD via Shanghai's Import Platform (Joint research series on Shanghai-Hong Kong Economic Co-operation)
---
[1] Source: China (Shanghai) Pilot Free Trade Zone Waigaoqiao Bonded Area Management Committee
[2] Source: General Administration of Customs
[3] Source: China (Shanghai) Pilot Free Trade Zone Management Committee
[4] While located outside the Waigaoqiao Bonded Area, D.I.G.PLUS (Senlan Shop) enjoys the advantage of bonded direct sales.
Mainland China
Mainland China
Mainland China