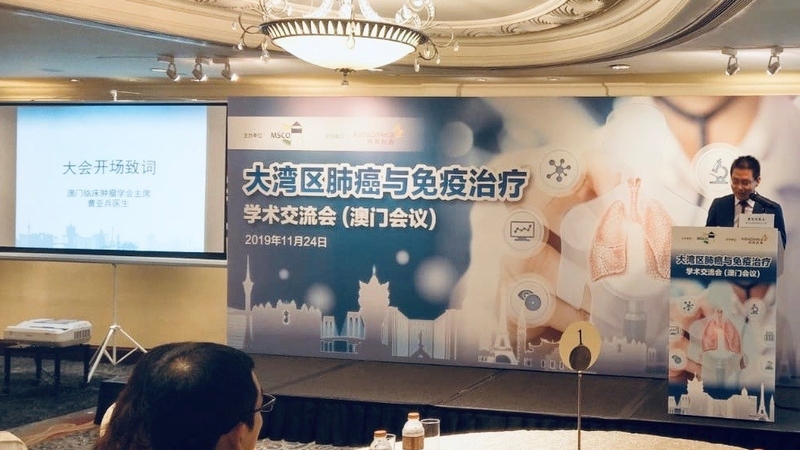 https://hkmb.hktdc.com/en/NDM0ODQ4MDg0
The Greater Bay Area: Injecting a Scientific Boost
This year Anglo-Swedish biopharmaceutical company AstraZeneca marks three decades of doing business in Hong Kong. For the last 28 years, it's also run a parallel operation in mainland China. If the global drug-making giant's recent results and sales and development forecasts in the China market are anything to go by, the future looks bright, albeit with certain caveats. Sales of AstraZeneca products in China are expected to reach close to US$5 billion soon, with Guangdong Province – the very heart of the Greater Bay Area (GBA) initiative – accounting for 12% of the total.
In October 2019, amid rising revenues, AstraZeneca lifted its global sales forecasts for the second time in a year. Its China sales rose 40%, to US$1.2 billion, according to the Financial Times. But the company also warned that changes in procurement policies in the Chinese market could create a drag on its growth in the mainland.
That warning aside, AstraZeneca's General Manager in Hong Kong, Gwenael Meneux, is confident that the company will remain a leading player in the mainland in terms of both sales and its research and development (R&D) footprint. Gwenael Meneux believes that this aspect of the business will particularly benefit from the successful implementation of the GBA.
Early Days
Gwenael Meneux acknowledges – in line with a view expressed by many other businesses operating in Hong Kong – that the GBA initiative is very much in its embryonic stage. However, he believes there is a genuine will among all the parties involved to bring the plans to fruition, saying: "It is early days as far as the GBA initiative is concerned, but from the discussions I have had with business colleagues and with the pharmaceutical industry associations, I think there is a clear and genuine desire to make the GBA work.
"There is no doubt that in terms of pharmaceutical development, scientific expertise and R&D capabilities Hong Kong is recognised, not only in Guangdong Province but globally, as a having a pool of talent and experience which should be leveraged by partners in both the public and private sectors across the GBA. I am sure if these strengths can be harnessed properly it will help make the GBA a success."
AstraZeneca's China headquarters is in Shanghai. It has four other regional offices, encompassing sales, production, R&D and innovation facilities across China, in Beijing, Wuxi, Chengdu and Guangzhou.
Gwenael Meneux explained that AstraZeneca has three core strategic areas – oncology, respiratory and cardio-vascular, renal and metabolic, collectively known as CVRM. Outlining the company's approach, he said: "Our objective is to deliver life-changing medicines in those core strategic areas. But we will always try to answer to local patients' needs. An example of this would be our nasal spray flu vaccine that we launched recently in Hong Kong.
"More recently, we have also been developing holistic patient treatments based on partnerships. Among these are work in the areas of patient affordability and the use of data to improve and enhance how patient treatments are managed. In this respect, China has been instrumental."
Long History
Gwenael Meneux claimed that AstraZeneca's long history in the China market will help the company make the most of a developing GBA initiative, saying: "We have very strong position in China both in sales and local scientific partnerships. This is especially true in the South China region where we are a leading player in Guangzhou, Shenzhen and other GBA cities."
He added that the company is working hard to boost its R&D footprint and its ability to carry out clinical trials not only in Hong Kong but across the border in the mainland. At present, clinical trials by AstraZeneca can only be carried out in Hong Kong and drugs approved in the city need to obtain a separate approval before they can be used in China.
Getting that approval used to be a laborious process, especially for cancer drugs. Noting that this is now changing, Gwenael Meneux said: "In the recent past, the average time lag between Hong Kong approval and approval on the mainland was around three years. Now, thanks to the regulatory reforms, that average has come down to around one year. I am hopeful that in the not too far distant future approvals will be done at the same time."
Clinical Trials and Beyond
Another area in which AstraZeneca hopes to receive a boost from the GBA initiative is that of clinical trials. Gwenael Meneux explained that these will be significantly improved simply by the vast increase in the number of patients who could take part in such trials in Guangdong Province, saying: "We see the GBA not only as a business opportunity but also as a scientific opportunity in terms of R&D and the scope for future effective clinical trials.
"From a purely Hong Kong perspective, the GBA is a major opportunity for the city's scientific community because of the pool of patients in southern China. The main issue we face in Hong Kong in that respect is that, with a population of just 7.5 million, there is a relatively small number of patients who can take part in clinical trials. The GBA's population is around ten times the size."
In November last year, AstraZeneca announced three large scale initiatives that will significantly expand its R&D presence in China – the launch of a state-of-the art artificial intelligence (AI) centre and a comprehensive new R&D hub in Shanghai, as well as the introduction of a US$1 billion Healthcare Industrial Fund in association with the China International Capital Corporation Limited (CICC), one of China's leading investment banks. The latter will seek to support domestic businesses and their prospective international partners as they look to develop their presence in China in general and within the GBA in particular. Appropriately enough, the announcement of the new initiatives was made during the course of the six-day Shanghai-hosted 2019 China International Import Expo (CIIE), the second edition of the world's only wholly import-themed national level expo.
Medical & Healthcare Services
Hong Kong
Mainland China
Western Europe
Scandinavia
Hong Kong
United Kingdom
Sweden