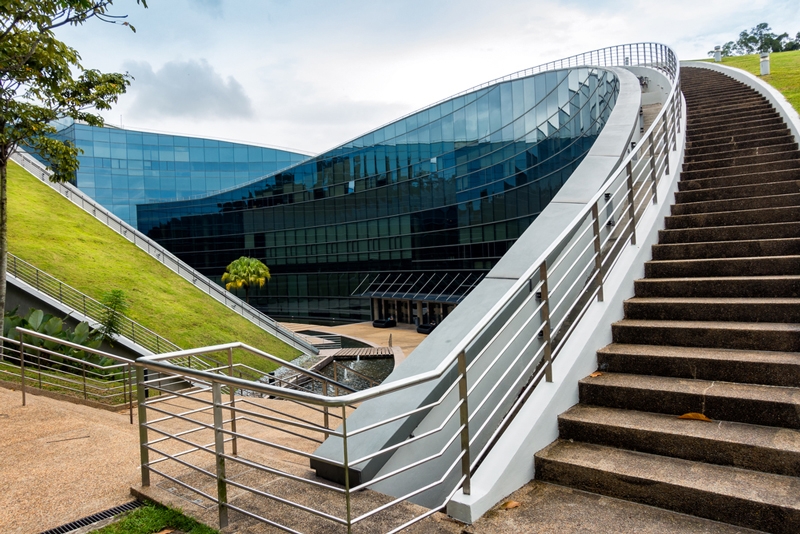 https://hkmb.hktdc.com/en/NDI2MDUyMjk4
Green Building Developments and Opportunities: Singapore
Jacqueline Yuen
Among the ASEAN nations, Singapore is at the forefront of green building development. The country's Green Mark Scheme was the first green building rating system to be designed specifically for the tropical climate and has been widely adopted in other ASEAN countries. Because it is a net oil importer with limited natural resources, Singapore has been proactive in trying to increase the energy efficiency of its buildings. Buildings account for nearly 40% of the city state's total electricity consumption and over 20% of its greenhouse gas (GHG) emissions.
Singapore is also a pioneer in setting mandatory environmental standards for buildings. By the end of 2019, more than 40% of the buildings in Singapore had obtained the Green Mark certification. The government's target is to raise this to 80% by 2030, which means that the country's demand for green building solutions is likely to increase substantially. This offers excellent opportunities for Hong Kong companies in this sector. Moreover, Singapore's leading role in green building development in ASEAN means it could also act as a stepping stone for Hong Kong SMEs looking to venture into the ASEAN market as well.
Regional Recognition through Green Label and Certification
The hot weather conditions in South-east Asia means there is always a high demand for energy-efficient cooling products, such as insulating glass and air conditioner filters. At the same time, rising environmental awareness in the region has boosted consumer and commercial demand for green products, which has led to an increasing number of companies making eco-friendly claims, like "sustainable" or "green". Getting certified with Singapore's green labelling or certification schemes would help Hong Kong suppliers differentiate themselves from other companies and target eco-conscious buyers.

In April 2008, it became mandatory in Singapore for all new buildings, and existing buildings undergoing major retrofits, to attain a minimum score in the national green building rating system – the Green Mark certification programme. Since then, the supply of green building products and materials has expanded significantly. In order to maintain industry standards, the Singapore Green Building Council launched the Green Building Product and Services certification schemes to provide a benchmark for the environmental performance of building supplies and services. Hong Kong companies in the green building industry can use these certification schemes to market their products and services in Singapore and the ASEAN market. The schemes are recognised by the Green Mark Scheme, which awards additional scores for using certified products.

Hong Kong-based suppliers of green household products and office equipment could consider joining the Singapore Green Labelling Scheme (SGLS). Launched in 1992, the SGLS endorses eco-friendly industrial and consumer products in 10 different categories, including office supplies and equipment, lighting, and household appliances. To be certified, a product has to meet the requirements for a specific product category. Well-recognised by green industry players in the region, the SGLS has certified over 3,000 products from 28 countries. More than half of the applicants are companies based in Asia and about one third are from Europe.

Green Building Benchmark for the Tropical Climate
Hong Kong companies eyeing the ASEAN market should take time to understand the building features which are most suited for the local climate in this tropical region. Singapore's Green Mark, which has become a reference for other green building rating systems in Southeast Asia, is specifically tailored for the tropical climate. It puts a stronger emphasis on energy efficiency, indoor cooling and ventilation performance than do rating systems developed in the UK and the US. More than 2,000 buildings in Singapore are certified under the Green Mark, along with buildings in more than 10 other countries, including Malaysia, the Philippines, Indonesia, Vietnam, Thailand and China.
​​​​​​​Government Push for Green Building
As a signatory of the Paris Agreement on climate change, Singapore is committed to reducing its greenhouse gas emissions intensity[1] by 36% from 2005 levels by 2030. To meet the pledge, the government has rolled out bold initiatives to encourage building owners and developers to adopt green building practices. Since 2013, all building owners have been required to submit their energy performance data annually to the Building and Construction Authority (BCA). The data collected is used to compile the annual Building Energy Benchmarking Report (BEBR) which analyses the energy performance of buildings and provides a benchmark for building owners to assess their buildings' energy performance. In addition, the BCA publishes the individual energy performance data alongside the building's name on a voluntary basis on its website[2]. According to local industry experts, this high transparency has been effective in raising environmental awareness among facilities managers and tenants, who have begun to adopt more eco-friendly behaviour.
Ride the Next Wave of Green Building Development
Singapore is taking great strides towards greening its building stock by promoting the development and adoption of new technology. One of these initiatives is the Super Low Energy (SLE) Programme. The aim of this is to drive the use of cutting-edge energy-efficient buildings solutions, such as smart energy management systems with the use of Internet of Things (IoT), big data analytics and advanced sensors. As part of the SLE initiative, the government encourages the commercialisation of new technology from overseas companies for adoption in local buildings. Funding support is provided for the commercial prototyping of products and designs in Singapore. Hong Kong's technology firms and R&D institutions specialising in green building solutions can take advantage of this opportunity to partner with Singaporean building owners and developers.  
Hong Kong suppliers who have no experience in the region, but are looking to explore the green building market in Singapore and the rest of ASEAN, would be well advised to join trade shows and exhibitions as visitors or exhibitors as a first step. For example, the Built Environment Week in Singapore and the International Greentech & Eco Products Exhibition & Conference Malaysia are key trade events for the building and construction industry in ASEAN, and are ideal platforms for establishing business networks in the region.
---
[1] Emissions intensity refers to greenhouse gas emissions per unit of GDP.
Real Estate Services
Environmental Protection
Technology
ASEAN
Southeast Asia
Singapore