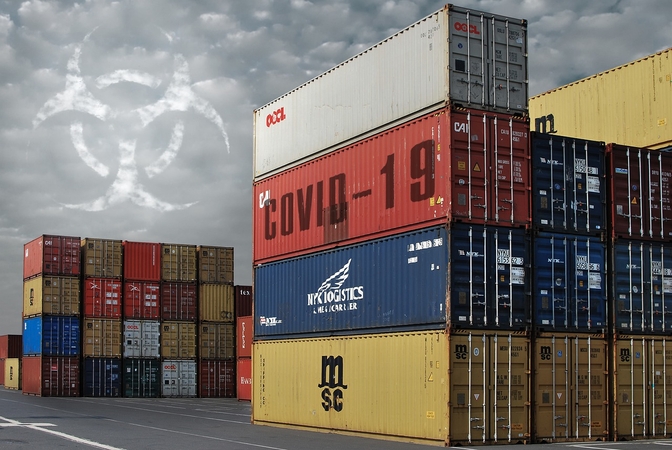 https://hkmb.hktdc.com/en/Mzk5Mjc0MTEx
EU Considers Suspension of Tariffs and VAT on Imports of Items Used for COVID-19 Response
The European Commission website states as part of its " Guidance on Customs issues related to the Covid-19 emergency " that it is working on plans to "ensure that the temporary admission of items for disaster victims of the Covid-19 pandemic crisis becomes free of customs duties and VAT". The news agency MLex reported, in a piece published on 31 March, that the suspension is to be applied retroactively to imports of medical equipment including protective masks and other protective clothing. These plans are announced as EU health agencies and professionals struggle to source such equipment while the number of new infections and deaths is still on the rise in the EU. Exporters from mainland China and Hong Kong may be interested to note that the UK has waived all import duties on specified medical goods, including personal protective equipment pursuant to an existing exception for disaster responses under the general EU customs rules.
Amid rising numbers of infections and deaths related to Covid-19 in many countries around the world, the need for related medical equipment has increased dramatically and countries face shortages in their health services where medical staff complain that they are asked to fight the pandemic without adequate protective equipment, including face masks, rubber gloves and disposable aprons.
Some countries, including EU Member States such as Germany and France, initially imposed export bans, restricting the sale of protective equipment even to other EU Member States. As most protective gear produced in the EU comes from the Czech Republic, France, Germany and Poland, other countries are especially exposed to the risk of shortages, as MLex highlighted. Producers of personal protective and other medical equipment from Hong Kong and mainland China may wish to know that intra-EU restrictions have now been lifted after the EU issued guidance on export requirements for personal protective equipment. This means that once the goods are within the EU they should continue to move freely.
Yet this has not eliminated the need for more of such equipment in the EU, as well as globally. Experts (including Global Trade Alert and the Peterson Institute for International Economics ) have therefore called for tariff cuts to encourage increased production and fast turnaround as a more effective strategy to address the current spike in demand than export bans. At the virtual G20 meeting late last month, leaders therefore agreed to ensure that trade in essential goods needed for the fight against the virus should be maintained.
While US President Trump has been maintaining his hard-line approach against imports from mainland China and so far delayed granting general tariff relief for imports, the EU appears to have an open ear for Member States that are calling for permission to suspend tariffs and import VAT. The European Commission department on Taxation and the Customs Union (TAXUD) published guidance on Covid-19-related customs issues on its website. It states that, although blanket exemption from the payment of customs debts is not permitted, the national customs authorities have the power to take into account the economic operator's serious difficulties when the latter so requests. This also includes the power to suspend the implementation of customs decisions and to dispense with the charging of interest for late payment under certain conditions. The guidance further indicates that the European Commission is looking to exempt certain goods from customs duties and VAT by de facto waiving the requirement of guarantees for these goods. MLex cites a letter to EU and UK customs authorities which is reported to state that "[t]he Commission stands ready to examine within the briefest delay the requests aimed at making the importation of items for disaster victims free of customs duties and VAT". Currently, tariffs on medical devices imported into the EU vary between 0% and 12%. The EU's standard tariff rate for surgical rubber gloves, for example is 2% for gloves and 6.3% for disposable face masks. The average VAT rate is 21%.
Exporters from Hong Kong and mainland China may be aware that other countries have already reduced, or suspended entirely, import tariffs on certain medical equipment as a list of Covid-19-related trade measures published by the World Trade Organisation (WTO) sets out. Mainland China reduced import tariffs on certain medical products. Brazil also reduced import tariffs on medical and hospital products from all countries to zero as of 23 March. Canada temporarily lifted the requirement to pay import duties on certain goods including face masks, surgical gloves, and disinfectant imported by public health agencies.
While tariffs for imports into the EU are generally set by the EU, existing EU rules on disaster relief permit Member States to waive import duties immediately while waiting for a decision from the Commission, as Politico.eu reports. The UK, which withdrew from the EU earlier this year, announced on 31 March that it had used this exception and waived import duties on vital medical equipment, including ventilators, coronavirus testing kits and protective clothing as of Friday 27 March in order to support its health service respond to the pandemic.
Hong Kong and mainland Chinese businesses should note that the EU has not yet approved this decision by the UK or published any such waiver itself. A suspension of import duties is, however, being considered as part of the EU's united response to the Covid-19 crisis. While health preparedness in the case of an emergency is outside of the EU's core competences and therefore a matter to be decided at Member State level, issues related to trade such as import duties, are within the EU's mandate. In addition to the equipment purchased under the Joint Procurement Agreement, the EU has also set up its first ever rescEU stockpile project with a budget of €50 million as part of the EU Civil Protection Mechanism and is taking measures to increase domestic production.
Medical Supplies & Medicine
Medical Supplies & Medicine
Medical Supplies & Medicine
Medical Supplies & Medicine
Medical Supplies & Medicine
Medical Supplies & Medicine
Medical Supplies & Medicine
Medical Supplies & Medicine
Medical Supplies & Medicine
EU
Western Europe
United Kingdom
EU
Western Europe
United Kingdom
EU
Western Europe
United Kingdom
EU
Western Europe
United Kingdom
EU
Western Europe
United Kingdom
EU
Western Europe
United Kingdom
EU
Western Europe
United Kingdom
EU
Western Europe
United Kingdom
EU
Western Europe
United Kingdom