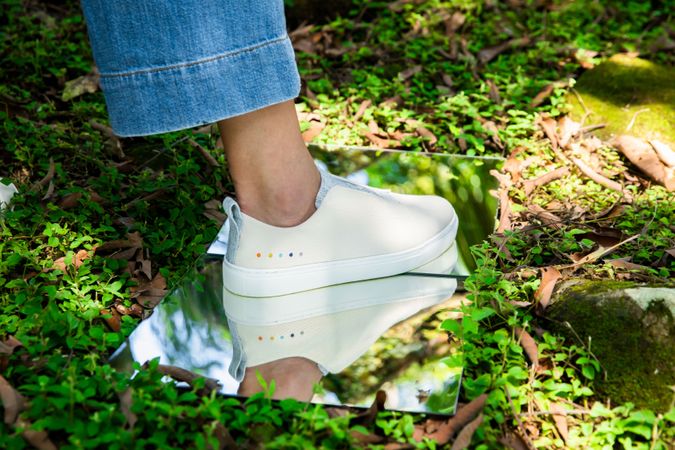 https://hkmb.hktdc.com/en/MTEwNzk0MzEzOA
Delivering Sustainability: Going the Extra Mile
Louis Chan
The leather and footwear industries are often seen as among the most polluting in the world. Virgin leather processing produces toxic tannery effluents harmful to water supplies, while waste products often include sulphide, ammonia and other volatile compounds.
Aside from environmental impact, a 'sweatshop' image also hangs over the sector, with many everyday products, including clothing and shoes, seen as being produced in factories where workers (including some 250 million children) are forced to work long hours for low wages in extremely bad conditions.
To understand more about how a homegrown sustainable footwear brand is playing its part to change the way shoes are made, Louis Chan, Principal Economist (Global Research) at HKTDC, talked to Natalie Chow and Simon Chow, Co-Founders of KIBO.
Louis: What are the key features of KIBO products in comparison with other market players which also highlight ESG in their offers? What are the main edges that your brand and products use to stand out in the highly competitive footwear market?
Natalie and Simon: KIBO is a footwear company committed to sourcing materials ethically and to ensuring every stage of the value chain incorporates the best social and sustainability practices. We design timeless sneaker styles, attempting to shift consumers away from fast fashion through both the B2C and B2B models. Meanwhile, we source almost all of our materials from recycled or natural sources, including Global Recycled Standard (GRS [1])-certified recycled leather, post-consumer plastic bottles, recycled cotton and natural rubber and cork for the optimal blend of comfort, support, durability and sustainability.
We take discarded leather trimmings or scraps, grind them into fibre, and combine it with other eco-friendly materials to create a new piece of leather that is lighter and more durable than full-grain leather. In addition to the recycled and upcycled efforts, the manufacturing process is solvent-free and toxin-free, as the fibres are compressed through a patented high-pressure water jet system, requiring no tanning procedures. As a result, 95% of the water is recycled and re-used throughout the production process, keeping the manufacturing process basically in a closed loop.
Louis: Why did you choose to launch the sustainable footwear brand in Hong Kong? Does Hong Kong, as a global sourcing hub, help when it comes to your brand's ethical and ESG procurement? If not, where else you are sourcing from, and why?
Natalie and Simon: With over 50 years of experience in footwear manufacturing and trading, we have a solid supply chain with innovative sourcing and sustainable practices in partnership with like-minded materials suppliers and ESG-certified factories.
With a mission to bring hope to the world by reinventing the way fashion is made, we started trading with the KIBO brand (which means "hope" in Japanese) in 2021. The primary aim is to address the growing environmental problems associated with the processing of virgin leather, including inefficient energy use, unsustainable water consumption and waste generated by the leather and footwear industry.
We are fully aware of the fact that the production and processing of virgin leather is immensely harmful to the environment. To make the industry more sustainable, brands and designers must embrace every possibility to reduce leather waste and use salvaged materials.
We started KIBO with a firm belief in a circular economy for fashion as the ultimate solution to the root causes of the industry's overconsumption problem. On the back of our knowledge in footwear manufacturing and desire to reduce and repurpose waste generated from traditional leather and footwear industries, we jump-started its ESG transition by turning to reused, recycled and upcycled materials, ranging from scrap waste to used leather and recycled cotton.

With material sourcing taking centre stage and using only recycled materials to avoid extracting virgin materials as our target, we only partner and procure with certification bodies and suppliers who live up to required standards for quality, ethical practices, and environmental sustainability.
Thanks to our extensive shoe manufacturing knowledge and close relationships with different suppliers, we are able to stay more agile, nimble and cost-effective than peers of similar size and history in catering to our customers' demands. But all this cannot be done seamlessly without the city's ready pool of sourcing solutions and talent who put our minds at ease on the ESG journey.
For instance, to ensure our procurement process is efficient, cost-effective, and more importantly, sustainable, we have worked with, among other independent third parties, a Hong Kong-based shoe manufacturer and exporter that has more than 50 years of experience in the industry.
Louis: The fashion industry is reported to be responsible for 20% of global wastewater and 8-10% of the world's greenhouse gas emissions. How do you see ESG progress across the industry? What changes did you see in the industry during the pandemic? How have the global pandemic and supply chain disruptions affected your business and ESG plans?
Natalie and Simon: One of the positive takeaways from the Covid-19 crisis is that global consumers are becoming more aware of environmental and social issues and, in turn, the ESG values of brands. A case in point is the #Payup movement in 2020, when many international fashion brands refused payment for completed orders heading into the global pandemic, sending millions of garment workers into destitution. In the two years since the campaign started, it has helped to recoup approximately US$22 billion in money owed to garment factories and workers from 25 major clothing brands and has grown into a far-reaching global movement for brand accountability.
As we entered the third year of this pandemic, consumers are becoming more conscious than ever in making their purchasing decisions, attaching greater importance to the ESG efforts of brands while making fewer impulse and fast-fashion purchases. We have also seen an increasing number of circular economies for fashion, such as second-hand apparel platforms, which are expected to grow exponentially in the coming years.
After successfully growing our brand using our supply chain sustainability and transparency DNA, we look forward to moving our ESG inspiration beyond the pandemic. Despite the stubborn supply chain woes and logistics bottlenecks, which have disrupted our production and led to shortages and backorders, we are so far very fortunate to have recovered swiftly as restrictions eased.
Louis: Labour rights and human trafficking have been in the global spotlight in recent years, and are one of your brand's ESG concerns. How do you see these issues in the fashion industry? What are the brand's next steps on ESG?
Natalie and Simon: In addition to sourcing sustainable materials, such as Forest Stewardship Council (FSC)-certified and GRS-certified raw materials, we are also advocating for supply chain transparency by certifying our factories under the Business Social Compliance Initiative (BSCI) Monitoring System on the labour standards of the International Labour Organization (ILO) and upholding human rights and fair working conditions according to other important international regulations like the United Nations Charter for Human Rights.
With human-trafficking being the third largest crime and fashion widely viewed as one of the biggest culprits, forced labour and child labour issues remain prominent in the fast-fashion market. To advocate for the victims and contribute to the end of this horrifying crime, for every pair of shoes we sell we are committed to contributing to Compassion First, a not-for-profit organisation standing by survivors of child sex trafficking to rebuild their lives.
Meanwhile, we are also working out a first-of-its-kind ESG project in Asia with some five-star hotel groups to provide sustainable footwear for hotel staff. There is a huge gap in the service industry where many front-line staff have limited options for safe and comfortable footwear suitable for their extended wear in different working environments. In fact, slips, trips and falls account for more than 25% of all workplace injuries. The number is even higher for the hospitality, food and beverage sectors. Workplace footwear, such as oil- and slip-resistant shoes, can significantly reduce the number of injuries and health related concerns. As a sustainable footwear brand, we are taking a step further to use sustainable materials in their production.
The global safety workwear market is estimated to have exceeded US$9.5 billion in 2020 and is set to top US$15 billion by 2027, thanks partly to the strong push towards industry standardisation on testing and metrics for slip-resistant footwear. Our material suppliers have solid experience and know-how in providing workwear for government departments and global food and beverage chains, giving us a trump card when it comes to expansion into the Asian hospitality space.
We have aggressive plans to scale this up to other hospitality groups. Our goal is to expand our sustainable footwear for companies such as airlines, hotels and restaurant groups, piloting in Hong Kong and eventually exporting to the overseas market.
With the dawn of the metaverse set to see the physical boundaries of traditional supply chains transcended as never before, for example, we have recently launched our Sustainable Wearable Art collection at ARTAVERSE, Asia's largest NFT and local art outdoor exhibitions in Hong Kong, infusing art, technology and sustainability into the same space.
---
[1] The Global Recycled Standard (GRS) is a voluntary product standard for tracking and verifying the content of recycled materials in a final product, covering processing, manufacturing, packaging, labelling, trading and distribution of all products made with a minimum of 20% recycled material.