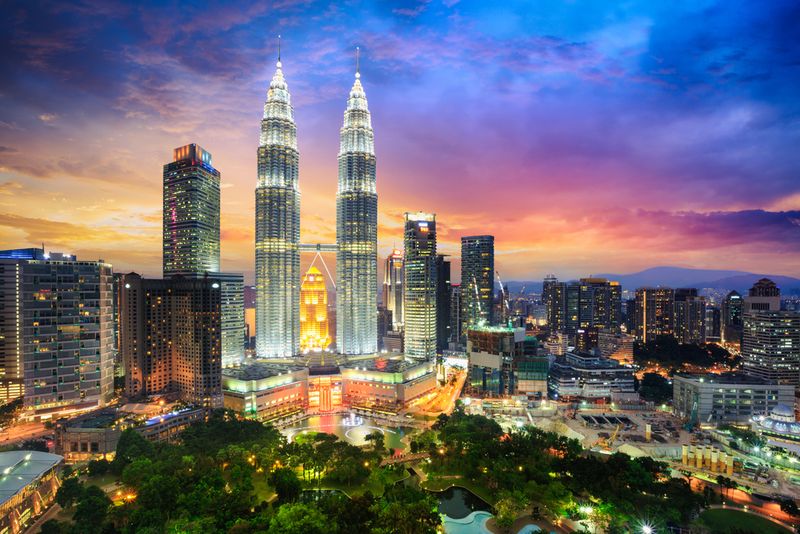 https://hkmb.hktdc.com/en/MTEwMDc2MTY3Mw
Post-Covid Prospects: Malaysia
Interview with Ms Ezzwanee Ahmad, Trade Commissioner, Consulate General of Malaysia in Hong Kong
David Sit
Malaysia is one of the more developed economies in the ASEAN region, with the third highest GDP per capita in the bloc, behind Singapore and Brunei. It has a population of 32.5 million, and is richly endowed with natural resources. The manufacturing sectors of the economy are mature and the services sectors are growing. Malaysia, like other countries, was heavily impacted by the COVID-19 pandemic in 2020 yet saw notable recovery since 2021.
David Sit, Assistant Principal Economist (Asian and Emerging Markets) at HKTDC sat down with Ms Ezzwanee Ahmad, Trade Commissioner, Consulate General of Malaysia in Hong Kong in May 2022 to discuss Malaysia's economic outlook for the year, and look at sectors of the economy that might provide opportunities for Hong Kong business.
David Sit:
Can you give us an overview on Malaysia's current situation and your strategy for handling the COVID-19 pandemic?
Ezzwanee Ahmad:
Since the beginning of the pandemic in March 2020, Malaysia has recorded a cumulative total of 4.47 million cases. The COVID-19 pandemic situation has now stabilised, with new confirmed cases standing at less than 2,000 daily since mid-May 2022. This can in part be attributed to the high vaccination rate among the population. A total of 70.9 million doses of vaccine had been administrated as of 1 of June. More than 85% of the population have received their first dose, nearly 83% have received their 2nd dose and close to 50% have received their boosters. 97% of the adult population is fully vaccinated. Consequently, most new cases are mild.
Therefore, we are well on the way to transiting back to normal economic life. During the peak of the pandemic we endured three lockdowns. People could only leave home to shop for essentials or for medical emergencies, and most business activities were shut down. Since mid-2021, we have steadily moved our economy and society back towards normal. From 1 May 2022 wearing face masks in public area outdoors has become optional, although face masks must still be worn indoors in shops and restaurants. The COVID-19 pandemic is no longer an obsessive concern for the Malaysian public. Although the number of cases, hospitalisation and deaths are updated on a daily basis on the Ministry of Health website, they are no longer headline news in local media.
We have also opened our border to the world. Fully vaccinated travellers are now exempted from pre-departure tests and face no quarantine requirements upon arrival. With prior approval from the Malaysian authorities, COVID-19 insurance can also be waived. We look forward to welcoming more Hong Kong business people and tourists to Malaysia.
Sit:
How do you see the economic prospects for Malaysia in 2022, amid all the current disturbances such as rising global inflation and regional conflicts? What are the government's plans for Malaysia's economic and trade development?
Ezzwanee:
Malaysia's economy was hit hard by the pandemic in 2020, and suffered a 5.6% fall in real GDP, but we got back on track in 2021 with 3.1% growth, and have seen even stronger growth of 5.5% in the first quarter of 2022. Like many other countries, Malaysia's economy will undoubtedly be affected by the recent disturbances in the global economy and rising inflation, but we are an export-oriented economy, and our industries are supplying the world with essential goods, including crude oil, palm oil, food and electronic parts and components. We remain optimistic about our economic growth this year. Bank Negara Malaysia, the Central bank of Malaysia, has recently maintained its projection for whole-year-growth at 5.3% to 6.3%, with headline inflation projected at somewhere between 2.2% and 3.2%. 
The Malaysian Government provided a number of relief and support measures to those Malaysian companies, especially SMEs, who were hit hard by the pandemic. These measures included various tax and levy reliefs, grants, and wage subsidies as well as a RM11.2 billion funds offered by Bank Negara Malaysia to supporting various sectors. More information on the support measures can be found on the Bank Negara Malaysia info page.
To encourage economic recovery and to achieve a prosperous, inclusive and sustainable Malaysia, the 12th Malaysia Plan (RMK-12) was promulgated in September 2021 to draw the roadmap for the country from 2021 to 2025. The Plan encompasses three dimensions, namely economic empowerment, environmental sustainability and social re-engineering. The economic empowerment section outlines new drivers of economic growth such as the Industrial Revolution 4.0, the digital economy, the aerospace industry, and integrated regional development as well as growth enablers such as sustainable energy sources and infrastructure connectivity. The environmental sustainability section emphasises green development, and covers the blue economy, green technology, renewable energy as well as adaptation to and mitigation of climate change . The plan is to develop Malaysia into a high-income economy by 2025.
Meanwhile, the National Trade Blueprint (NTBp) 21-25 was formulated under the 12th Malaysia Plan to strengthen trade competitiveness, particularly in merchandise exports. The Blueprint covers areas of trade facilitation and logistics, standards and conformance, trade promotion and market access, sustainability and innovation, digitalisation and technology as well as investment and branding.
Sit:
Can you name some sectors in Malaysia that might provide business and investment opportunities for Hong Kong companies?
Ezzwanee:
In the post-Covid era, we are seeing an accelerated digital transformation as the key driver for economic prosperity. There are many areas where Malaysia offers opportunities to Hong Kong companies.
Information and Communication Technologies (ICT) plays a central role in Malaysia's aspiration to establish itself as a digital nation, an important pillar of Malaysia's vision set out in the Digital Economy Blueprint (MY Digital) under RMK-12, to become a regional leader in the digital economy and boost economic competitiveness through digitalisation and improved digital infrastructure. In 2020, ICT registered a remarkable 10.4% growth despite the pandemic. This contributed 22.6% to Malaysia's GDP, and digitalisation is expected to further accelerate under RMK-12. ICT services such as cloud computing, the Internet of Things (IoT), data analytics, data centres and e-commerce are key sub-sectors with good market opportunities in Malaysia. Hong Kong and mainland Chinese companies have strong edge in these sectors and have already taken the initiative in implementation for the ASEAN region. The Alibaba digital free trade zone, for example, was launched in November 2017 in partnership with Jack Ma of the Alibaba Group to connect Malaysian SMEs to the world through e-commerce. Local e-commerce platforms such as Shopee and Lazada connect local consumers to Hong Kong and mainland Chinese companies.
​​​​​​​
The manufacturing sector remains an important part of Malaysia's plan to transform into a digital economy, and essential to the country's Industry 4.0 plan. We are looking at advanced manufacturing sectors, such as automation, optical cognitive manufacturing, and metal 3D printing. We are also paying attention to advanced machinery manufacturing particularly for the healthcare industry, and we have had some success in recent years. These new growth areas could be of interest to Hong Kong and Mainland China. In addition, lifestyle, household and electrical products made by Hong Kong companies are widely welcomed by Malaysian consumers, offering further opportunities for Hong Kong and GBA companies.
Financial services providers in Hong Kong could help Malaysian companies, particularly in the innovation and IT sectors, who are seeking funding from the rich eco-system of venture capital and private equity in Hong Kong. Public listing of IPOs on the Hong Kong Stock Exchange might be an option for the more mature companies. These developments would help strengthen the financial capabilities of Malaysian enterprises as set out in the RMK-12 plan.
​​​​​​​
Sustainability is highlighted in the RMK-12 plan as one of the key themes of the development plan. It is expected that in the next five years, Malaysia will see a nationwide shift to advancing green growth and the circular economy. Consultancy services will be needed, particularly among micro, small and medium enterprises (MSMEs), to help them take advantage of the development of green industry and adopt green practices such as recognised green labelling. There will also be initiatives to accelerate the use of renewable energy and improve water management. Many Hong Kong and Greater Bay Area enterprises with experience in these sectors may find new opportunities in Malaysia.
​​​​​​​
Malaysia can act as a regional headquarters for the expansion of Hong Kong and GBA companies. Hong Kong and Malaysia have strong trade and investment relations as well as strong links in traditions, language and culture. Many Malaysians speak Cantonese, Mandarin and English. In addition, Malaysia is strategically located in the middle of the ASEAN bloc, and has one of the more developed economies and a stable political environment. We also have good infrastructure links, connectivity and government support and strong collaboration with countries in the region. We invite Hong Kong and mainland Chinese companies to consider Malaysia as a regional hub to venture into ASEAN markets, since products manufactured here benefit from the ASEAN FTA. We also welcome companies to set up sales offices in this region, as we are a major importer in sectors, such as advanced equipment, lifestyle products, and electronics.
Sit:
What initiatives are in place to support overseas companies, such as Hong Kong businesses looking to invest and operate in Malaysia?
Ezzwanee:
Foreign direct investment significantly contributes to Malaysia's economic growth. The National Investment Aspirations were set out in 2021 as guiding principles of the New Investment Policy now under formulation, aiming to strengthen Malaysia's productive capabilities, create high-value jobs particularly in growth sectors, improve participation in global value chains, accelerate the formulation of new clusters of high-growth industries and drive inclusive growth.
Malaysia provides a wide range of incentives for foreign investment, depending on the scale and scope of investment and the sector or industries in which the companies invest. For example, companies investing in "promoted activities and products" which cover sectors across manufacturing, agriculture, tourism and other services sectors as well as R&D, training and environmental protection, enjoy tax relief on income tax payments or exemptions on import duty and excise tax. Qualifying companies might be granted Pioneer Status with five-year partial exemption from income tax or an Investment Tax allowance on 60% of qualifying capital expenditure.
Companies seeking to invest in Malaysia are welcome to contact the Malaysian Investment Development Authority for further information and support for setting up in Malaysia.
Sit:
RCEP became effective on 1 January 2022, and the Malaysian Parliament ratified the agreement on 18 March 2022. How do you see the impact of RCEP on Malaysia's trade and investment, and how can Hong Kong businesses benefit from the opportunities it offers?
Ezzwanee:
We are very positive about the opportunities brought by RCEP. RCEP is an opportunity for ASEAN, Oceania and Asia Pacific to work towards a closer economic integration.
An UNCTAD study in 2021 highlighted that Malaysia is expected to benefit from the RCEP agreement through increased trade because of the tariff concession. We are also excited about the opportunities it brings by offering a bigger market for our companies to explore. The RCEP agreement opens us up to a third of the world's population. We can access more raw materials and reach out to a bigger export market. It will help us with the integration of our supply chains, much needed nowadays. It is particularly useful to improve the connection with other countries outside of ASEAN. With RCEP, countries are well-linked and it will be easier for companies to import or export certain products and services.
RCEP also promotes greater transparency and information sharing, facilitates trade and standardises international rules. The standardisation is helpful to Southeast Asia countries hoping to tap into one of the biggest e-commerce markets, China.
Regarding Hong Kong's application to accession to RCEP, we are eager for Hong Kong to join the bloc. As expressed in the joint media statement for the Fifth ASEAN Economic Ministers Hong Kong China consultation hosted last September, Hong Kong is "well placed to add value to this free trade agreement having already established free trade agreements with 13 of the 15 RCEP participating economies." Hong Kong's interest in joining the RCEP is welcomed.
Hong Kong, China and Malaysia have long enjoyed strong trading and business relations. In 2021, Hong Kong was Malaysia's 9th largest trading partner, 5th largest export destination, and 14th largest source of import. The ASEAN-Hong Kong Free Trade Agreement came into full force in 2021, and we are both now benefitting from tariff concessions and the opening up of investment. The RCEP may further help Hong Kong businesses to enter the regional market, especially in the services sectors where Hong Kong has an advantage.
Sit:
What opportunities could the Greater Bay Area (GBA) offer to Malaysia businesses?
Ezzwanee:
The Greater Bay Area (GBA) is a very large area with 80 million population, with great opportunities for Malaysian companies looking for market or collaboration opportunities. We are aware that Innovation and Technology, aviation and logistics, financial services and medical services are some of the key sectors in the Outline Development Plan for the Guangdong-Hong Kong-Macao Greater Bay Area. We look forward to obtaining further information on the sectoral opportunities, allowing Malaysian companies to explore opportunities for further collaboration.
Finance & Investment
Medical Supplies & Medicine
Hong Kong
ASEAN
Southeast Asia
Malaysia