Health tech start-ups have shouldered a heavy responsibility in fighting the COVID-19 pandemic and are now regarded as important engines to promote the sustainable development of the global economy.
The Hong Kong Trade Development Council (HKTDC) and Hang Seng InnoClub recently co-organised the Health Tech Solution Day to support medical start-ups. Eight related Hong Kong start-ups were invited to introduce their products and solutions to potential enterprise users and to explore cooperation opportunities.
One-stop innovation platform

Smilely Lam, Director of Merchandise Trade and Innovation, HKTDC, said InnoClub is a one-stop platform to help Hong Kong small and medium-sized enterprises (SMEs) practice digital transformation and enhance competitiveness. She hopes to drive the sustainable development of Hong Kong's economy through innovation.
"In recent years, many companies have tried to connect with the start-up ecosystem, hoping to deploy each other's strengths to create common value and inject new impetus into the development of the industry. This trend has inspired the HKTDC to launch the Enterprise Connect series. Start-ups and enterprises are provided with a communication platform, where enterprises are encouraged to adopt innovative ideas provided by start-ups to create new businesses or improve operational efficiency, and on the other hand, give start-ups opportunities to apply their new technologies to the commercial level."
She said the InnoClub would continue to organise seminars, Solution Days and networking activities on different themes, giving Hong Kong SMEs the latest market insights to digitalise and innovate.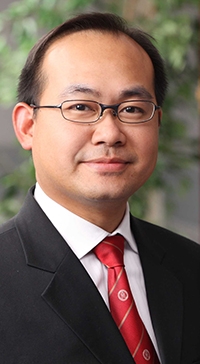 Alex Wong, Head of Sales and Client Coverage, Business Banking, Hang Seng Bank, said that as of early June, more than 200 SMEs had joined InnoClub, further expanding Hong Kong's innovation and technology (I&T) ecosystem.
"In order to more effectively support the development of innovation and technology in Hong Kong, Hang Seng Bank has stepped out of the traditional banking business model," he said. "In addition to providing exclusive InnoClub banking privileges, Hang Seng also acts as a consultant, connecting different enterprises and start-ups, and providing professional operational and financial advice, in order to achieve a win-win for enterprises and banks. This 'Health Tech Solution Day' is the first physical event held by Hang Seng and the HKTDC InnoClub series, which aims to help related SMEs access innovative technologies from start-ups and bring changes to healthcare industry, allowing enterprises to enhance productivity, while improving the quality of medical services in Hong Kong, benefiting more citizens."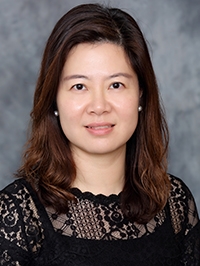 Kim Lay, Head of Digital Banking, Wealth and Personal Banking, Hang Seng Bank, believes health and wealth management are inseparable. Technology helps to build a simpler, healthier lifestyle and brings a lot of convenience to managing financial health. To this end, last year Hang Seng partnered with the Chinese University of Hong Kong Hospital and Quality HealthCare to launch the Olive App mobile application, which combines digital innovation technology and healthcare knowledge to enhance users' healthy lifestyles.
"Olive App has different health-related tasks and users can earn points to redeem rewards through completing them. The app also links health and financial management, where users could consult insurance and Mandatory Provident Fund details, and make comprehensive plans for future financial needs," Ms Lay said.
"In addition, Hang Seng has been a supporter of Hong Kong SMEs and start-up by driving cooperation projects in different fields. For instance, we have partnered with Regal Hotels Group in establishing MetaGreen, a project to develop an ESG-themed plot of "LAND" in The Sandbox. It will be the Sandbox's first green metropolis, where we aim to enhance interaction with the new generation of users, promote eco-friendly choices and encourage a sustainable lifestyle.
Enterprise inspiration
A vast number of Hong Kong companies from different industries attended the Health Tech Solution Day.

Erica So, Manager, Partnership & Business Development, New World Development, said the Hong Kong start-up ecosystem had gradually matured after more than 20 years of development. The transformation had made all walks of life think about how to nurture start-ups.
New World had recently launched Project ALPHA and Impact Kommons, after Eureka Nova, to nurture start-ups by establishing a comprehensive support platform. The former focuses on innovation, especially in pharmaceutical research and development, life sciences and metaverse applications. While the latter would bring together practitioners of green tech from all over the world to achieve sustainable development goals, which chimes with the business of the New World Group and reflects the entrepreneurial spirit of creating shared value.
She also expressed a belief that Hong Kong start-ups were gaining momentum and that supporting resources were enabling the start-up ecosystem to mature, boosting entrepreneurship in the city. She said the InnoClub platform could help start-ups through business matching and promoting their creative and innovative solutions to traditional enterprises.
"I think InnoClub is a very good idea," Ms So said. "Any company and start-up are welcome to join the InnoClub ecosystem for free business matching activities organised by the HKTDC and business consulting services, plus seminars on different themes. Entrepreneurs can inspire each other, discuss the positioning and role of companies in innovation and technology, and achieve a win-win situation for all parties."
Increased exposure

Online medical platform iMeddy was under the incubation programme of the Hong Kong Polytechnic University and has successfully launched their services in 2021. The COVID-19 outbreak brought the start-up an opportunity for development.
Stephen Tsoi, Marketing Director of iMeddy, said: "Before the epidemic, we conducted 30 to 40 online consultations a day, but during the epidemic we handled a daily average of 500 online consultations. In addition to Hong Kong patients, we provide services for people in Mainland China and overseas." Those unable to return to Hong Kong can get online medical consultations as well as drug courier services.
"As a medtech start-up, we most hope to achieve data interconnection and interoperability. I also believe that artificial intelligence will have a breakthrough in the near future.
"This InnoClub solution day that focused on health tech has increased the exposure of start-ups with potential and facilitated exchanges and cooperation between start-ups and traditional large-scale enterprises, adding value to Hong Kong's start-up medical ecosystem. We successfully connected with representatives from InvestHK at the event and arranged a meeting to discuss how to help us open up new markets."
Contactless monitoring
PanopticAI, a Hong Kong healthtech start-up founded in 2020, was a winner of the fourth HKTDC Start-up Express programme. The company is innovating the next-generation camera-based health and wellness monitoring technologies to shape the future of digital health.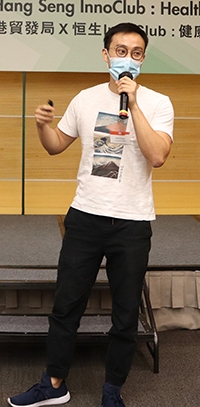 Kyle Wong, CEO & Co-founder of PanopticAI, said the public had become more accepting of online medical services following the COVID-19 outbreak, which has helped their business development. By utilising advanced artificial intelligence and signal processing technology, their current solution can monitor a suite of health indicators such as heart rate, respiration rate, blood pressure, stress level with an off-the-shelf camera. PanopticAI's solution can capture subtle colour change in people's face and body movement.
"Last year, we participated in the HKTDC's ICT Expo and ASGH [Asia Summit on Global Health] and took the lead in showcasing our proprietary contactless health and wellness monitoring technology to the public. Our goal is to be universally trusted as the go-to option by businesses as well as consumers looking to reach their full health potential " Mr Wong said.
The Hong Kong SAR government had always encouraged the development of the I&T industry through the collaboration among the government, industry, academic and research sectors. Mr Wong said the business community had noticed that the power of innovation and technology was a major driving force for encouraging the upgrading and transformation of the industry and promoting long-term economic development. In recent years, enterprises had also proactively launched more support for innovation and technology, leading the rapid development of medtech.
"Although the prospects of healthtech are promising, start-ups often have limited resources and it's challenging to promote new solutions to the market. InnoClub is a platform that allows start-ups to promote new ideas and lay a solid foundation for future business cooperation."
Complementary telecommunications technologies
Dr Chung Ng, Senior Vice President, Technology Strategy and Development, HKT Limited, said the latest 5G communication technology – providing high network speed with low latency (transmission time for a signal) and permits massive IoT connections to enterprises and users – is an indispensable element in promoting the development of I&T.
"Even if we have an outstanding connectivity service, we continue to thrive to add value to our 5G network through technologies, such as providing customers with augmented reality (AR) experiences, or offering seamless gaming experiences. All these require telecommunications technology and new I&T technologies to complement each other."
As the premier telecommunications service provider and industry pioneer in Hong Kong, HKT had been committed to facilitating Hong Kong's digital transformation, including establishing the HKT Startup Ecosystem last year along with Cyberport, HKSTP and start-ups, aiming to accelerate digital transformation and smart city developments in Hong Kong.
Dr Ng pointed out: "The biggest difference between start-ups and traditional enterprises is that they have the courage to show their creativity through action, and our goal of launching the HKT Startup Ecosystem is to allow different parties to complement each other's strengths and weaknesses. For example, it is difficult for start-ups to deploy their limited resources to provide customers with 24-hour support services or overcome all challenges when entering a new market, such as meeting all terms when participating in government projects. Now through this ecosystem, these outstanding start-ups can rely on collaboration with us or our partners, enabling more possibilities."
Dr Ng welcomed the InnoClub: "Take HKT as an example, we are in search of new medtech solutions. Since we have launched the 'DrGo one-stop telemedicine service platform' application, we hope to seek more partners, no matter start-ups or existing enterprises. We are open to collaboration.
"As online medical and video consultation services in Hong Kong are still in their infancy compared with those in Canada or the Nordic countries, the collaboration between enterprises will help to promote digitalisation of medical services in Hong Kong. Through InnoClub, we have met some promising and outstanding start-ups, and we look forward to collaborating in the near future to bring a new medical experience to patients."
Related links
Start-up Express
HK Startup Society
InnoClub
hktdc.com Sourcing
HKTDC Latest Event Arrangement
HKTDC SME Centre