Organised by the Hong Kong Trade Development Council (HKTDC), The 39th HKTDC Hong Kong International Jewellery Show and 9th HKTDC Hong Kong International Diamond, Gem & Pearl Show, running from 1 to 5 March at the Hong Kong Convention and Exhibition Centre, will draw more than 2,500 exhibitors following the end of travel restrictions.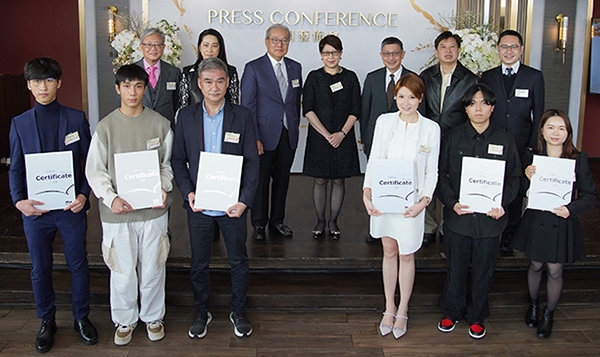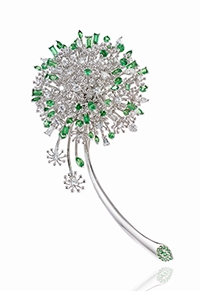 As a curtain-raiser for the twin jewellery shows, the 24th Hong Kong Jewellery Design Competition results have been announced. The competition was jointly organised by the HKTDC, the Hong Kong Jewellers' & Goldsmiths' Association, the Hong Kong Jewellery & Jade Manufacturers Association, the Hong Kong Jewelry Manufacturers' Association and the Diamond Federation of Hong Kong. It promotes local jewellery design excellence, nurtures talent for the industry and showcases Hong Kong-made jewellery to international buyers.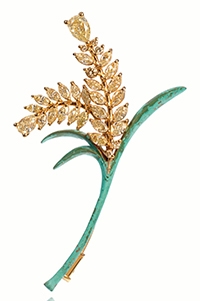 Themed The Origin of Life, the competition included the Open Group and Student Group. Hong Kong design talents were encouraged to create and craft pieces based on culture, upbringing and life experiences. This year's competition received nearly 100 entries.
The winners were chosen by a panel of seven judges based on four criteria – creativity and innovation, aesthetics, craftsmanship and wearability, topic relevance and, for the Open Group, marketability. Winning pieces will be displayed at the Hall 1E Concourse during fair period, letting jewellery buyers and exhibitors appreciate the creativity in Hong Kong's original designs.
Original ideas
Three Best of Show Awards were given out in the Open Category. Tang Yuk-ying clinched the award with her pendant/brooch Dandelion.The Power of Life.
Another Best of Show Award winner was Law Tsz-wan. His design, Rice, pays homage to Yuan Longping, the "father of hybrid rice".
Xu Qihua and her bracelet/necklace design Ocean of Life took home the third Best of Show Award. The design originates from a Greek myth about dolphins guarding oceans.
Boundless creativity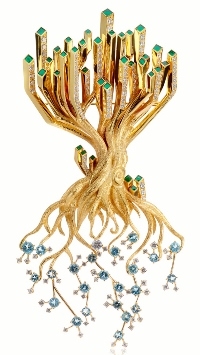 To inspire more young design talents to join the jewellery design profession, the competition includes a Student Group, open to students from Hong Kong's registered schools. Mak Tin-long from the VTC Youth College, championed the Group with the pendant/brooch design Life·Cybercity. Its manufacturing company Chow Tai Fook Jewellery Group Master Studio won Craftsmanship & Technology Award.
The Student Group's First Runner-up was Lee Kwan-ho of the Hong Kong Polytechnic University. His men's jewellery series The Beetles was inspired by the World Tree, a mythical tree of life.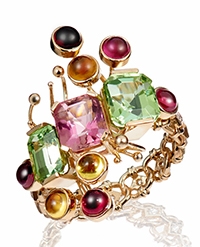 The Second Runner-up of the Student Group was Leung Kwok-yee from The Chinese University of Hong Kong. Her Taoist-inspired ring design The Creation of Entirety uses different materials to represent elements of life.
Global traders move in
More than 2,500 exhibitors will showcase jewellery items and raw materials; in the main picture, artist Tiffany Lau and other models present pieces that will be on display. Various seminars and events will be organised to allow industry players to stay up-to-date and explore further business opportunities. Topics include Bling Up Your Business with Blockchain & NFT, Hong Kong Jewellery Industry Shines over the World, THE JEWELLERY TRENDBOOK 2024+ 'From Consumer Culture to New Market Opportunities', Jewellery Enamelling: The Techniques, Introduction of 'Dealers in Precious Metals and Stones' Registration Regime, Ammolite – A 71 Million-Year Natural Treasure only from Alberta, Canada, Achieving SDG of Jewellery Testing and Certification Industry through Innovative Integration of Industry, Education, Research and Application.
In the run-up to the jewellery shows, Sophia Chong, Deputy Executive Director of the HKTDC, said: "We are happy to see positive feedback from international and mainland business communities on the relaxation of the pandemic prevention policies in Hong Kong. We observed a gradual return of overseas and mainland participants in exhibitions and conference held in January.
"This year, the twin jewellery shows are attracting more than 2,300 exhibitors from 34 countries and regions, with half of them from overseas. The fairs will draw 100 buying missions with more than 10,000 non-local buyers from 70 countries and regions, showing significant increase in both non-local exhibitors and buyers compared to last year. We believe the exhibition industry and international trade will benefit directly from full relaxation of quarantine measures later this year."
Group pavilions
The twin shows will feature 20 group pavilions including those from Mainland China, Taiwan, Japan, Korea, Singapore, Sri Lanka, Thailand, India, Turkiye, Israel, Germany, Italy, Belgium, Brazil, Colombia, the United States and others.
A number of jewellery associations will return to the fairs and show support, such as the Asia Pacific Creator Association, International Coloured Gems Association, Tanzanite Foundation, and the Hong Kong Jewellery & Jade Manufacturers Association which organises T-GOLD+METS pavilion with Italian Exhibition Group and many more. The overwhelming response proves Hong Kong is an attractive platform for international companies.
The shows will run under the EXHIBITION+ physical-online hybrid model, which includes HKTDC-organised physical fairs, the smart business-matching platform Click2Match, online-to-offline seminars under the Intelligence Hub and the hktdc.com sourcing platform.
This extends face-to-face interactions from physical exhibitions to an online, smart business-matching platform to help enterprises proactively connect with business partners. The Click2Match platform for the two fairs will be accessible from 1-12 March 2023, letting exhibitors and buyers continue conducting business discussions online after the physical shows.
Related links
HKTDC Hong Kong International Jewellery Show
HKTDC Hong Kong International Diamond, Gem & Pearl Show