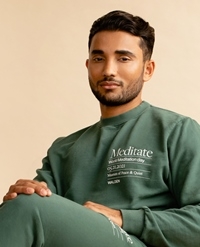 In a fraught world, nearly four in 10 adults said they had experienced worry (40%) or stress (40%) according to last year's Gallup Global Emotions Report. The United Nations has warned that a global mental health crisis is looming as economic turmoil, isolation and uncertainty all contribute to psychological distress. In Hong Kong, 61% of adults suffer from poor mental well-being according to a recent study by mental health charity MIND. The same study found that 60% of Hongkongers do not know where to seek help regarding mental health issues other than hospitals, and 74% of mental health sufferers do not seek any form of professional treatment.
Start-up Mindish hopes to remove the stigma attached to therapy with a modern twist on mental health services that embraces a hospitality-informed approach. At its studio in the Central district of Hong Kong, which opened last month, customers can access integrated therapy and daily meditation practices, with each member's journey overseen by their own Personal Growth Manager, says Mindish founder Hasanal Lythgoe-Zafrullah. Born in Hong Kong and raised in Hong Kong and the United Kingdom, and of both British and Sri Lankan heritage, he was inspired to set up the business after going on his own journey to better mental health.
What led you to set up Mindish?
I burnt out massively three years ago, ended up in a counsellor's office, and realised I could grow and change. In a couple of years, I made huge shifts but had to eat well, sleep on time, go to the gym and make better decisions around alcohol. I realised that everything is connected, and mental health is health. You go to the gym to feel good about your body, so why not put in the same effort to feel good about your mind?
How did you develop the concept?
About 18 months ago, I quit my job and the Mindish model began to evolve. For about a year, I ran focus groups to understand the pain points [people are facing] and researched how to create a concept that's radically consumer-centric. How could we develop a mental health concept in a city that's so image conscious? When people see a therapist here, it's very discreet and I wondered how we could be more community oriented. It was about achieving the functionality of a clinic without looking like one. We've created a space that doesn't look like a therapy office at all. The concept feels modern, but it also has an old school hospitality twist. Our front of house staff are hotel trained and they note details like if a client has a favourite drink.
In terms of the therapeutic approach, Mindish focuses on how therapy must go beyond levitating misery: so long as we keep running this crisis-based narrative, we'll never progress. We want people to take a therapeutic approach to health and happiness. Mindish is like a gym for your mind.
How does membership work?
It's an all-inclusive membership [that gives access] to integrated therapy, meditation classes, events and workshops. What we sell is therapy, and everything else is complementary. People pay for the number of sessions they need, then the meditation sessions, our book clubs and so on are free. Our Personal Growth Managers, who are trained psychologists, triage members and examine their circumstances and goals. It's a bit like having a relationship manager at a bank, and members have a single point of contact. We may recommend members see a counsellor, life coach or hypnotherapist. Some therapists are fun, while others are sterner. It's important to get the chemistry right between members and their Personal Growth Manager.
You say it is impossible to measure progress; how do you gauge how members are reacting to therapy?
The first thing is to set a goal with members in the first two weeks. For example, if they want to quit smoking, we may initially get them to cut down from 15 to three cigarettes a day. So, there will be one overarching goal and a series of mini goals. We have a 12-week programme and, by week two, we want to know that members trust their therapist.
What wellness trends do you notice in Hong Kong?
More and more people are talking about therapy and working with a coach or therapist. It's not mass market yet, but it is happening, particularly for those from an affluent socio-economic background and within the city's English-speaking community. As for things like crystals and candles, there's growing apprehension, as lighting a candle is not going to fix deep-rooted trauma. Everything we do is evidence-based.
What do you like about doing business in Hong Kong?
I love the opportunities. Hong Kong is one of the few places in the world where this hustling culture still thrives, and I love the efficiency and ease of doing business here. While Mindish is self-funded, I know that you can raise capital easily and efficiently here, too. I put in a sizeable investment and that's testament to my commitment to the brand. Investors value that, as most people take that risk with other people's money. Now, we have private investors coming to us.
Could this concept work overseas?
Yes – New York is slated for later this year, and we think the concept will take off quickly there. We also hope to launch in Singapore soon. We've applied for trademarks in around 50 countries so far and paid a domain fee for the Mindish brand, as we want to own everything. We've applied for trademarks in Mainland China, the United States and Canada among others, and in three to five years we aim to have a presence in 30 locations. For Mainland China, the positioning will be a bit different. But ultimately, we believe that human connection is the answer to burnout, and it's about community care not self-care.
How does Hong Kong fit into the brand's long-term plans?
I want Hong Kong to be our operational HQ. The city is very strategic for us.
What are your hopes for the Hong Kong studio this year?
We have the capacity for 400 members and would like to hit that by the end of year. By mid-year, we want to reach 50% capacity.
Related link
mindish