New Zealand is known as the world's "last pure land" . In addition to beautiful scenery with mountains, lakes, glaciers and fjords, the islands also offer the purest pollution-free spring water.
A group of Hong Kong entrepreneurs saw this an opportunity, bought a bottling plant near a water source – The Blue Spring in the North Island of New Zealand and starting deliveries of Waiz bottled spring water directly from the origin to many different Asia countries. The Hong Kong Trade Development Council (HKTDC) played an important role in helping the company make a move into the consumer market in Mainland China.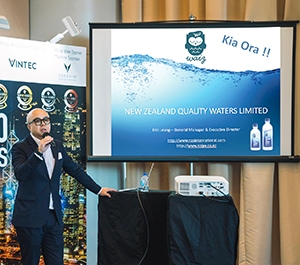 The 2016 Stephen Chow movie The Mermaid – which became the first mainland film to exceed 3 billion yuan (US$439 million) in box-office takings –repeatedly emphasised that "if there is no drop of clean water and a breath of fresh air, what's the use of having money?" – a theme that resonated with the audience.
The same sentiment is shared by Eric Leung, Executive Director of NZO International Ltd, which produces Waiz. He acknowledged that tap water quality in Hong Kong is superior among lots of other Asian countries, but "if you boil it and drink it without filtering, it may have a strong taste because all the old piping in the buildings. Like myself, many Hong Kong people are very concerned about the quality of drinking water, so Waiz bottled water meets their needs," Mr Leung said.
Double filtration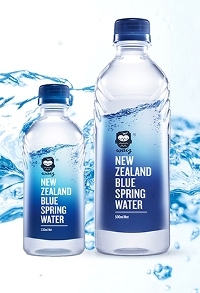 Explaining the product name, Mr Leung said wai means water in Maori, and the brand name Waiz is pronounced "wise" – relating to being a wise choice. Waiz water comes from the Blue Spring in the Te Waihou River in Putaruru, that lies between Hamilton and Rotorua on New Zealand's North Island.
"Pure rain falls on the rainforest of the Mamakau-Kaimai Mountains, passes through several layers of natural filters formed by volcanic rocks, and slowly settles into an underground aquifer 50 to 100 years later. From the spring, it is poured back through the ground for a second filtration, becoming the Blue Spring," Mr Leung said.
The municipal council granted the company a Blue Spring water pumping licence for more than 40 years, with a quota of up to 251 million litres annually, accounting for about 1% of flow volume.
"New Zealand's annual rainfall is very high, and we also strictly abide by production regulations. At present, only about 50 million litres are extracted each year to ensure long-term water supply," Mr Leung said.
He explained that the water source is located in a volcanic area and the land is fertile, so the spring water contains a variety of minerals. They include silica, which is said to help repair skin, hair and nails, along with potassium, calcium and magnesium, which are good for cardiovascular, nerve cell, and muscle health.
"Compared with ordinary mineral water, Waiz spring water has less total mineral content, and is soft water. Its pH value is about 6.7-7.0. The texture is smoother and the taste slightly sweeter."
Consumer demand
Mr Leung believes the Asian market has great potential for development and is confident the company's sales will double in the short term. Waiz is already on sale in Singapore, Thailand, Taiwan and other places, with Singapore showing a particularly strong sales performance.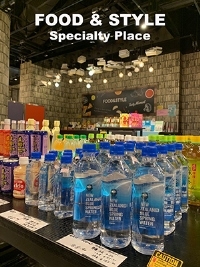 "Singaporeans are accustomed to drinking bottled water, and the products are available in more than 50 local Buzz convenience stores, located in major train stations and MRT [commuter rail] stations, which has contributed to the high sales," he said.
Hong Kong sales have been lagging slightly, partly as a result of the COVID-19 pandemic. "In the middle of the previous year, we introduced our products to the Hong Kong market. It happened to coincide with the peak of the epidemic, and physical retail stores were reluctant to introduce new brands. Therefore, we mainly sold our products on online platforms such as HKTV Mall and Big Big Shop," Mr Leung said.
As the pandemic situation gradually stabilised, Waiz expanded its retail network and has started selling its water in other outlets such as cafes and selected gourmet shops.
Mainland launch
Mr Leung said he had always intended to enter the massive mainland market but there were difficulties. "We even have a problem with sending goods to partners in the mainland who are interested in cooperation, because SF Express cannot deliver packages with liquids," he explained.
Fortunately, the HKTDC T-box transformation team had a recommendation, referring Waiz to the Online Design Gallery at JD International, helping the firm take its first step to expanding into the mainland domestic market.
"It took less than a month and a half from the mid-April enquiry to the listing on JD.com at the end of May. The HKTDC was really efficient," Mr Leung said. "Even without much publicity or promotion, we have received client orders from Guangdong within two weeks. The order came from the province, and the bottled water has been successfully delivered. This is really a good start."
Later, the company will study how to be effective in online promotion or use live broadcast methods to let more mainland consumers know about its brand.
Guangdong springboard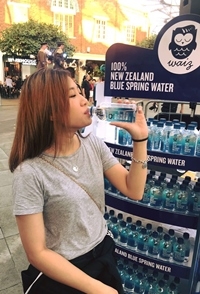 Mr Leung also intends to use the HKTDC to further promote the brand, especially by participating in marketing activities targeting consumers in Guangdong Province. "The mainland market is huge. It's actually very good to do a good job in Guangdong first," he said.
The Waiz product has a mid-range price, with 330ml bottles selling at Rmb6 (US$0.88) to Rmb7, which is slightly higher than the price point of mainland brands but a little lower than other internationally renowned brands.
"We hope to adopt a strategy of small profits but quick turnover, and we are confident that consumers will come back and buy again after tasting their first bottle of Blue Spring water."
Looking to the future, Mr Leung hopes Hong Kong and the mainland can lift cross-border travel restrictions as soon as possible.
"It is difficult to negotiate cooperation with potential partners who have never met over the phone. After travel restrictions to be released, I will immediately go to the mainland to discuss agency distribution with the partners in detail," he said. He also plans to go to the New Zealand plant to implement the launch of new products, including sparkling spring water in aluminium or glass bottles.
T-box support
To help Hong Kong enterprises transform and explore opportunities, HKTDC launched the T-box transformation programme (T-box) based on the sandbox concept, providing business consulting, workshops, government funding, market information and exchange opportunities to help Hong Kong entrepreneurs enterprises grasp the latest market trends, improve skills and expand business networks.
The programme has been well received since its launch, with more than 2,300 Hong Kong companies participating and over 600 free consultations provided by professional organisations, representatives of chambers of commerce, business partners and HKTDC overseas offices. See more details and make an appointment with a T-box specialist.

JD International
Online Design Gallery at JD International, a cross border ecommerce platform, covers 14 major product categories – including nourishing food supplements and health products, personal care and beauty products, small household appliances, 3C [computer, communications and consumer] electronic products, household products, gifts and cultural and creative products, fashion clothing, handbags, fashion accessories, watches, pet supplies, sports and outdoor products, toys and baby clothing and supplies.
SMEs can participate in the Online Design Gallery at JD International as long as they have a Hong Kong company business registration and local US dollar bank account, as well as a Hong Kong or overseas trademark registration and product quality inspection certificate. SMEs do not need to register companies in the mainland, issue VAT invoices or hold mainland bank accounts to participate, and nor do they need to hold mainland trademark registrations and product quality inspection certificates.
After receiving orders from mainland consumers, SMEs need only to ship the products from Hong Kong and receive payment in US dollars in Hong Kong after the entire transaction process is completed, while Hong Kong companies pay relatively few related taxes, which greatly reduces paperwork and operating costs.
For more details, please contact the HKTDC Design Gallery team – email operation_hkdg@hktdc.org, phone 2240 5621 or send a WhatsApp message to 5344 2957.
Related link
NZO