Following three years of COVID-19 outbreaks and control measures, the disease and its prevention remain a key concern for businesses in the Guangdong-Hong Kong-Macao Greater Bay Area.Results of the Standard Chartered Greater Bay Area Business Climate Index (GBAI) for the fourth quarter of last year, released on Wednesday, indicate that concerns over the issue remain as fears over the effects of the disease outbreak displace worries over the effects of control measures.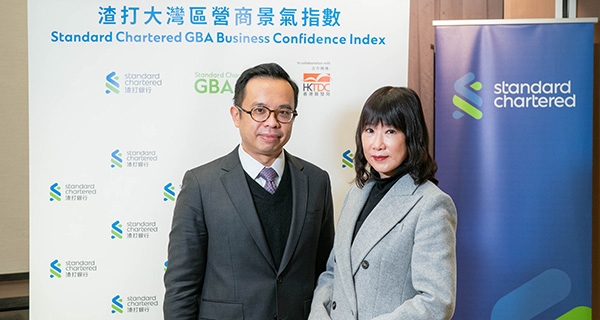 Positive impact missed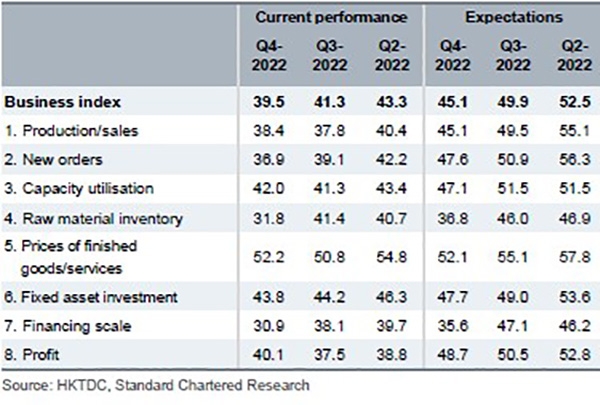 The Business Activity Status Index was 39.5, and the Business Activity Expectation Index was 45.1. The joint Standard Chartered Bank and the Hong Kong Trade Development Council (HKTDC) survey was conducted from late October to early last month. The results did not fully reflect the positive impact of the recent adjustment of epidemic prevention and control measures in Mainland China and Hong Kong and resumption of quarantine-free travel. However, with these positive factors gradually emerging, GBAI is expected to rebound sharply in the first half of this year.
Among the 11 GBA cities, Hong Kong performed best in both the Current Situation Index and Expectations Index, with the Expectations Index rising to 48.4 for two consecutive quarters. In terms of industries, Innovation and Technology saw the largest increase, with the current and expected sub-indices rising 2.9 points and 3.8 points quarter-on-quarter respectively; Retail and Wholesale also showed strong resilience, with the two sub-indices rising 0.9 points and 1.1 points.
Looking ahead, recent policy adjustments in the mainland, such as relaxing epidemic prevention and control measures and supporting the development of the real-estate market, will help release pent-up demand and household savings accumulated in the mainland in recent years. Therefore, in the second half of this year, consumption may drive a strong economic rebound.
Mobility index
Kelvin Lau, Senior Economist, Greater China, Standard Chartered Hong Kong, said: "Since Mainland China began to significantly relax the epidemic prevention measures at the end of last year, the number of infections has risen rapidly, which will inevitably affect short-term production and consumption activities. However, we expect that after the peak period of infections is over, economic activities will rebound quickly. The mobility index of the major mainland cities in the GBA (Shenzhen and Guangzhou) is currently bottoming out, and the recent resumption of quarantine-free customs clearance in the mainland and Hong Kong will help strengthen the business confidence of enterprises in the GBA. The economy is expected to improve significantly in the second half of the year."
"Border reopening facilitates flow of people and goods between Hong Kong and the mainland, which helps promote the city's exports growth and revive its economy," said Irina Fan, Director of Research, HKTDC. She expected Hong Kong exports will rebound 5% this year and significant export growth will be seen from the second quarter. "With a basket of favourable factors, we are confident that the GBAI will show an upward trend in the coming quarter."
Related link
Standard Chartered GBAI