The T-Box gathering drew a number of Hong Kong SMEs
India's rapid economic growth and youthful demographics have boosted industrial innovation and consumption. In 2021, India was Hong Kong's eighth-largest trading partner, the sixth largest economy in the world and ranked second in terms of population.
As part of its T-Box Transformation Sandbox programme , the Hong Kong Trade Development Council (HKTDC) arranged for Hong Kong SMEs from diverse sectors to meet the Indian Consul General Satwant Khanalia and other Consulate representatives as well as Indian business leaders.
It was an opportunity for Hong Kong SMEs to better understand the latest market developments as well as business and investment opportunities across different sectors in India.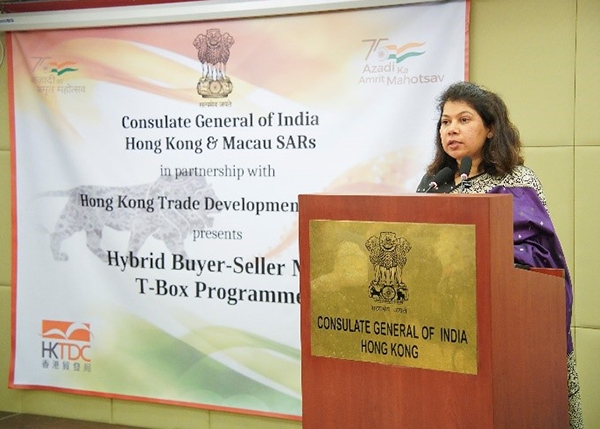 In recent years, India has been driven by population, infrastructure development, digital economy and business friendly policy environment.
Dr Patrick Lau, Deputy Executive Director of the HKTDC, said in his speech that the HKTDC had noticed a significant increase in the number of exhibitors and buyers from India in recent years, with the most obvious increases in jewellery and electronics products exhibitions. The largest slice of exports also came from these two sectors. Hong Kong and India are also home to many start-ups, including fintech, healthtech and greentech, with many potential cooperation opportunities.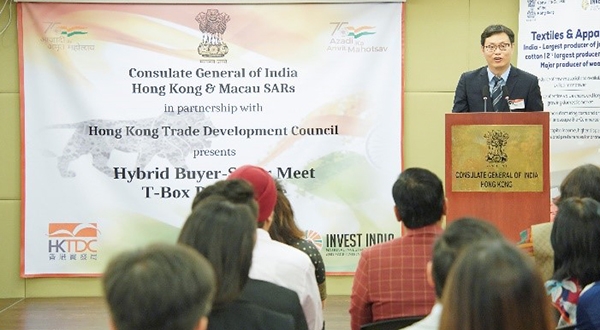 Renjina Mary Varghese, Consul (Commercial) of India in Hong Kong, introduced India's seven key industries – vehicle-making, food production and processing, gems and jewellery, electronics, medical equipment, renewable energy, and jute and cotton.
Participant Kat Lai, Founder of local aromatherapy brand DR Aromatherapy, said they would launch a high-end aromatherapy projects at the end of this year, specifically customising aromatherapy products for five-star hotels, and was negotiating with buyers. The firm operates in Hong Kong and the Philippines and is looking to enter many Asian countries.
"I think T-box's arrangement is good. Since the Indian market is huge and there are many high-end hotels, this event has established a network for us, which will help the future development of the brand. These connections are especially important for small and medium-sized enterprises."
Chee Ko, Design Director of RMJM Red, who is engaged in architectural design, said the architectural company designed the Kolkata Airport in India more than 10 years ago and won an award in an airport design competition. In recent years, it has focused on projects in Mainland China and participated in much R&D work.
Brenda Ye, Executive Director of RMJM, said India's construction industry had developed steadily in recent years and there were local innovative industries. She believed there was also demand for various innovation park R&D projects and other comprehensive development projects and cultural and municipal projects. She hoped to use relevant experiences in developing the Indian market.
She hoped that this event organised by the HKTDC will increase the firm's grasp of the Indian market, helping them explore opportunities there.
To help Hong Kong enterprises transform their business and open up new opportunities, the HKTDC launched the Transformation Sandbox (T-box) programme , which provides business consultations, workshops, government funding, market information and exchange opportunities for Hong Kong businesses, helping them grasp trends, enhance skills and expand their business networks.
Since its launch, the programme has helped more than 3,400 Hong Kong enterprises, arranging over 1,000 free consultations provided by professional organisations, chambers of commerce, business partners and HKTDC overseas offices.