As the shift to vegetarian diets becomes more deeply rooted in Hong Kong, local start-ups are seizing the opportunity to develop new food technologies. Hong Kong start-up Good Food Technologies has developed a plant-based pork substitute made from konjac (a root vegetable widely cultivated in Asia), coconut oil and soyabeans. The firm's first round of financing attracted HK$12 million (US$1.53 million) which will be used to build new production facilities, develop retail capabilities and grow beyond Hong Kong.
Range of delicacies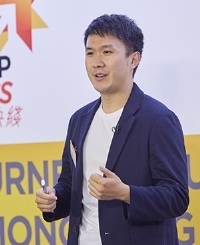 One of the winners of the Hong Kong Trade Development Council's (HKTDC) Start-up Express entrepreneurship development programme, Good Food Technologies will take part in the HKTDC Food Expo which runs from 11 to 14 August. The start-up will promote a range of vegetarian pork and frozen Chinese delicacies under its Plant Sifu brand, including vegetarian dim sum items such as dumplings and siu mai.
Between 2018 and 2022, the proportion of Hong Kong people following at least partially vegetarian diets jumped from 24% to 34% – some 2.4 million people. This large and growing consumer base has drawn many foreign plant-based-meat brands to the city, such as Beyond Meat and Impossible Foods.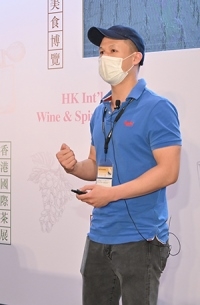 Noting that most of the foreign brands offered beef and chicken substitutes, Good Food Technologies co-founders Dr Andrew Leung and Joshua Ng made a seven-figure investment in their research and development of plant-based pork, establishing Hong Kong's first plant-based meat firm in 2020.
They partner with an established F&B group to utilize idle factory space in the Tai Po Industrial Estate, manufacturing vegetarian pork especially suitable for dim sum items on an OEM basis. The products mainly target restaurants and food vendors, example customers include Disneyland, Ocean Park, Hyatt, and various Chinese restaurants.
Healthy alternative
Dr Leung, who oversees R&D and production, said: "Our AromaxTM technology uses low-temperature emulsification, high-temperature coagulation and high-speed pulversization technology to recreate the aroma and texture of fatty pork with ingredients such as konjac and coconut oil, and lock in the flavours and oils. The soft, translucent appearance is similar to animal fat; and lean pork is made from high-quality non-genetically modified soyabeans, seasoned with natural plant-based flavours and yeast extracts, and does not contain any MSG, colouring, preservatives, hormones and antibiotics. The product is lower in calories and fat, making it a viable alternative to regular meat."
Good Food Technologies' first core innovation is in plant-based pork fat. By mixing different types of plant-based meat and fat, it imitates the texture of different cuts of pork, making it more suitable for Chinese cooking than similar products on the market.
Dr Leung said that Chinese dishes are mostly made of pork, and "lard is the soul". "A good number of Chinese dishes are steamed, stewed and boiled. Aromax makes it easier to maintain the shape of plant-based meat, which not only improves texture, but also increases juiciness and makes the meat more tender and delicious," he explained.
Funding drive
The global meat substitute industry has bright prospects and is expected to be worth more than US$20 billion by 2025. It has high development potential and is attracting greater attention from investors. In March this year, Good Food Technologies closed an oversubscribed seed round, receiving HK$12 million (US$1.53 million) of investment from Gobi Partners, Lever China, DayDayCook and Brinc.
"The new funds will be used to develop our retail business and build production pilots in the Greater Bay Area," Mr Ng said. "In the next two years we will conduct Series A financing, hoping to launch more new products such as sausages and hams. The products will provide a new option to traditional unhealthy processed foods, and we will expand business to international markets. I believe these markets have a certain demand for Chinese-style plant-based-meat products."
Blue ocean market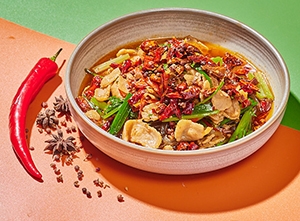 Plant Sifu products now include minced meat, fatty ground meat, sliced lean meat, as well as vegetarian pork siu mai and dumplings, to meet the different needs of restaurants and homes. The products are available offline and online through outlets such as Greendotdot and HKTVMall, and the company is negotiating to launch in large retail chains.
The product is priced competitively vs animal products, Mr Ng said. "Moving forward, we anticipate our products will not only be placed in the vegetarian section of supermarkets but also the section of traditional dumplings, dim sum and other Chinese foods, opening up blue-ocean markets."
Favourite start-up
Good Food Technologies was a finalist in the fifth edition of Start-up Express earlier this year. In addition to being one of the 10 winners, Good Food Technologies was also voted "My Favourite Start-up" by the audience. Supported by the HKTDC, the company will take part in a series of local and overseas activities, focusing on expanding its market, building contacts, increasing exposure and finding new partners.
These activities include the HKTDC Food Expo, which is being held at the Hong Kong Convention and Exhibition Centre from August 11 to 15, where the company will promote its plant-based pork products directly to consumers. Good Food Technologies will also use the Click2Match platform to book business matching meetings and negotiate with global buyers.
Related links
HKTDC Food Expo
Start-up Express
Good Food Technologies