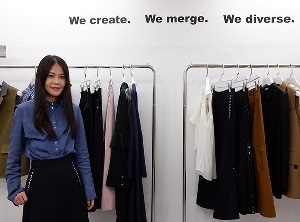 When budding Hong Kong fashion designer Charlotte Ng met three fellow creatives at an industry event, little did she know the chance encounter would result in a business partnership.
Last year, the quartet opened a joint-venture boutique at the upmarket Harbour City shopping arcade in the Tsim Sha Tsui commercial district, targeting the Hong Kong market after the COVID-19 pandemic cut overseas orders.
Pooling and sharing resources in the venture has led to cost savings and yielded good results. "Business has been better than expected," Ms Ng said.
The fashionista was the second runner-up and Best Footwear Design Award winner at the Hong Kong Young Fashion Designers' Contest (YDC) 2018, organised by the Hong Kong Trade Development Council (HKTDC) to promote a new generation of design talent.
Riding on the success, she established the Charlotte Ng Studio label the following year. The Hong Kong Polytechnic University fashion design graduate had already worked for international labels for more than 10 years.
Birds of a feather
The four partners share much in common. All of them are young female designers specialising in womenswear and members of the HKTDC-powered online platform FASHIONALLY, which showcases the work of Hong Kong labels and talents and connects them to global industry players and opportunities.
Having met at a FASHIONALLY pop-up fashion event at the Hysan Place shopping centre in the Causeway Bay shopping district, the like-minded creatives later became friends. From time to time, they discussed the way forward for Hong Kong's fashion industry,
"As we are unable to participate in overseas trade shows now, we must find a way out if we want to stay in the business. We discussed this and came up with the idea of working together to set up a physical store," Ms Ng said.
Faced with high rents for retail space, they decided to use a joint-venture model. Ms Ng highlighted the importance of cooperation between industry players.
"We agreed that Hong Kong's fashion industry won't succeed because of the rise of a certain brand. For our industry to succeed, we must pull together," she said.
"Take Korea as an example. The success of its fashion industry is not attributable to any single brand. The country's designs have started attracting attention because they are generally up to a certain standard."
Rising to the challenge
To cut operating costs, they take turns working as salespeople themselves.
"It's a fresh experience! We can take the opportunity to explain our brand concepts to customers, or share our industry knowledge such as the mass production of fast fashion and small-batch production of independent brands," Ms Ng enthused.
She believes physical stores can boost consumer confidence in brands.
"Our prices are not exactly low, and it'd be a bit much for us to expect customers to pay several thousand renminbi online for clothes from a new brand," she explained.
A physical store allowing in-person fittings can help convince patrons that Hong Kong fashion is not inferior to international brands, she added.
The enthusiastic response to the store since opening has proved her right.
"Generally speaking, the physical store helps increase consumers' confidence in my works. And many customers who learnt about my brand at last year's CENTRESTAGE show also come and visit the physical store," Ms Ng said.
Goldfish collection debuts swimmingly

CENTRESTAGE is a major Asian fashion showcase organised by the HKTDC. At the September 2021 edition, Ms Ng showcased her latest collection, which featured a goldfish theme inspired by a painting she had chanced upon. The story linked to the goldfish picture by a Japanese artist moved the designer deeply.
"The artist was experiencing a low point in his career and facing unemployment. One day, he saw his family's goldfish swimming in turbid water. This reminded him of his struggle to survive. So he started drawing goldfish," Ms Ng recounted.
Seeing the vivid painting, Ms Ng thought of her own creations. "Many people regard clothes as lifeless objects, but when I design each piece, I hope to give it meaning," she said.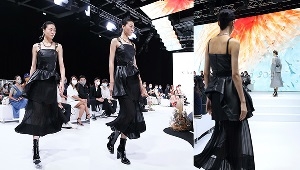 She added many unique details to her collection, drawing on the shape and movement of a swimming goldfish - "such as their beautiful swaying tails", explained the designer. "For these, I used a lot of pleated fabrics, coupled with some sturdy materials such as leather."

In line with the goldfish theme, when the collection debuted at a CENTRESTAGE runway show, the catwalk model carried a bag of goldfish, adding a sense of theatre. The designer received orders at the show.
"When I debuted at CENTRESTAGE I met my first customer from France. Earlier, I met her online again and she was even more interested in placing an order this time," Ms Ng said.
Learning curve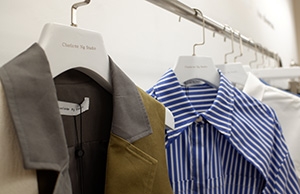 Every fashion designer dreams of launching a unique label but there are myriad challenges. Ms Ng knows this only too well.
Taking several hundred thousand Hong Kong dollars from her savings and capitalising on many years' experience as a fashion designer, she set up her brand in 2019. She thought she was well equipped, only to realise there was a gap between reality and expectations.
"It turned out that running a brand required dealing with many things that were beyond my knowledge," she said.
"For example, when delivering goods to France to fulfill the first order I had received, I had to take care of everything myself, be it customs declaration or quotation.
"Having had such a hard time sorting out all these complicated matters, however, the consignment was lost in the end! Can you imagine how despondent I was?" she continued.
As it transpired, a strike had delayed the delivery and the consignment reached the buyer eventually.
The incident taught her that running a brand is different from designing.
"Previously, being just a designer I only needed to draw pictures every day, do presentations and carry out continuous promotion. But running a brand involves handling many other matters," she said.
"However, no matter how complicated this is and how many problems there are, it's all worthwhile as long as designers [running the label] love design and are able to create freely, based on their own ideas."
HKTDC support
Since establishing her label, Ms Ng has picked up a range of business skills, including logistics, pricing and publicity. She advised designers stuck on the way to building a brand to seek help.
"Designers can seek assistance through many channels, such as HKTDC fashion events. Their teams can help handle all matters, big and small, related to the shows in order that we can focus more on design itself."
On the complex path to establishing and running Charlotte Ng Studio, the designer has experienced many unexpected firsts, including opening a physical store.
"While many things may be outside of my control, I will persevere, because I have learnt so much. These past few years of my life has really been wonderful!" she smiled.
Related links
Charlotte Ng Studio
CENTRESTAGE
FASHIONALLY
Hong Kong Young Fashion Designers' Contest