The lockdowns in the Yangtze River Delta region during the April COVID-19 outbreak put a damper on economic activity and, inevitably, impacted many of the activities of Hong Kong investors in the region. With the pandemic situation in the region gradually stabilising, Shanghai has initiated a phased resumption of business activities, while the municipal government has looked to introduce additional measures aimed at preventing future infection clusters, bolstering enterprises and promoting the region's overall development.
Policy measures
In total, 21 policy measures are being applied across six areas, with guidelines issued to help any enterprise looking to resume business activity. The six areas designated as priorities are providing subsidies for any pandemic prevention and control‑related expenses; easing financial burdens on businesses by strengthening financial support; assisting enterprises in stabilising employment levels; revitalising the hardest‑hit industries; and maintaining an orderly resumption of both production and a more normal way of life.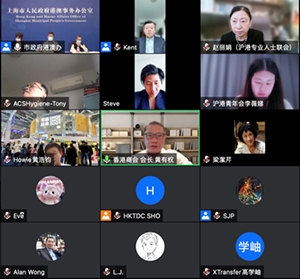 To help meet many of these goals, on 19 May, the Shanghai Municipal Commission of Commerce joined with the Hong Kong and Macao Affairs Office of Shanghai, the Hong Kong Trade Development Council (HKTDC), and a number of other organisations to jointly host an online policy briefing for Hong Kong‑backed businesses looking to resume activity in Shanghai. The focus was on providing updates on the pandemic relief policies introduced by Shanghai's municipal government in support of small and medium‑sized enterprises (SMEs).
During the briefing, Zhu Yi, Deputy Director of the Shanghai Municipal Commission of Commerce, noted that Hong Kong had long been Shanghai's largest source of external investment as well as a major destination for outward investment.
In line with this, she said the commission would continue to assist any Hong Kong‑backed businesses operating in the city while particularly looking to resolve any problems related to the resumption of commercial activity. Furthermore, a dedicated team had been assigned to assist Hong Kong firms, while plans are in place to introduce more Shanghai‑Hong Kong exchanges and facilitate greater supply chain integration between the two regions.
Later in the seminar, other commission members provided details of the application procedures for pandemic relief. They also provided information relating to practicalities such as vehicle traffic and employee entrance and exit arrangements, customs clearance procedures at airports and ports, and the resumption of work at many of the city's warehouses and R&D centres.
Business concerns
For his part, Kent Lyu, HKTDC's Regional Director for Eastern and Central China, shared the findings of two surveys jointly conducted with the Hong Kong Chamber of Commerce in Shanghai regarding the concerns of Hong Kong‑backed businesses active in the city. The survey findings, he said, had also been submitted to the relevant departments in Shanghai, which had already taken steps to act on them.
In addition, Mr Lyu said the HKTDC was looking to deepen its cooperation with various mainland and Hong Kong bodies as it sought to offer greater support to Hong Kong and Shanghai businesses and promote the deeper integration of their ecosystems.
Expanding on the findings of the most recent survey, which was conducted in late April, Mr Lyu said participants had been specifically asked to estimate the impact of the latest COVID outbreak on their businesses.
Overall, some 80% of respondents acknowledged they had been negatively affected a certain degree, with the most serious consequences relating to workforces being locked down, sharply declining revenues, and cash flow issues when it came to meeting rent, salaries and bank loan repayment obligations. Taken together, it was noted that these factors had weakened business confidence somewhat, with some Hongkongers even leaving Shanghai as a consequence.
Related link
HKTDC Research