Interest in healthcare and medical developments continues to grow, as economies worldwide recover from the COVID-19 crisis. Market leaders and industry players again congregated at the HKTDC Hong Kong International Medical and Healthcare Fair showcasing medical trends and innovations. Now in its 13th edition, the fair continued to draw an international crowd, including representatives from the Consulates General of Canada, Czech Republic, Israel, and the United States. The physical-online hybrid format, in which the event was conducted, encouraged both on-site and online interactions.
For healthcare professionals eager to expand into Mainland China, this year's programme did not disappoint. The much anticipated HKMHDIA MedTech Forum 2022, organised by the Hong Kong Medical and Healthcare Device Industries Association (HKMHDIA), focused firmly on opportunities in the Guangzhou-Hong Kong-Macao Greater Bay Area (GBA).
GBA in good shape for MedTech
Guest speaker Wang Yi, Deputy Directorof the Foreign Investment Promotion Division at the Department of Commerce of Guangdong Province, reiterated the mainland government's unwavering commitment and support to drive growth in the GBA. The official said the GBA's GDP reached RMB12.6 trillion (US$1.76 trillion) last year. That was 11% of the national GDP, making the region a vital economic powerhouse.
The private sector also endorsed the region – Cary Wu, Partner and Leader of Health Connect of EY Greater Bay Area Centre at EY – shared her optimism on GBA growth. In her presentation, she noted the GBA's population was younger than Mainland China's average. Most importantly, the population was still growing. By 2030, it was estimated the GBA's population would reach 100 million from the current 87 million. Unsurprisingly, Ms Wu expects the Internet of Medical Things (IoMT) to gain momentum because of reduced inter-person interactions brought on by the pandemic.
Joseph Fung, Managing Partner at Saltagen Ventures, believes precision medicine has great potential in the next five to 10 years. He described precision medicine as "a convergence of technology, convergence of data, convergence of different skill sets, anywhere from wet-labs training to data analytics" in which the GBA could have a transformative impact. As a trade representative appointed by Canadian Prime Minister Justin Trudeau to represent Canada in the Asia-Pacific Economic Cooperation forum, Mr Fung has been closely watching this region. Despite global market volatility and increasing interest rates, he is positive that "Asia is a growing market no matter what, [with] higher spending power in all context" and urged start-ups to "figure out and be part of that ecosystem".
GBA opportunity gateway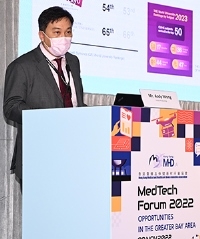 Navigating trends and markets may be tricky and overwhelming for those outside the region, but Hong Kong is in a strategic location for MedTech developments in the GBA and the local government is keen to maximise its potential. As Andy Wong, Head of Innovation and Technology at Invest Hong Kong, explained: "we are not just standing still, we are moving forward". He referenced the Northern Metropolis plan of developing districts near the mainland border, which "covers one-third of the land mass of Hong Kong with the great opportunity to integrate with Shenzhen".
Tapping into the GBA market also demands in-depth knowledge on different rules and regulations between cities. This was addressed in greater detail at a session titled "Practices for Accessing MedTech Market in the Greater Bay Area".
In late 2020, the National Medical Products Administration announced the "Work Plan for Regulatory Innovation and Development of Pharmaceutical and Medical Device in the GBA". This allows designated healthcare institutions operating in the GBA to seek approval from Guangdong province to operate medical devices used by Hong Kong public hospitals that are urgently needed for clinical use. This programme was first trialled at The Hong Kong University-Shenzhen Hospital, a facility in Shenzhen equipped with 2,000 beds offering all disciplines available in Hong Kong.
Dr Michael To, Clinical Associate Professor and Honorary Consultant of the Department of Orthopaedics & Traumatology at the Hong Kong University-Shenzhen Hospital is the first doctor to import Hong Kong-registered drugs and medical devices for the hospital under that work plan. He said the process can only be initiated if the drugs and devices are "clinically advanced and there are no substitutes or equivalent standard listed in the mainland". The application for new medication or equipment needs to be evaluated by the Equipment Management Committee and Medical Ethics Committee before it can be sent to the hospital's chief executive. Once approved, it will then be submitted to the government. "Very stringent" inspection criteria are in place to store and monitor imported products, so they are all traceable. Only specific personnel can access them. They must make detailed records on usage and even collect packaging after items have been used. While this sounds complicated, Dr To said the government had "mini programmes with video recordings that can help to explain all these difficult procedures".
He said more than 1,000 patients at the HKU-Shenzhen Hospital had benefitted from drugs and devices imported through this mechanism. They included pacemakers, devices used in scoliosis treatment and anti-immunoglobulin injections.
"To my surprise, the mainland has no Rhesus immunoglobin treatments for mothers with Rhesus positive [foetuses] .... In the past, mothers needed to buy this medication from different places and they are not used legally", so the benefit of being able to properly arrange for reliable drugs to be used at the hospital are clear.
While giving an overview of the classification and regulation on medical devices for manufacturers, Dr Joanna So, Principal Medical & Health Officer (Medical Device) at the Hong Kong SAR Department of Health also highlighted the Hong Kong Government's continued efforts to negotiate with mainland authorities and allow for more Hong Kong-registered drugs and medical devices to be used in the GBA.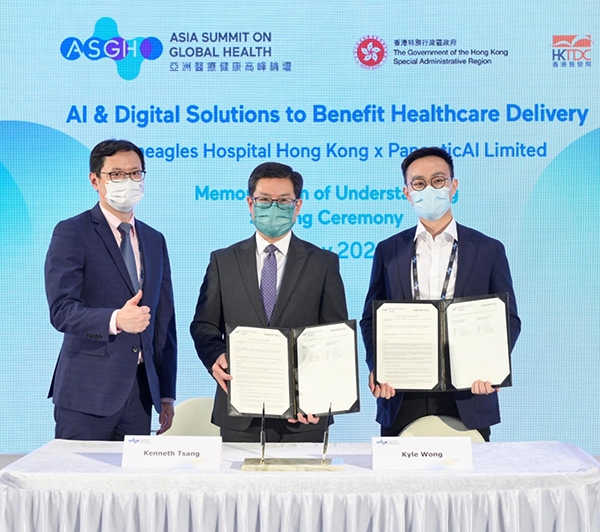 Ensuring success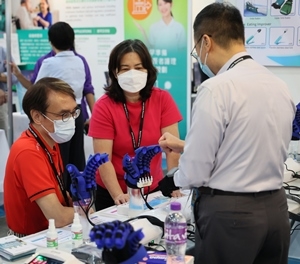 MedTech companies looking at the GBA market are reminded to familiarise themselves with the different cities and their strengths before deciding on where to set up. As Huang Jin, Vice Secretary General of the Shenzhen Medical Devices Quality Promotion Association (SZMDQA) pointed out, the Hetao Shenzhen-Hong Kong Science and Technology Innovation Cooperation Zone would be a good place to install research and development facilities, as the area seeks to attract science and technology innovation companies as well as university talent. Labour or technology intensive enterprises might want to be based in other cities with a lot of skilled workers, such as Dongguan, Foshan and Zhuhai. She said being in the "appropriate location" means companies may also benefit from preferential tax or rent policies.
Another success factor Ms Huang offered to the audience was regulatory compliance. Without dropping any names, she gave two examples where the authorities had to intervene and investigate companies that allegedly submitted "fake data" to have their products approved. In the case that happened earlier this year, the probe meant suspending the medical device company's initial public offering process and their product's pre-market approval.
To keep up with rapid changes in the medical and healthcare sectors, a global affairs and public policy consulting firm suggested learning from the overseas experience. Clark Jennings, Managing Director of Asia at C&M International LLC, said the US Food and Drug Administration's Experiential Learning Program allows regulatory review staff to conduct site visits to healthcare facilities "to see first-hand development and utilisation of medical devices, so that they truly understand industry practices and evolving technologies". He believes this model can be easily replicated in Asia.
Outside the HKMHDIA MedTech Forum 2022, the fairground was buzzing with more than 300 exhibitors from around the world. They showcased a wide range of medical equipment, healthcare solutions, services and even beauty products at the Hong Kong International Medical and Healthcare Fair. The event was held from 9 to 11 November at the Hong Kong Convention and Exhibition Centre, concurrent to the HKTDC's second Asia Summit on Global Health featuring high-level exchanges on tackling healthcare challenges.
Related links
HKTDC Hong Kong International Medical & Healthcare Fair
ASGH