The post-pandemic workforce is changing as independent contractors and full-time employees demand more flexible hours or remote working. Payroll and compliance provider Deel, which set up operations in Hong Kong earlier this year, is a one-stop platform for global hiring, payroll and compliance, collaborating with partners including co-working space WeWork, cloud-based accounting software firm Xero, and information technology consultants Hofy to localise compliance and payments.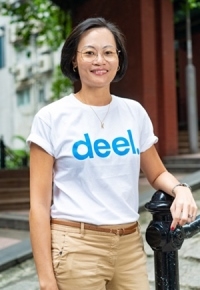 The firm has already attracted some big clients in the city and counts logistics provider GOGOX, global payment services platform NIUM and game software company-venture capitalist Animoca Brands as customers. Deel also worked with the United Arab Emirates government to speed up worker relocation into the UAE. "Under the partnership we streamlined residencies and provided global onboarding, payroll, and compliance support," said Karen Ng, Deel's Regional Head of Expansion & Market Lead in Hong Kong, Singapore, Association of Southeast Asian Nations (ASEAN) and India.
Making remote work accessible to all companies, Deel enables firms to compliantly hire independent contractors and full-time employees in more than 150 markets. This can help businesses enter new markets, hire talent wherever they are and manage teams, contractors and payroll in multiple markets through one centralised platform. This lets companies hire overseas talent working remotely and helps retain those who want to relocate but remain in their role. Cross-border hiring solutions such as Deel facilitate talent recruitment, so companies can focus on building their business, Ms Ng said. "Companies that previously couldn't expand because of the cost and complexity now have that opportunity, which unlocks opportunities for other markets, and facilitates growth in the home market," she added.
Hong Kong potential
By providing tools for Hong Kong businesses to transform employee experiences and the talent acquisition process, Deel has witnessed businesses substantially reduce hiring costs, leading to increased return on investment. "Hiring a workforce from a global talent pool can also help bring in new thinking and skills into local companies and help retain talent looking to relocate for personal reasons," she elaborated.
Launching in Hong Kong has always been part of its long-term plan for this United States-based company. "We see tremendous potential in the market here. We found that Hong Kong businesses looking to grow domestically or capture opportunities in the global arena are facing difficulties bringing talent on board quickly and compliantly. Companies are also going through unprecedented change as the city emerges from the pandemic to find the workplace they've returned to no longer fits with the way they now work." While staff can collaborate on Zoom, design new products and attend virtual events from anywhere in the world, the tools to onboard and pay international teams have not kept up. "We see a need for innovative solutions to manage a new kind of workforce and connect with a global pool of talent."
Hong Kong is the fourth-fastest growing market in Asia Pacific and the seventh globally, and the city has a huge demand for talent, Ms Ng said. According to Deel's latest research, the top five roles Hong Kong-based companies are hiring for globally are translator (29%), consultant (13%), software developer (11%), software engineer (10%) and sales development representative (9%).
Deel's research showed that the younger generation crave flexibility, with Post 00's to Post 90's more open to remote and contract work. "Traditionally, companies usually see contractors as outsourced manpower. However, this new way of hiring has now become a solution for talent shortage, especially after work models changed due to the pandemic. We see that companies are now more open to hiring contractors and freelancers, and contractors overseas too." The report indicated that nearly 30% of Hong Kong companies are hiring contractors for their workforce. For the tech sector especially, nearly half (47%) of Deel's customers are hiring contractors to fill talent gaps, followed by finance services and management consulting & research, both at 7%.
The consensus is that Gen Z expects greater flexibility in roles and are not so motivated by pay and bonuses as was the case with previous generations. This is backed up by Deel's recent research. "Our Global Hiring Report 2022 first half found that Post 00's to Post 90's Hong Kongers are more open to remote and contract work and benefitting from the global hiring trend." An age breakdown of contractors hired through Deel in Hong Kong indicated that those aged 43 and older accounted for 12%, and those aged 33 to 42 were around 31%. For those aged 18-32, the figure was much higher at 54%, she added.
Recruitment advice
Asked what advice she had for Hong Kong firms struggling to recruit, Ms Ng said flexibility was key. "Staff are expecting flexible work, and for their workplace to provide digital solutions that can help them accomplish more." In highly competitive industries such as finance, technology and sciences, professionals are demanding more in terms of packages and remote and hybrid working flexibility, Ms Ng said. "Companies need to ensure their hiring strategy is robust and in line with the future of work. Beyond a work-from-home option, they must also consider how and where they hire, how they bring new team members onboard, and how they integrate, pay, and manage an increasingly hybrid workforce."
Now quarantine isolation has ended and things are steadily returning to normal, Ms Ng believes Hong Kong can retain its status as a great place to work and live. "Hong Kong has always been a vibrant and dynamic city that's proven to be resilient. The city can gather bright and unique talent, and we're optimistic that new government policies will bring in global talent who can see what the city has to offer to them, and their careers too."
Deel's priority in Hong Kong is to expand the team and help businesses grow. "We aim to become a one-stop platform for global hiring, payroll, and compliance for Hong Kong companies to hire the best talent wherever they are, without having to worry about legal and financial complexities, to create a truly global workforce."
Related link
Deel